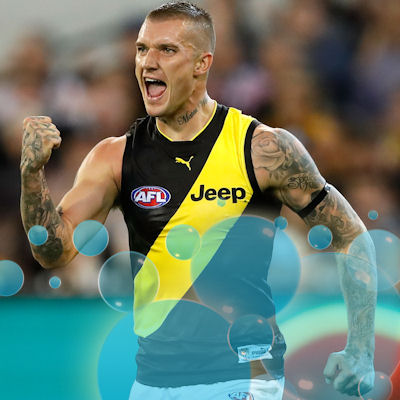 We're back for another 6 months of Fantasy failure and pain and boy does it feel great. I think I must be a masochist. It's awesome to have the footy back and it's even better putting months of Fantasy pre-season behind us and getting into the real stuff! Where to start on the weekends action? I feel like every season this is about the time when we all sit back, look at our teams and wonder what the hell were we thinking? This year has a different vibe about it. Normally 2000 is a cracking Round 1 total, this week you're walking into work and praying to god nobody saw your score. Just about every player we identified as value during pre-season delivered. In fact even I'm struggling to find something to complain about! Don't worry though, our rookies took care of that… It's time for the weekend wash-up!
Legends
It might be lockout before I finish going through this weeks legends, wow.
Murphy (139) – Is Marc Murphy going to produce a replica of Bryce Gibbs' 2016 season? This was a fair start. 35 disposals and 7 tackles is the sort of form he was producing back in 2011, and he remains a bargain at $510k. Fair play to those who started him!
Simpson (126) – What was that about old age? Simmo loves some cheap footy late in the game and his 56 point final quarter was a joy to watch for his owners. He also produced what must be a personal best 12 contested disposals!!!
Kreuzer (120) – Is this going to be Kruezer's season? Big men don't tend to peak until mid to late 20's so Kruze should be in his prime. He has always shown promise from a Fantasy perspective, injuries have sadly tormented him. You will never feel totally at ease and it's unlikely he will push the top 3 ruckmen, however he remains great value. I'd suggest it's this week or never!
Martin (139) – We didn't pay any attention to Dustin Martin in pre-season, and I fear that may have been a mistake. Resting forward certainly isn't a problem when he's snagging 4 goals! There's absolutely no reason why Dusty can't dominate the competition like Danger does and he looks to have come of age. He could average 115+ this season! Awesome pick.
Adams (151) – Boy oh boy wowee how about that! Some coaches tried to get clever and pick some PODs, some worried about Adams injury history, and some picked the best players available. I would have seriously considered him as a midfielder, his defender status is laughable. He is a ball winning, tackling machine. If Adams stays fit he'll average 110+ without a doubt in my mind, well worth the risk.
Pendlebury (135) – For some strange reason, year after year, we completely ignore Scott Pendlebury. Is it because he's so good it's boring?! Sure it doesn't count in Fantasy, but his last quarter was phenomenal. He ended the game with 24 contested disposals, 10 clearances and a whopping 135 points. He's arguably slightly underpriced for what he's capable of producing. Legend.
Treloar (125) – Treloar just did Treloar things. Those predicting him to bump up his average this season saw nothing to suggest otherwise, despite running out of gas in the final quarter. Gun.
Macrae (116) – Just like Treloar, Macrae produced exactly what his owners had hoped for. Even though he isn't attending as many centre bounces as seasons past, he still owns a wing and should rack up solid numbers just like Lachie Hunter. Safe pick.
Hoskin-Elliot (95) – I was in favour of selecting the mature age players ahead of rookies this season, but a score of 95 is more than anyone could have hoped for! WHE was played behind the ball and importantly he played brilliantly. He was clean with the ball and racked up plenty of +6's. Nearly a must have given the state of the rookies this season. He can certainly average around 70.
Neal-Bullen (110) – What is it with the double barrelled surnames?! Alarmingly I didn't even consider Neal-Bullen for a single second all pre-season, despite plenty of research. The fact that he was just $7k more than Taranto must sting. He's suddenly $288k and almost out of reach. His ton included 23 disposals, 6 tackles and interestingly 3 behinds, it could have been more! He has a Fantasy game about him, registering 30+ disposals on 11 occasions last year in the VFL. Impressive! Melbourne will be big improvers this season and this bloke looks set to be a beneficiary of that form. What a pick and he's in my targets this week!
Oliver (122) – Clayton Oliver will still have his ups and downs this season, but it certainly seems like there will be plenty more ups! I owned him last season and he was a fascinating player, scoring brilliantly when on the ground but often only playing 60% TOG. He's capable of running out games now and looks like a Fantasy player for the next decade. Contested beast.
Lewis (119) – Incase you had forgotten, Jordan Lewis can still play football. Very well. He'll thrive at Melbourne this season and was a brilliant slider to pick up in draft leagues. Less certain that he can be a top 8 mid again but I wouldn't put it past him!
Hannan (88) – Considering what our rookies posted this week, Hannan's effort is almost worthy of a knighthood. Melbourne won't dominate every game like that but even so, Hannan can play. Still cheap enough this week if you can get him! Quick cash generation at the very least.
JPK (118) – Will JPK finally disprove the theory that he starts slowly? If he does he could average anything, the man is a beast. I say that in the nicest possible way!
Jones (96) – Midprice madness was the key to a good Round 1 score, and Zak Jones is exactly that! Having been on 74 at Half Time the 90% of coaches who didn't select him were breaking out into a nervous sweat. His invisible act in the 2nd half makes things even more complicated. Which Jones will we get every week? Is he worth chasing this week? I think he's capable of posting scores in the 50's but also capable of some big tons, it will be exciting that's for sure. I'm passing, although I've got him in my draft!
Heppell (156) – What a man. Essendon's new captain stepped up in the best possible way with a career best score. He plays in the guts, has a huge ceiling and is priced way unders. Our pre-season worries didn't have much basis! Can he be a top 8 mid? It's a stretch, but Heppell looks set for a career best season. You just need to look past the fact that his name is more famous for being a vacuum cleaner. Awesome pick…
Merrett (129) – Zach Merrett's 26 disposal first half was as piggish a display as you could ever want to see. He dropped off late but that can be forgiven when you still score 129… He'll still be a top 4 mid in my books and we're going to have to try and afford him! Oink.
T.Mitchell (128) – Was there signs of the MCG once again becoming a sty on Saturday night? Tom Mitchell is being allowed to roam free in the midfield and it's a thing of pure beauty. Mitch (I hate titch) even kicked 2 behinds and had 3 frees against, he'll post some monster 150+ scores this season without a doubt. Wow we're in for a high scoring year!
Watson (122) – Jobe Watson still has it in him to average 100+ this season, his owners must be buzzing with this score. Having hardly been talked about all pre-season, this was a statement. He's still a gun!
McGrath (96) – Where did this score come from?! Having scored at 0.44 points per minute in pre-season,  his 96 came out of nowhere and surprised everyone. He was a ball winner in the lower levels and looks to be finally adjusting to the pace of AFL. We might have missed one here… McGrath looked right at home on the MCG.
Miller (108) – This score doesn't surprise me in the slightest. For some crazy reason people were still worried about his midfield time?! He has been a pure midfielder all pre-season, Rodney Eade has said as much, and he still attended the most centre bounces with Ablett back in the team in JLT 4. Lock and load!
Rockliff (127) – OINK. When Rockliff has 37 disposals he usually scores around 150, however he only laid 4 tackles! There's about 16 points of improvement in that stat alone! All I'm saying is good luck to those who don't own him, and good luck trying to afford him. I think you'll be hoping for an injury, and I think you might be waiting a while…
Gaff (144) – Could Round 1 have gone any better?! Gaff replicated his form from JLT 4 racking up 36 disposals and 13 marks, he's an absolute Fantasy beast. While he may still have some darker days on a rainy evening, there will be a few more of these monster scores to come. Gaff was a bargain…
Yeo (120) – Could it be… THE season? The talent is there, but does Yeo have the right mindset to become a consistent premium? For a start, what is his role? He seems to have played down at half back in pre-season and I saw the same on Sunday. He also ran through the middle and kicked 2 goals. I'm not sure how valuable a utility player is to us, but if he keeps scoring like this we may just end up wishing we took the yo-yo coaster ride just one more time…
Duncan (131) – With Dangerfield spending a bit more time up forward Duncan took up his position in the guts and performed superbly. 30 disposals, 9 marks and 6 tackles is just a sign of what's to come for Duncan, an inside midfield role could see him average closer to 110. Great differential, owned by just 0.24% of teams…
Laird (142) – I think I'm in love. Rory Laird is the perfect Fantasy player, it's not often a defender hits 40 disposals. Teams might look to start locking down on him, and so they should. LEGEND!
Losers
And we were on such a positive note…
Pickett (30) – Were Carlton playing with 21 men on Thursday night? In all fairness I think people need to relax a little, he's F8 material but I can't see Carlton dropping him, he needs to get some experience. Should get another chance… I hope.
Ellis (51) – What has happened to Brandon Ellis? In the space of 2 years he has gone from being a gut running winger to a half back left right out. I didn't even know he was playing on Thursday night, alarming drop off in form.
Caddy (61) – Caddy proved that you're always safer in backing in a player who has already proven themselves at the top level, rather than gambling on somebody becoming a player they perhaps aren't. Yes I'm talking about Touk Miller and his last 8 games of 2016. Josh Caddy isn't a premium midfielder and a change in role doesn't necessarily mean a change in ability. He'd want a massive second game, he's on the chopping block right now.
Hickey (43) – In one of the least surprising things to happen in Round 1, Tom Hickey didn't match his score of 141 in JLT 4. In fairness he did get the better of Max Gawn twice last season, but Maxy wasn't having any of that this weekend. Jesus that was ugly stuff… Moving on swiftly.
Smith (18) – Joel Smith's shoulder injury was a seriously cruel blow to his owners, including myself. Luckily he was on my bench, then again my D6 didn't do much better anyway… He was on 18 midway through Q1 and looked solid, a score of 70-80 in that massive Demons win was very realistic. Unfortunately he has been ruled out for 4 months and must be traded, not ideal when he's locked at basement price!!! Sigh.
Riewoldt (99) – How a half of football can change things. He was so dominant in the first half against Melbourne that I thought we were a chance of seeing another 200. An hour later he's being stretchered off and we're fearing for Roo's career. It's fantastic news that it's not as serious as first thought and he could be back playing within a few weeks, but that won't comfort the coaches who spent $650k on him. At least you can afford to replace him with almost any player in the game!
Hannebery (49) – Sorry Daniel? Did I miss something? Apparently he did get a head knock but looking at this score his head must have been knocked clean off. This is his worst score since Round 21, 2013. Fallen premo incoming.
Gray (21) – I'd say Robbie Gray could be a potential fallen premo, but judging by this score I don't think he's a premo at all. Ken said he will spend more time forward and in fairness, the Power played well enough to stick with it! He spent 92% time on ground, probably sipping lattes in the forward pocket while his team mates played around him.
O'Meara (65) – This wasn't a brilliant start by Jaeger, but he'll be better for the run. Sure I've seen hot spot have more influence than O'Meara's game on Saturday night, but you'd be stupid to trade him. Patience people!
Hibberd (24) – Panic people panic! Let's just say I'm not sure we'll be seeing Hibberd again anytime soon… If he doesn't make the cut next Thursday, the good news is Vickers-Willis should be in line for a call up. That's just about our best hope at this stage…
Otten (37) – Considering how good Adelaide were I think Otten will get another game next week, he can't have done too much wrong! Sure his score of 37 keeps me awake at night, leaves me in cold sweats and feels like a knife to the back but he'll be better for the run. Apparently that's my shit footballing phrase nailed, now I'm really ready to become a journo.
Jacobs (65) – Week in week out Sam Jacobs rocks up and gives his heart and soul for the club… Ok I'll stop. He's not under-priced, he's just not good enough to be anywhere near premium territory. 10 foot pole, use it.
Taranto (38) – It wouldn't be post Round 1 without a classic "What the **** were we thinking" pick. Taranto over Neal-Bullen and Hoskin-Elliot? Criminal. He'll be a gun player but $250k is too expensive, I'd look to pick up one of the double barrels next week.
Eddy (17) – Ha, good one Brett…. Brett? Has anyone seen Brett? Been missing since Sunday March 12 playing Hawthorn at Hickinbotham oval. Please contact 1800 GETATOUCH if you hear anything.
Stewart (42) – Lastly we have the distinctly average Tom Stewart. This was just, meh. It was his first game of AFL and I'm confident he'll pick up the scoring. Yes, those 5 points between him and Otten makes a huge difference to the eye. Back him in.
Talking Point
There's one thing that never fails to amuse me about fantasy coaches, and it's how fickle we can be. Is there a more impatient type of person?! Just before quarter time Powell-Pepper had already given away 2 free kicks and was on as many points. I saw many people calling him a poor selection. Of course a few minutes and a goal later he's on 20 at quarter time and worth every penny. Apparently Nick Riewoldt (Hope he's ok) was a must have after one quarter of footy. Steele was a failed selection by Half Time in Round 1. Zak Jones will average 100. Rory Laird is the GOAT. Actually that last one is probably accurate. Calm down people!!! It's a long season and we can't afford any knee-jerk reactions. Who am I kidding, they're just so relieving aren't they…

The Stubby is back and it's a cracker this week! Who wins?
Adams – 33 disposals, 6 marks, 12 tackles, 151 points and 1 snout. Not the prettiest player but my god he should leave any self respecting Fantasy player nursing a semi.
Gaff – 200 kicks, 5 handballs, 150 uncontested marks… That was it wasn't it? Gaff is +6 city and well worthy of his nomination this week.
Heppell – 34 disposals (16 contested), 8 marks, 7 tackles and 3 goals. That's a beautiful looking stat line. Clearly the best player of the weekend in my opinion, then again we're not playing Supercoach… I guess we can take 156.
Laird – Two of the most popular defenders scoring 140+?! Never in my life… Laird should be every Fantasy coaches favourite player, he just loves getting the pill. 40 disposals and there will be plenty more to come, he'll be getting my vote!
Murphy – Lastly those who were brave enough to take the punt on Murphy will surely give him their vote, he's back!
Who gets your vote?
This Game Sh*ts Me
Once… Just once could everything fall into place for us. Sadly last weekend was probably as close as it gets, but there's always one let down. The fresh rookies have been SO bad that I'm genuinely struggling to make a trade at the moment. No trades?! After Round 1?!?! In fact just about the only positive note about my rookies is that they can't drop below $150k! Also there wasn't any rookie bench selection headaches, as my collective 8 bench rookies averaged under 40. So, there's that… And that's why this game sh*ts me.
The Other Bits and Pieces
I had a cracking Round 1, scoring 2226. I wasn't joking before, I seriously don't have a trade to make. Because rookies rise straight away I can't upgrade my 150k duds, and all my premiums, midpricers and expensive rookies performed. With barely any cash in the bank, what's the answer? Where is the cash generation going to come from? I fear there's no easy long term answer this season, I'm not convinced by the midpriced madness just yet. It might be a week to wait until team selections before making our moves. How did you guys fare? Let me know! You know I love your hard luck stories (At least that's what we call them) just as much as you love mine… I look forward to hearing them. Until next week then!