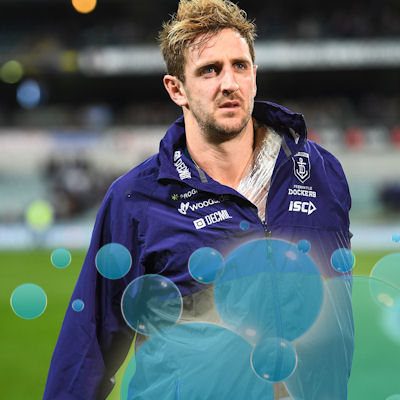 Honestly there are times I don't want to be here writing this article. Ever had one of those weekends where you simply refuse to open the Fantasy site and look at your team? You just know it's bad. That was me this weekend. Meanwhile I've had to read about a thousand tweets of coaches "Breaking 2400". Even 2500. Ha. Let's just get straight to it shall we… It's time to wash-up the weekend for the last time in 2016!
Legends
Kennedy (131) – I should start taking my own advice. JPK has started delivering in spades after his bye, no surprises there! The bloke is an absolute gun, I wouldn't hesitate in bringing him in as a differential. Legend.
S.Mitchell (125) – Those who have brought Mitchell back in after his form slump haven't been let down, this is his second 120+ in the last 3 weeks. I'm avoiding him due to inconsistency, but I also got Lachie Neale… So there goes that logic. One of many premium midfield options around the $500k mark.
Burgoyne (134) – He's still not Fantasy relevant, but it's incredible to watch Burgoyne when injected into the midfield. Ignore his recent Fantasy form, that's due to his half back role. The fact that the Hawks have the luxury of throwing a gun like Burgs into the midfield at a moments notice is a bit of a joke really. He scored 126 points in the last 3 quarters, including 62 in Q4 from 11 disposals (100% efficiency), 5 clearances, 5 tackles, 3 inside 50's and 2 goals… Not bad for an old man.
Dangerfield (130) – THAT'S IT. I can't watch Geelong anymore. Danger has gone next level beast mode this season, he's unstoppable. Untaggable. The competition has another best player and it's great to see the increased competition from Danger and Fyfe after Gazza's recent dominance! It pains me to say it, but, LEGEND!
Selwood (128) – As suspected Joel looked like he was headed into a hot Month, and it has proven true. His 5 round average now sits at 114 and whilst there's better value out there, his owners must be stoked with his recent consistency. Good to see him back near his best!
Martin (161) – Wow. There's not much I need to add to Dusty's performance on the weekend. Starting without him was so risky, hence I'm extremely glad that he has decided to reach peak form later in the season! Must have.
Merrett (152) – I love this man. His numbers are getting out of control now, a 5 round average of 124 has taken his season average towards 118. That's insane. Absolutely insane. You're going to need a bank loan to afford Zach next season so enjoy it while it lasts!
Gray (122) – Boom! If only the rest of my team could perform like my forwards! Gray finished the game on fire, scoring 56 points in a huge final term. This is his third ton in a row and would be a wise investment if you don't already own him…
Crouch (113) – The Brad Crouch steam train is leaving the station! Averaging 106 in his last 3, you could do a lot worse than taking a punt on the Adelaide midfielder. He's a lock for me next season, why not get on board early!
Grundy (134) – Ok I new he was talented, but since when did Brodie Grundy become elite!!! He's unstoppable in the ruck currently, averaging 110 from his last 5. One thing is for sure, he's putting Goldstein to shame.
Adams (123) – It's a damn shame that Taylor Adams got injured when he did, because either side of that hamstring he has been brilliant. Considering that he was on 74 at half time when he went down (I still lose sleep over that), he will have dropped under 100 just twice in 9 games with an average closer to 110. Currently owned by just 1.3% of the competition, he looks a perfect differential this week, and one to watch next season.
Treloar (121) – Treloar did what he does best, pump out 30 disposals and a solid 110+ total. Yet ANOTHER gun midfielder priced around $520k, seriously just take your pick. You can't go wrong.
Docherty (134) – You can go wrong in defence however. That's what I've learnt once again this year, and Docherty keeps reminding me just how valuable owning some reliable defenders can be. He doesn't have a bad week! He does have extremely good ones though, as this score proves. Brilliant pick.
Viney (123) – Viney has been back to his best in recent times, now averaging 107 in his last 5. It's so rewarding when a pre-season target performs as we want them to, his 103 season average definitely suggests that his owners made the right call!!! Gun.
Montagna (111) – Monty had a good week, but his 5 round average of 96 still has him on my sh*t list. Come on Leigh, 140 please! If you're still a non-owner, $460k is hard to say no to. He's capable of winning you a final of his own boot… Or losing one. Still, it's exciting right?!
Zorko (131) – I'm still wondering where this form was 2 years ago when I put my balls on the line for you Dayne… Drafts, Fantasy, the lot. His season low of 89 even beats Merrett, what an insanely good year the Great Zork has had!
Rockliff (128) – With many captaining Dangerfield (And rightly so) I get to enjoy double the oinkness. Unfortunately he only managed a lazy 128 this week… Where are those never again listers at? He has averaged 134 in the 6 games since returning from injury, that's ridiculous. Oink.
Coniglio (127) – I've learnt another lesson this season. Never trade out a top player due to a few poor weeks. Coniglio has proven me wrong by pumping out an average of 110 in his last 5, he's the real deal!
J.Kelly (125) – Kelly of the Josh variety has crept under the radar this season. Having not hit the ton in his first 7 games, he has managed 5 in his past 9 outings. Kelly is only just discovering how good he can be, which must ring alarm bells for opposition coaches. Definitely one to watch next season.
Greene (119) – The Greene machine bounced back in fine style from that poor outing last week. Every player can have a bad day at the office, at least Toby had the courtesy of paying his owners back (Looking at you McVeigh)!
Martin (111) – Lastly Stef continues to pump out solid scores, that's 4 tons on the trot since Trent Pest went back to the reserves. Yet another player onto my 2017 watchlist. That's right you heard me, I'm already planning for next season.
Losers
Hannebery (78) – Hanners, Hanners, Hanners… Why do this to me after I trade you in? Ever since I got on board what I expected would be a cozy 100+ ride, he has seen reduced midfield duties. Seriously… It's obvious that Parker, Hannebery, JPK and Mitchell are all managing their workloads and spending a few weeks separately in the forward line. Horse you needed Hanners in the middle against the Hawks, fix it.
Hodge (77) – Perhaps Hodge isn't the lock and load DPP gun we all presumed. Playing off half-back will result in some inconsistent scoring, however he's still better than 95% of options back their. Let him off this one.
McVeigh (67) – I'm not letting you off. I should have known never to trust a man with as much hair as a naked mole rat. Damn you Gazza for letting me trust them. Honestly though, this is pathetic. I don't know what to believe anymore. How has McVeigh become such a liability Fantasy wise? A comb would be of more use to you than you are to me.
Blicavs (68) – Speaking of liabilities, I'm struggling to see what Blicavs actually brings to Geelong. He's not playing as a ruck, so what is he? A pure midfielder? Spare me. Couldn't direct a turd down the toilet.
Neale (72) – It's funny because I remember putting up with the exact same trash last season. 130, 80, 130, 70. But here I was believing that Neale had moved on from those performances. Before I traded him in Lachie had tonned in 8 of his previous 10 games and scored under 98 just once thanks to a tag. He has already bombed out twice in 3 weeks for me. A trip to the Gold Coast had better produce something spectacular.
Barlow (60) – I think we can all breathe a collective sigh of relief now that Barlow is out for the season. There can be no chill as a Fantasy coach. Every week he would send me through a rollercoaster of emotions. He could be on 0 at quarter time and I'd be laughing hysterically, only to come back later and find out he ended with 130. Long gone are the days of him being Mr Dream Team, at least this is one headache eased.
Zaharakis (67) – Do I sound frustrated? Because one glance at my team is all I need to boil over again. Zaharakis mate. I tried to learn a lesson from my previous mistakes and back in my 'premiums'. I understand it now. Where I went wrong here is that in fact he is nothing more than a free victim for the opposition tagger. It can be anyone. Hell Richmond could've probably thrown Dylan Grimes on Zaha to shut him out of the game. I've seen my dog put in more effort to chase a ball and she's 14 with arthritis. Disgusting.
Deledio (66) – On one hand Deledio owners can feel hard done by, having been on 66 at HT he never returned to the field having been on track for 120+. On the other hand, you traded in a player with old man calfs. The risk was there and unfortunately it didn't pay off. Even if it's minor I'd move him on, plenty of reliable alternatives.
Goldstein (81) – Sorry Goldy but Gawn has well and truly taken the number 1 ruck mantle. He hasn't really done anything 'wrong', realistically an average of 100 is what we should have expected. We do know he's capable of a massive 140+ though, so trading him in at under $500k could be good business ahead of the Finals.
Wells (65) – Sadly those that held Wells were met with the shocking news that he was copping the 'Kane Mitchell tag'. Jesus, players must be shaking in their boots… I think this proves that almost anyone can be a decent tagger. Stop the outside ball, job done. I expect more of the same treatment for Wells, he's too good a player to be allowed freedom. Could be time to go, but I've said that before and been wrong. Many times.
Smith (46) – Ok, this one really gives me the sh*ts. Do you know who is to blame? Rory Laird. I suppose I should thank Adelaide for announcing it early, but it didn't make a difference. Guess what my trade plans were last week. Step one, get rid of a rookie defender… Of course I chose Ruggles over Smith. Step two, get Smith OFF my pitch!!! In the end I was probably one of five people in Australia bad enough to still have Smith on my ground and I paid for it. When others are posting 2400+ and you have 40's on your ground, you're buggered.
Redden (31) – Absolute pretender. How do we (West Coast) do this to midfielders? Redden was a prolific ball winner at Brisbane, but Jack can only manage EIGHT disposals in a game now? He has previously averaged 110… Redden is currently averaging 65. Sixty. Five. Jack, grasp your ears firmly and remove your head from your ass please.
Shaw (72) – I'll never forget the day I labelled Shaw 'Headache Free Heath'… Although I'll try. Once a headache, always a headache. M.Craig – 2016.
I think it's time for a face Off – Martin v Merrett.
Who do you guys think is more deserving of the stubby this week? They have averaged 125 and 124 respectively over the past 5 games, call it evens. Both surpassed 150 on the weekend. Both have won a stubby this season. Dusty played the better game of pure football, 35 kicks and 14 clearances is nutty. However here in Fantasy land we like our players to grow little snouts. Merrett's 7 marks and 10 tackles after appearing on the podcast brought a tear to many eyes. However Dusty was a captaincy option for many… But Merrett has been a safe captain for months!
Who wins? Cast your vote now!
This Game Sh*ts Me
Can we hit the restart button? No? Ok, how about a cheeky reverse trade from Round 5? I may have accidentally traded in Pendlebury instead of Dangerfield. I clearly meant to bring in Paddy… You know what I'm talking about. The same mistake will continue to grind you into the ground all season. Whether it be picking a liability like Zaharakis, not owning a gun like Merrett or Dangerfield, or trying to complete all 3 like me, the Fantasy landscape is unforgiving if you make one wrong turn. And it results in 4-5 months of pain followed by an extremely long off-season. Trust me. Over and out.
Oh yeah, this game sh*ts me.
The Other Bits and Pieces
2245. In reality it's not that bad. I had Merrett, I had Dusty… In fact my forward line was out of this world. However there's no point in them trying, because the rest of my team is a bloody shambles. Yeo. McVeigh. Let's just skim over my defence shall we. Neale. Hannebery. In fact I had one midfielder outscore their average by more than 2 points. ONE. Thanks Rocky. I'm now ranked around 2k and heading for another standard overall finish just outside the top 1k… And yet I'll try again next year!
Unfortunately I'm jetting off to Europe this week, hopefully I make it back… ANYWAY…….. It will be unlikely that I'll get the time or have the info to write a weekly article for the remainder of the season. I'm sure I'll get bored (Or annoyed) and write a season summary for Round 23, but until then it's farewell from me. Thanks for reading my musings all season, it has mostly been a pleasure. Love you all.
As always July is that time of year when Fantasy Premier League opens for business, so visit FPLADDICTS for your FPL info. We'll start posting again early this week! The official website should be opening for tinkering anytime now… Feel free to join the ride!