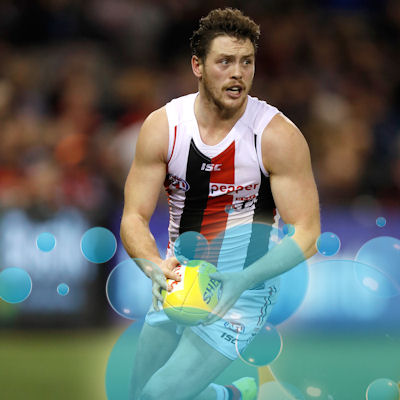 We've reached that time of the year when everyone is pumping out huge scores and making up ground is becoming a challenge. Sure it's far less painful than what we have to deal with beforehand, but where do you find that extra edge on your competition? Last season it was those coaches who gambled on Hunter and Hall that made a late charge, who are the differentials to look towards this season? Let's take a took as we wash up Round 16!
Legends
Steven (158) – What. A. Beast!!! I burnt Jack Steven for good reason last week, however this monster score makes up for everything. If only he could play Essendon every week! Definitely a top 8 mid in my eyes, absolute legend!
Hodge (118) – One week away from the new DPP changes, Hodgey has stormed onto our radars with this score. He is surely a lock for a defensive addition, currently playing off half back. That doesn't stop him scoring though, $486k is a bargain. Everyone will be scrambling to grab him next week, so why not get ahead of the queue? It's a slight risk, but could pay off handsomely. We all know he's a gun.
Sidebottom (119) – We tend to chase form players at this stage of the season, but sometimes gambling on a player who has just had a poor month is extremely valuable. Luke Parker is a perfect example. He had notched up three scores under 70 in the previous 5 weeks heading into the byes, carrying a 5 week average of 84. Not great. However his first 6 rounds yielded an average of 119. Of course he now carries a 3 week average of 132 if you don't mind.
Sidey could be considered in a very similar boat. Having averaged 111.6 in his first 8 games, he now carries a 5 round average of 87 after 4 consecutive scores under 100. He looked back to his best on the weekend with a 119 and looks set to have a huge month. You can make money by trading him in for Ablett @$476k, and I could easily see him averaging close to 120 over the next month. Why not get on board early? I think he's worth the risk, especially at that price.
Neale (130) – Bang! I was slightly concerned that Vince was paying him close attention in Q1, but after he started having some injury troubles Neale got off the chain. Many owners got on board last week (me included) and this was a welcome debut! Welcome back Lachie. Legend.
Merrett (126) – Death, taxes, Merrett tons. That's all you need to know. 74% of the competition still doesn't own him, crazy scenes.
Dangerfield (139) – 46% of the competition doesn't own this bloke and I'm one of them! Unfortunately he is holding steady around $650k and I don't have a spare bank on hand. What an absolute freak, he is SO GOOD. His 5 round average of 134 seems about right, it's no longer an anomaly. Player of the season by a mile.
Jack (127) – It was great to see Kieran Jack shove one up the news stories dominating headlines (For unknown reasons) all week. Journalism has gone downhill lately, just let these issues be. Nothing story.
JPK (115) – Is this the start of a classic Kennedy run home? He averaged a ridiculous 118 points after Sydney's bye last season, and has already started this year with 106 and 115. Owned by just 3.71% of the comp, you'd be silly not to consider him @$527k. Great differential.
Cloke (121) – I've never been the biggest fan of Cloke, but you have to admire his resilience this season. He tore apart GWS in the second half, and that's no mean feat. Don't you dare go and trade him in Fantasy and tread carefully in drafts, but good on Trav nonetheless.
Grundy (119) – Try and guess how many scores Brodie Grundy has had under 80. I bet your answer wasn't 1. One!!! Amidst all the ruck inconsistencies, Grundy has been steady all season long. With 3 consecutive tons his average is now 94 and I just have to tip my hat to the 3% of the competition who must be laughing. Well played! Absolute legend.
Wright (131) – Peter played like he stood at 3 metres on the weekend, tormenting Brisbane's young backline. He's now $318k with a B.E of 2, these are hugely handy scores!!! I wouldn't get sucked into starting him though, just enjoy his cash generation…
Hall (107) – Here Ladies and Gentleman, is the big winner from Ablett's injury. Horrible thing to say I know, but someone had to. Hall had already started to revive his midfield role, but this was the exact scenario that saw him thrust onto the AFL Fantasy radar last season. He's still averaging 106 and $482k is clearly value, I'd make him a priority if you traded him before the byes.
Bontempelli (115) – Bont is currently playing like a seasoned midfielder who averages 110 for fun. I can't believe more of us didn't take the plunge after he started the season up forward!!! What a mistake, once again well done to those who got on board!
Grimes (140) – Welcome back, Jack. So much Fantasy potential in this one, yet I wouldn't touch him with a 10 foot pole.  A great pick up in Draft leagues this week, but don't get sucked in elsewhere. He'll either score 120, get dropped or get injured walking up the race. Latter two options seem more likely sadly.
Sloane (123) – Standard Sloane these days. It looked as though he was on track for yet another huge tackle haul, before he went ape sh*t in the final term and decided to pig out on the footy! What a brilliant player.
Jacobs (120) – Sam Jacobs is carrying a lazy 5 round average of 107, damn his Round 13 bye or I would've taken the plunge! Instead I'm stuck with the steeplechaser. Big Sauce is a great ruck differential.
Losers
Shaw (69) – Headache Heath you bastard. This makes me sick. Literally. The week-long headaches are back. In fairness opposition have started shutting down his influence, it was always going to happen… But I'm now losing sleep again. The doctors still refuse to diagnose it!
McVeigh (52) – Would someone care to enlighten me as to what the hell has happened to Jarrad McVeigh? This is the same player who consistently averaged 97 for three years running, putting up consistent scores similar to Matty Boyd. His role hasn't changed? I know he looks like he's 40, but he's only 31. Boyd has two years on him! My only explanation is the Kade Simpson theory. I put up with their sh*thouse scores all year, then they rediscover their ability next season. I know that's not a theory at all but just let me have this one. I'm sick and tired of bloody defenders!
Blicavs (60) – "Blicavs is one of the most consistent rucks". At least that's what I thought. What an absolute fraud. I've seen chameleons stand out more than Blicavs did on Friday night. He manages to start at multiple centre bounces and play in the midfield/ruck, and still not score. This is now his fourth score for the season under 70, similar to Max Gawn. Unfortunately he hasn't gone past 120 once. Sigh.
I.Smith (73) – Unfortunately this is a problem you're stuck with. He has the potential to average 100, so there's no value in trading him for $426k. Let's just hope he can show us something. ANYTHING.
Bartel (69) – In the space of two weeks Jimmy has undone all his good work in the previous 10. He's still outscoring McVeigh so I remain so far in the red it isn't funny, but new owners will be filthy. For the rest of us we may get a nice cheap final defensive upgrade in a couple of weeks! I look forward to re-uniting, Jim.
Greene (57) – We've pumped up Toby for his best work this season, but his worst stuff seems to go unnoticed. No longer. This is his third score in the 50's this season, that's unforgivable and the exact reason why he won't be a 100 average player whilst playing up forward. Not good enough!
Vince (74) – I dodged this bullet big time. I would have given anything to get Bernie in a few weeks ago, but since Melbourne's bye he has put up a 60 and this 74. Many would have traded him in for Round 15 and to that I can only say things will get better. They have to. Now come out of the shed. Please.
McGovern (49) – Thousands of coaches will have held McGovern and played him on the ground considering his hot form and Will Hams' poor game. Yikes. Thanks for the service Mitch but your time is well and truly up, $188k profit ain't bad!
Kerridge (64) – Hey, at least I got it right the second time… I may have jumped the gun a month early but Kerridge's run has finally come to an end. This is his third consecutive 60, so he probably needs to be a priority this week unless you're carrying a rookie that really shouldn't be seen anywhere other than the pine. He's bleeding cash. Once again thanks for the service, an 85 average was the best we could've hoped for!!!
Montagna (84) – This is certainly not the best we could have hoped for. Monty is my whipping boy and it's for good reason. I traded him in 6 weeks ago and guess what, he has a 5 round average of 81. Pathetic!!! Forget the myth that he's a Fantasy gun, he's so hot and cold with his new role that I can't bear to watch him play. I suppose a huge 130 could be around the corner, but so could another 50. If I'm honest I'd save yourself another headache and find someone who's reliable. $460k is far better value than when I grabbed him though, so perhaps he's worth a gamble with that discount if you already own Aaron Hall.
Ablett (63) – RIP. This honestly hurts to write so I'm just going to make this quick. It's likely we won't ever see the best of Bald Jesus again, just let that sink in. Gazza will forever be a legend of our game, there hasn't been a season of Fantasy in which I haven't owned him. Hopefully he recovers, for those who haven't heard he's heading in for surgery and will miss 4-6 months. Get well soon little master!
Most of the best performing names this week have run out of room in their stubby cabinet. We're bored of Merrett 120's by now. Dangerfield getting 18 disposals in a quarter isn't even a surprise. Sloane is the reigning holder.
However it has to be recognised when a player goes above and beyond the call of duty. Jack Steven's 41 disposal, 12 clearance and 12 tackle game had to be seen to be believed. 158 points, now that's how you bounce back from a shocking week. Just give him the stubby!
This Game Sh*ts Me
DT Gods, Football gods, The Seven Gods, The Old Gods… Please heed our calls. Leave the greats alone! Rockliff has been hampered by injuries the last couple of seasons, and Dane Swan was cruelly struck down in the first minute of Round 1. We haven't enjoyed nearly as much bacon as we should have. Meanwhile watching Ablett grab his shoulder will have made every footy fan across the country ill. It's just not fair. Forget our Fantasy fortunes, we just want to see our games best players out on the park! Oh, and we like to use our trades for issues other than trading out the 3 best Fantasy scorers of the past decade. This game really does sh*t me.
The Other Bits and Pieces
*When you open your squad and don't have Dangerfield*
2179. Solid but not spectacular once again, I'm still hovering around the top 1000. Is anyone making any ground or are we all just holding our own? It was at this time last season that a few bargains helped the brave coaches (Hall, Hunter) up the rankings, who will be those options this season without the vest discount? Will there be any?
Personally I really like Sidey as an underpriced differential in midfield, but I'm not sure that will make a huge difference. Johannisen is a sneaky one in defence, but once again he's probably not going to be the difference. Is Brad Crouch back to his best? His 3 round average of 98 suggests so. What about Travis Cloke! Ok, too far. Let me know who you're eying in the comments! Good luck trading and I'll be back to do it all again next Monday! As always let's make it a high scoring week.