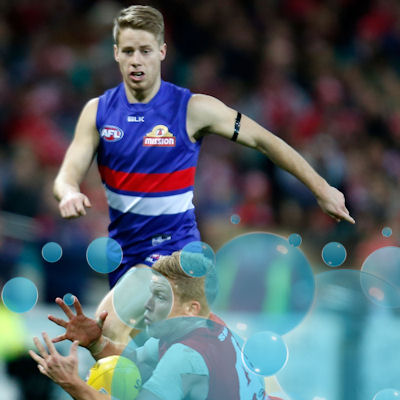 That must have been one of the darkest rounds of Fantasy in recent memory. Par was in the 1500's for god sake! It was bad enough that we only had 18 players scoring, but most of us hardly had 18 players playing! It was a week in which we required our premiums to step up, and they crumbled under pressure. Let's stay positive though, we're back to normality this week! With upgrading to be done, it's time for the Weekend Wash-Up.
Legends
Merrett (123) – Zach Merrett is still owned by less than a quarter of the competition, and this fact chills me to my core. WHAT IS EVERYONE DOING?! Are we not trying? He is averaging 114 as a forward guys! He doesn't drop below 100. He is everything you could want in a Fantasy player. It was a pleasure watching Zach live for the second time this season and it was made even sweeter with the vice captaincy next to his name. Absolute Fantasy gun!
Hall (115) – As tweeted by @FantasyFreako, Hall attended 12 centre bounces on the weekend, a sign that he's back in Rockets good books. Even though it seems like he has dropped off completely, in reality Hall has scored under 90 just twice all season (One being 86). At $480k he's well and truly in consideration for me this week, but I think I'd like to see one more week of evidence before pulling the trigger and bringing him back.
Pendlebury (124) – I thought Pendles was finally destined for a massive 140+ and some revenge on danger, but it wasn't to be. When he has a hot half the opposition feel compelled to shut him down, sadly Danger apparently can't be touched! With that little whinge out of the way, it was good to see Pendles back to his best. An easy trade target this week at under $550k.
Hunter (133) – 5 clearances, 14 contested disposals. That's all you need to know about this game from Lachie Hunter. It was without a doubt his most complete game as an AFL player and just shows how far he has come. For the millionth time this season, you're welcome.
Hannebery (127) – Jack Steven may have been a dud, but Hannebery did everything I could have asked for on debut. If you're after a premium I'd look no further, Hanners is clearly a 110-115 average player and is currently underpriced. His 14% ownership should start to skyrocket if people are getting serious with their teams! Legend.
Parker (158) – Oh Luke. His last five weeks tell the story. 59, 121, 66, 140, 158. One week I'm thankful I avoided him, the next week I'm cowering in a corner wondering why the hell I didn't pick him up for such a bargain. Literally the only reason I didn't get him last week was because I have a phobia of low scores, but Jack Steven killed me anyway! Parks is such a gun when he's on, I can smell a big month coming for him. Get on board.
Gaff (131) – Thanks for coming. Gaff gave his owners the very definition of instant reward with this monster score. There's no doubt that he looked back to his best and is a ridiculous steal at just $428k. All aboard!
Kelly (119) – James Kelly just keeps getting it done. He now carries a 5 round average of 109 and surely increases on his current ownership of 6.8% this week. He just won't drop below 80! That's a gift in defence.
Franklin (126) – Buddy has been in close to career best form all season, but he isn't quite as powerful as he used to be Fantasy wise. This is his first score above 110 all season. He has been consistently good, but this is the first sign of him going back to the days of destroying the opposition. More Buddy more!
Bontempelli (129) – The Bont continues his hot streak. Since being priced at $395k after Round 6, he has averaged 110, not dropping below 90 once!!! Was a mid-season bargain he was, well done to those who got on board!
Boyd (129) – Another week, another brilliant score from Matty Boyd. Season average 103, 3 round average 105, 5 round average 107. Just Boyd things. He's carrying a season low of 89, that's a joke. He's too good…
Sloane (125) – Lastly, Sloane went huge again, on the back of ANOTHER 13 tackles. He's a tackling machine!!! Sloane is averaging almost 10 tackles per game since Round 8, that's Rocky's level. It is a slight concern that is relies mostly on tackling, but you can't argue with the facts. He's a gun.
Losers
Mitchell (62)  – Tom Mitchell has averaged 120 in the Swans 10 wins this season. In their losses? 70. He has failed to pass 100 in just 2 of Sydney's wins, however he is yet to even score a single ton in their 4 losses. Those are insane stats. Continuing that trend, Mitchell has had under 5 tackles in every Sydney loss. He has had under 5 in just one of their ten wins. Does he give up when the going gets tough? They've mostly been close losses though. I don't get it, maybe his form is more important to Sydney's than Longmire seems to think!!!
Ablett (78) – As an owner for the past 4 weeks I'm more than happy to let this score slide, however if you made him captain you'd be filthy. Having been on 39 at quarter time, Gaz amazingly only doubled that total in the next three quarters combined. It has been all or nothing for GAJ this season, he has 6 tons all 120+, yet he has failed to even reach triple figures 7 times. Talk about a yo-yo!
Zaharakis (50) – I've seen corpses with more life than Zaharakis on the weekend. Seriously, I was at the game and I didn't even notice he was playing until I saw his score at half time. That would explain why I missed the incident that has now seen him suspended for Round 16. A punch on Jackson Nelson. That's right, Jackson Nelson tagged him to 50. I reckon Barry from your local fish and chip shop could sit on (And I mean literally sit on) Zaha and that'd be the end of his day. Soft.
Phillips (44) – It was a second half disaster for the Pies rookies. Phillips was flying on 43 at half time, but managed just ONE solitary point in the second half. That's diabolical. He is likely to still be on many coaches fields so we need more!
Hams (39) – If you thought Hams might be our answer for a reliable 70 average F6 for the next few weeks, you thought wrong. He was hardly sighted after quarter time, managing just 18 points. Hams was another Bomber failure that I can't explain, because I didn't bloody see him.
Cox (31) – Coxy had the chance to be a hero, filling in for the likes of Goldy, Stef and Blicavs on many coaches grounds. Let's hope you had 19 players available…
Tipungwuti (45) – I wouldn't have held it against you for holding Walla, it's unlikely that we all have 22 premiums in our starting team and he should be regarded as a valuable scoring rookie. For example I'm still holding Mills. Unfortunately it didn't work out too well, he has to go this week. Its been fun.
Cotchin (63) – Remember all those times I was pumping up Cotchin? Yeah? It was all a joke. Ha ha, got you. Sucked in. Why on Earth would you trade in Cotch? *Sobs heavily*
Macrae (69) – That is not what I expected Jack. I was SO close to trading him in as a POD last week. In fairness he still outscored the alternative… Don't worry, he plays Gold Coast up in Cairns in 2 weeks time. Lock that in for a 140.
Suckling (46) – SUCKling. Am I right? Trade in a player with suck in his name at your own peril. His average outside of Etihad Stadium is seriously alarming. Three games, average of 67. Even more alarming is that he plays away from the roof twice in the next month! Not going to be anywhere near a top 6 defender and I'm not sure he'll make the cash to even consider him. If you took the plunge, you have to hold.
Kerridge (63) – Remember, no deadweights! If you have a rookie you can fix up then they obviously have to take priority, but if you are sitting pretty or don't have the cash to go from rookie to premium then Kerridge has to go.
Sidebottom (64) – I can't tell if Sidey is being serious right now. He has half an acre on the MCG wing to get his +6's. Yet he is averaging just 21 disposals, 3.5 marks and 3 tackles per game over the past month. From now on I'm sticking with blokes in the centre square… Unless they play for the Bulldogs and their name is Lachie Hunter.
Treloar (75) – It wasn't totally surprising that Treloar finally got a tag, but it also wasn't surprising that Pendlebury racked up 21 disposals and 7 clearances when allowed to run free in the first half. That is probably the last time Treloar will have to worry about a hard tag for a while, I think you're safe.
Petracca (54) – Averaging 72, Petracca is still a very solid F6 as you upgrade the rest of your team. Once you're down to 1 or 2 rookies on your ground however, Petracca needs to go. He seems to be tiring, managing just 1 mark for the day.
Vince (60) – I missed the Sunday arvo game so somebody has to fill me in. What the hell happened to Bernie? Was he dead? *Wink* In all seriousness I had made Vince my number 1 upgrade target in defence since he moved into the midfield, not sure where that score came from.
St Kilda – Sadly this result was all too predictable. Not to brag but I tipped Gold Coast, and when you consider that St Kilda have lost EVERY insterstate game by an average of 57 points it's really not a surprise. What is a surprise was how shocking their Fantasy form was. Their whole average averaged a pathetic 59!!! This included just 5 scores over 75… In comparison Gold Coast had 15.  Gold Coast had 75 more marks, yet despite their possession dominance St Kilda managed just 45 tackles. Basically, they weren't touching the ball and they weren't touching the opposition either.
It showed in their key fantasy players. Montagna (79), you just get used to this guys trash after a while. Last week he had 40 points 15 minutes into the game, only to just ton. He has a score of 36 to his name! Monty is adept to disappearing completely in his new half back role, buyer beware. He owes a 150 soon. Steven (65), or should I call him 0 marks. Zero marks. Against Gold Coast. With no tag. Did he not try? Not a single St Kilda player managed to ton. Of course Riewoldt (97) would have, but he was put on ice with the game over, explaining his season low 77% TOG. He usually spends at least 90% TOG. 0 goals 5 behinds didn't help either… Absolute mare!!!
It's nominations time…
Parker – 34 disposals, 10 tackles, 3 goals and BOG! $488k turned out to be a steal, what a trade he was!
Gaff – 35 disposals, 28 of them uncontested. It was classic Gaff on the weekend, instant reward for his new owners!
Bentempelli – It's about time that Bont owners got their chance to shine. This vote is for all his work since Round 7, culminating in 29 disposals, 6 marks and 8 tackles on the weekend. Jet.
Merrett – 24 disposals and 11 tackles!!! It doesn't matter how he gets there, Zach just finds a way to ton up. He hunts cheap footy but gets down and under as well, 246 points for a lot of coaches this weekend!
Hunter – I'm trying my best to get some new names into this poll, but I need one of my boys in here! Hunter probably had his best game of AFL with 31 disposals (standard), 14 contested (!), 8 marks, 4 tackles and 5 clearances. Have my vote again Lachie.
Who gets your vote?
This Game Sh*ts Me
Premium shockers. How often do we trade in a bloke averaging 110 for the season, yet they manage to score no better than the rookies we traded out. Tom Mitchell. He doesn't just have a slow 90, when he doesn't ton it's a train-wreck. Jack Steven. I thought you were a premium?! He played the Gold Coast Suns who didn't tag him, yet he managed just 65 points. Trust me, after a while you just start to accept Montagna's crap. I hope no one was trading in Zaharakis… All in all I had five 'Premiums' (Out of 15) score under 80. Three under 70! Gents, at least get a 90… Surely it's not asking too much. You can do all the planning you like, but you can't see scores like that coming from blokes averaging 100+. And that's why this game sh*ts me.
The Other Bits and Pieces
*When Zaharakis sees an opposition player walking over to him*
1701 and up 875 spots, however this was meant to be my big week. 20 players, 15 of them "Premiums" and this is the score they muster… Woeful. Steven over Parker was an absolute disaster, and it has prevented me from making 2 upgrades (yes, Zaha is a huge upgrade). It probably won't matter how good Steven is for the rest of the season, 93 points over 7 games is a huge amount to catch up. I also didn't give Merrett the VC, sometimes boring is better!
Let me know how many premiums you guys are fielding in Round 16! With Zaharakis suspended I can only manage 19, and Will Hams may have to play… Not ideal. If you have 20 you're sitting pretty! On a positive note, it's impossible for Round 16 to be any worse than Round 15… I hope.