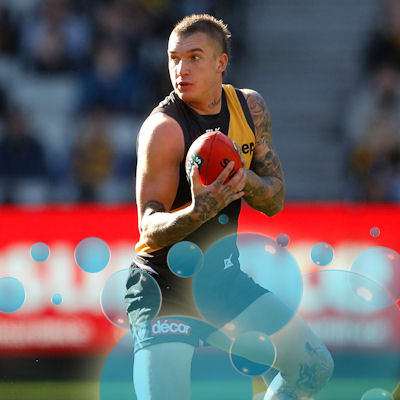 What to make of Round 14… Was there anything to make of Round 14? The Thursday night teams really set the tone for the weekend. Aside from a brilliant contest Saturday night, the games were too spread out, the byes are crap and there wasn't much spectacular Fantasy scoring to talk about. Even so, the rankings don't stop and there was some huge ground to be made (or lost) this week. Which side of the ledger did you fall on? Did you even field 18? It's time for the weekend wash-up!
Legends
Sloane (139) – Rory has made me look like a fool, I didn't think he had a massive Fantasy game in him but I've been proven completely wrong! Sometimes you have to put your hand up and admit a mistake and this was certainly one for me. This was Sloane's fourth score of 130+ this season, taking his average above 105. What a beast.
Treloar (127) – After one slightly down week Treloar was back to his best, pumping out another 120. This is his 8th score above 115 for the season… They've only played 13 games!!! He has been insanely consistent and definitely sits above Pendlebury in my pecking order. Safe as houses. Now we just need him to see that there's land beyond 130 points!
D.Martin (127) – When Mitch Robinson inevitably went to Dusty I feared the worst, as did 50% of the competition. Even though Robbo was concussed in Q2, Dusty had his number regardless. In previous years he may have laid down, but not this season. He then picked up his game after Robbo went off and finished with a huge 29 kicks for the day. Legend!
S.Martin (105) – Is Stef back to his absolute best? No. Is Stef a steal at $406k? YES!!! He managed this ton thanks to 23 disposals and only 21 hitouts. He's doing it both ways, good to see! He's back.
Gibbs (126) – Gibbs enjoyed a well earned break over the byes and was straight back to his best form. He is scoring over 120 with ease and must come into upgrade calculations this week! Personally I'll be looking elsewhere but I can see why you'd want to get on board, he's a jet.
Selwood (113) – So, June was one of 'THOSE' Selwood months. He didn't drop under the ton and averaged a handy 114.5 points per game in the process, decent. What will July bring? Traditionally Joel storms home, but he broke that trend last season. It's a big risk, but he does play 3 of his next 4 games at Simonds Stadium, a ground where he averages 112 from 25 games. He also averages 108, 103, 122, 89 and 112 against his next 5 opponents respectively. You could do a lot worse for a post bye Round upgrade, keep Selwood in mind.
Riewoldt (116) – Roo needed the 2 week break and he looks all the better for it! He's still charging up and down the wing, gathering +6's at will. He is still averaging over 10 marks per game this season, those are crazy figures. At $564k I'd be looking at bringing him in if possible, 5% ownership for the number 3 forward is ridiculous…
S.Mitchell (121) – Sammy Mitchell now has a 3 round average of 110 and looks to be back in form. Yes he has the bye this week but a $475k price tag can't be ignored considering how hot he was at the start of the season. Get him on your watchlist for Round 16!!!
Ablett (129) – Finally the last premium (Of very few) to fire this week, who else but Gazza. This is his fourth consecutive score of 120+ since returning from injury, and it was clearly his most dominant. The bye has done him wonders, racking up 40 disposals for the first time since he injured his shoulder in 2014. Not to mention his lazy 15 clearances… He's back to his best and must be a priority trade this week.
Rookies – I'm clearly not a rookie expert and I usually leave this to our man Jeppa, but they need a shoutout this week! There was so many brilliant scores in our time of biggest need, especially from Ruggles (96). Having averaged 57 before the byes, he has scored 83 and 96 if you don't mind!!! Brilliant. Other notable mentions included Collins (81), Smith (96), Phillips (92), Mathieson (96) and McGovern (81), heck even Cox got 60! All things considered we were saved big time by these blokes this week, consider it a parting farewell gift. They can come in for a lot of criticism but well done boys! Enjoy the rest of the year off.
Losers
Bartel (45) – We were let down big time by a few of our big name premiums this weekend. Finally Jimmy's run of 90+ scores is over, and it's ended with a bang. He leaves his owners with a sour taste in their mouths as he leaves on a week's holiday with the bye. Maybe Bartel needed the rest? He'll still be a gun when he returns in Round 16, this will make for a nice discount for non-owners like myself.
Pendlebury (83) – 3 weeks ago I was convinced that Pendlebury was back to his best, but suddenly he's unfit and playing forward again?! This is SO frustrating having to watch Pendles get outdone by Danger every week, old school isn't always cool. Treloar has to be your best bet from the Pies.
Laird (75) – Another popular trade in gone wrong, and don't I know it! I had Laird penciled in this Round for a while now and this performance hurt, thank god he recovered it late… There's always next week. A big ton would be nice (necessary) Rory.
Sidebottom (84) – Can Sidey ever take that next step to uber premium? I'm not sure he can. Think about it, who is the highest scoring winger you can remember? Gaff and Sidey almost top the list. Macrae was great in his second season, and Hunter has done similar this season. Anyone else? None are 110+. All the best scoring uber premiums ply their trade in the centre circle and through the middle. Wingers have their days in the sun and go 140+, but too often they find themselves out in the cold. It's not helping that Sidey is also extremely dangerous when allowed to run free, he has been shut down the last couple of weeks and that trend could continue. He's great value @514k if money is a problem, but for $50k extra you could find some better scorers.
Robinson (19) – Robbo was still very relevant in RDT for those that started with him, so this score hurts. Thankfully most of us could drop it from our best 18's! Mitch was just picking up form so this is disappointing, considering it's a concussion I'd definitely be holding him! He'll be back after Brisbane's bye.
Hanley (41) – Season high 146 one week, season low 41 the next. A one off you reckon? Earlier this season he scored 144, only to follow it up with scores of 57, 61 and 68. Pearce is unbelievably inconsistent and it's a headache I simply couldn't deal with. Thanks to DPP he isn't the only new defender to consider and there's certainly better alternatives to pick from. Shocker.
Kerridge (69) – At this stage of the season there's no room for passengers in our teams. I dropped Kerridge after a 60 and he bounced back with a 140, so there's no way you'd trade him this week considering he has had his bye. Round 16 onwards however it's free game, and he'd be high on my chopping block once your team is 'full'.
Armitage (62) – Did we say that Armitage was value a few weeks ago? I think you heard us wrong. No, we said he had a one off season and should be avoided at all costs. I swear that's what we said… That's what I heard anyway… Why would I lie?
McKenzie (34) – BOOM! Well, the cannon realistically went *poof*. He has a 5 round average of 27, that's hilarious. For comparison Zac Dawson has a 5 round average of 40 (That is career best form to be fair). Even so, @200k Trent McKenzie probably is a reasonable downgrade option to sit at D7/8 for the remainder of the season. He can comfortably average 60-70 if his body stays fit.
Shaw (42) – Lastly, Headache Relief Heath let me down. Big time. Can we just browse past this? It really does take away from his 176 and I just hope this doesn't become a trend, surely he just needed the bye… Either way he's here to stay in our teams. Incoming bargain for the 50% that don't already own Shaw! Good on you if you were lucky enough to have the numbers to drop this score, I was not.

It's nominations time and let me tell you it was a rough week! There was diamonds out there though…
Sloane – Sloane is a tackling machine, another 13 this week takes his season average to 7.3. More than handy, that's 30 points per game!
Ablett – 40 disposals, 25 contested, 15 clearances (!!!) and a big golden stubby vote from me. Great to see Bald Jesus weaving his magic again.
D.Martin – I like the new 'untaggable' Dusty. I like him a lot.
Mathieson – It wasn't Matho's fault that he wasn't picked in previous weeks, and I'm not sure it was his fault he got dropped in the first place. All he could do was perform when given the chance, and thanks to 24 disposals and 7 tackles he did exactly that!
Ruggles – I was extremely worried what Ruggles was going to produce over the byes. Not in my wildest dreams (Not that I have wild Fantasy sport dreams… Ha ha. Ha.) could I have imagine him scoring 179 points over his 2 games. One he was on my bench for but we'll brush over that minor detail, well worthy of your votes!
Who gets your vote?
This Game Sh*ts Me
"Oh Hey I didn't see you there"
Let me tell you a little story about a beast. At least he was supposed to be a beast. Five weeks. Five weeks I held onto Rhys Mathieson and suffered while he remained in the NEAFL. Week after week we thought he must have earned his spot back, but alas it seemed that Leppitsch was sinking his final knife into our backs before his imminent sacking. Of course Round 13 and bye week 1 comes along, still no Mathieson. I could either rely on him miraculously being selected next week, or at least grab a player who's named. So I traded in Kade Stewart. Shocking call and I can cop that, but then and ONLY then does Leppitsch bring Mathieson in, one week before Brisbane's bye. Why? He goes and knocks up 96 while I have eat the saltiest donut of all time. 1 trade, 96 points and a lot of cash down the drain because one player was picked a week late… That's why this game sh*ts me.
The Other Bits and Pieces
*Me and my 'Best team'*
1679. I ended up with a more than decent total but it could have been so much better if it wasn't for Leppa! Nevertheless with close to my best team on the park next week I should be in for some enjoyment in Round 15… How our are teams looking? They should be getting close to full by this stage of the season, it's a great time of year. Happy trading. I'll be back next week as we dreamily stare at our 20+ premiums getting it done! Or so we hope…