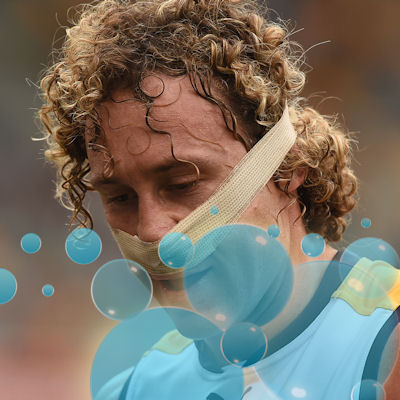 Results after Byes Round 1… Fantasy Coaches 1 – Fantasy Gods 0. Team selection was kind enough, most of us had 20+ players on the field and there was some great scoring!!! Sadly if you were like me, thanks to far too many sideways trades you had up to 8 rookies on the ground. Things don't get any easier next week, so strap yourselves in… It's time for the weekend wash-up!
Legends
Rockliff (135) – Since returning from injury, Rocky has a three round average of 153.7. Please do tell me how that never again list is going… Don't overcomplicate things, he's a must have! Absolute bloody legend.
Dangerfield (143) – Right now Danger is by far and away the competition's best player and is probably a shoe in for the brownlow (Although we say that about someone at this time almost every year). And I don't have him. Still. Moving on.
Blicavs (113) – At $430k you could do a lot worse than select a ruckman comfortably capable of averaging 90+. The Blix looks to be hitting his straps and solves a lot of ruck headaches, just note that he has a round 15 bye so you'd want to get him after that!
Martin (111) – It's one thing for us to say Stef Martin is better in a lone ruck role, but he was the one who had to go out and prove it… And bloody hell he did just that! 51 hitouts, 17 disposals and 111 points if you don't mind! Needless to say $392k is a bit of a joke, you're laughing if you don't own him. Bargain.
Shaw (116) – "Headache Relief Heath" I now call him. FYI he's still averaging 112 and doing the business, legend!!!
Zorko (147) – Make no mistake, Zorko would currently make it as a top 8 midfielder. As a forward he has become a must have. The Zork has gone under 100 just twice all season, with a lowest score of 89. His average of 112 means he is almost mirroring Merrett's performances, yet probably hasn't received the plaudits he deserves (From me anyway…). Legend.
Hanley (146) – This is the second time this season that Hanley has posted a monstrous 140+, the problem is he's just as capable of hardly making it to 60. Priced at a kind $448k, he's worth looking at after the byes as a final defensive upgrade.
Robinson (130) – Since returning to the midfield on tagging duties Robbo has hit superb form. Carrying a 5 round average of 108, he won't be going anywhere anytime soon. Risky, but definitely a differential to consider.
Barlow (159) – Once again we're left to kick ourselves as a player we started with finally hits his straps after we've dumped them. In fairness, he was a liability for most of the season but with a 3 round average of over 120, he's value at $507k. He is SO good when allowed to be a pure midfielder, watch out. Could easily average 110-115 from now onwards.
Neale (128) – Now that's how you bounce back from a shocker! This is Neale's fifth score over 120 for the year, he's on fire! He's going to be incredible value after his bye week, and is certainly on my radar for Round 16. Amazingly he's still owned by under 10% of coaches! Perhaps that will change soon…
Bartel (121) – It just gets worse and worse for me. Jimmy is a gun, say no more. Do I think he's worth getting in for $504k? With resting a definite possibility I'd probably look elsewhere at that price tag, still a gun! Hasn't gone under 90 since Round 5. Funnily enough that was when I traded him, you're welcome.
Gawn (132) – Big Maxy doesn't mind going huge, and his 60 point final quarter massascre must have been special to watch. It's hard to understand why he has such quiet weeks, if Max could add some consistency to his game he'd take his average towards 110. Incredibly this is his fifth score over 130, Gawn feasts like a pig at times!
Coniglio (120) – Coniglio needed to bounce back this week and he did exactly that. Still a differential for his owners (2.7%) he should be there to stay.
Cooney (126) – Just quietly, Cooney is tearing it up. Not relevant in Fantasy, but a sneaky option in draft leagues… Although that ship will have well and truly sailed by now. He carries a 5 round average of 99 if you don't mind! Still got it.
Parker (140) – We know Luke Parker is a jet and has it in him to average 110 posting huge scores like this, but can we trust bringing him into our final teams? Any players you grab now will likely be in your finals squads, so think carefully. $488k might be too hard to ignore for coaches like myself looking for a midfield upgrade in Round 15!
Losers
Stewart (38) – This may turn out to be one of the biggest mistakes of the season. Many coaches like myself chased the points this week, grabbing Hawthorn's Kade Stewart for the injured MacPherson or unselected Mathieson. It was supposed to be a quick points and cash grab, all he had to do was score reasonably well for 2 weeks… Then he dishes up a performance like that. He'll surely be dropped next week, leave us without a bye round player for 2 weeks and create another problem to try and fix. Please Hawks, give him another chance!
Wagner (23) – Wow, that was bloody average. Wagner looked over-awed by the big stage, I can't see him holding his spot this week either. Not a good week for the fresh meat!
Collins (46) – It wasn't a great week for the out dated meat either. Like many others I had Tom Ruggles 83 stuck on the bench, unlike many others I played a spud like Collins over him! I didn't really think that through… I'll probably be relying on big Sam again this week, 30 incoming.
Tucker (37) – I thought Darcy Tucker was meant to be a ball winning half back flanker, instead he decided to become a ball avoiding half back wanker (Nailed it). Nothing more to add.
Adams (38) – Hold Marcus Adams? I did. I thought it was a minor stroke of genius after his 60's and 70's upon return. Sadly he has now been a late out and dished up this travesty of a score. Thanks for the good times, he has been a fantastic servant!
R.Gray (76) – Gray of the Robbie variety has decided to start portraying his namesake Sam every second week. His direct opponent (And co-incidently the bloke I passed up to get him in) Barlow managed 159 and 43 disposals, while Robbie gets less than half of that. More of the 120's, less of the 70's thanks.
Gibson (16) – Mare? MAAAAAARE. Thank god my draft league had a bye this week or I would have been losing my mind. 16… Wow. Could be a sneaky option as a D7 once his price bottoms out… Monitor.
Smith (57) – I was firmly against trading Isaac Smith in and this is exactly why. He goes missing way too easily! Not only that, he doesn't have the high ceiling to make up for pathetic scores like this. He'll get you 90-100 most weeks, but this hurts too much.
Harwood (11) – Before you start laughing, this isn't as stupid as it looks. In fact it's quite the opposite, Harwood owners have been royally screwed for their patience and it's extremely unlucky. Many owners quit on him after a slow start, however after averaging 48 in his first 6, Harwood had averaged 68 in his previous 6. It was fair to assume he was good for a 60 and an easy trade out for over $300k come Round 15. Hard done by.
Priddis (81) – Hopefully this has put to bed the myth of certain players being 'untaggable'. Robbo held Priddis to just 16 disposals and more incredibly, only 3 clearances. It didn't end up helping Brisbane but it's something to note.
Walters (45) – This is hilarious. He was actually on 12 points 24 minutes into the third term, so technically he did well to recover!!! Unless a coach specifically comes out and publicly says on the record that a player has permanently moved into the midfield (Riewoldt) then I'm not buying it. You almost have to hold until his bye, however waiting that week will mean you're trading him out for ~$420k. Disaster.
Austin (19) – Just as Wagner and Stewart let us down, Logan Austin probably did what was expected of him. F**k all.
Byrne-Jones (41) – In what is presumingly DBJ's final farewell for his owners, he gave them a nice whack with this score just when his owners needed it the most. Always the case. It's time for him to go, what a pick he was!
Dunkley (36) – Dunkley, not so much. Having tricked many owners into grabbing him after his 115, he has followed it up with a 3 round average of 53. It's time for him to go this week with a B.E of 64, the only problem is it's time for about 6 other Round 14 rookies to go!
Liberatore (74) – After a slow start Libba came back strong. Unfortunately come his bye Round he has made his 20% of owners just $20k at an average of 87. Not great. Cheers to Hunter!
Kennedy (39) – Aaaaand it was back to Earth with a thud for Ben Kennedy. Reality hurts.
Shiel (67) – This is SO typical of Dylan Shiel. He puts together 2 brilliant months, has a 5 round average of 110 and comes up against Essendon. What does he do? 21 disposals for 67 points. Every time Shiel looks like taking the next step and becoming a certified premium, he pulls these stunts. Hopefully he bounces back next week!
Dea (-) – In all fairness, this is probably a slight dose of karma. Dea had played out of his skin in recent weeks, so much so that too much had been come to expect from him. A late withdrawal in week 1 of the byes hurts though… Priority trade this week, Laird is only $100k away!!! Undoubtedly the defensive rookie pick of the season.
Here are this week Nominations! Having won it the past 2 weeks, I've left Rockliff and Dangerfield out to give some other names a chance in the spotlight…
Barlow – Hold onto Barlow? Recently trade in Barlow? Then this is a no brainer. 43 disposals (20 contested), 9 clearances, 8 tackles for a whopping 159 points if you don't mind.
Zorko – Not only has Zorko constantly performed for his owners, he now pumps out a monster score like this! A triple double (19k, 12h, 11m), 8 tackles (Standard) and surely the favourite this week.
Gawn – Maxy wasn't happy with his 'average' 72 points at three quarter time, so decided to go on a final quarter tear. Definitely vote worthy on the back of his last 4 weeks!
Parker – If you're still holding onto Parker, this score would have been gold. 17 tackles, yes please! Stick by him.
S.Martin – This score by no means forgives Stef for what he has done to us, but to get the sole ruck role back and score a massive ton deserves huge credit. He's back!
Who will get your vote?
This Game Sh*ts Me
*How's that for contrasting trades*
'42 trades' is meant to make our teams better, but after looking at my trade history it seems that AGAIN I've made too many sideways trades. Taylor Adams and Fyfe were unfortunate (Cost me a look at Wagner or Byrne-Jones), but there's one trade that stands out in particular… Bartel ($430k) -> Fantasia ($370k). Never forget. Would I have done something that idiotic with limited trades? No chance. We're forced to hold our premiums and guess what, most of them return to form!!! Bartel had honestly looked horrid, but by not sticking with my guns I've been royally screwed. There are other examples as well. Trading Wells early. Dumping Barlow. Many dumped Ablett. Hall could be one many regret if he hits form again. It goes the other way too. Many will have rushed into selecting Luke Parker. Sam Mitchell. Bachar Houli. These are all unforced trades that could have been used to downgrade one rookie and upgrade another. Next year… There's always next year. And that's why this game sh*ts me.
The Other Bits and Pieces
1813. If you want a summary of my team, here it is. Too many rookies and no Dangerfield. That's my squad in a nutshell. With an amazing 8 rookies and just 19 players (Probably 18 presuming Stewart is dropped) next week could be an unmitigated disaster for me… Brace for impact.
On the other hand my RDT is still flying thanks to some smarter trading. Having held guys like Laird, Ablett, Wells (And hopefully Hall) my team is now filled with 5 trades and $300k in the bank.  I managed 1883, still lacking Dangerfield's presence. Jesus that has become a catastrophe. While you're in the top 100 there's always hope I say… Good luck next week! I reckon I might need it.