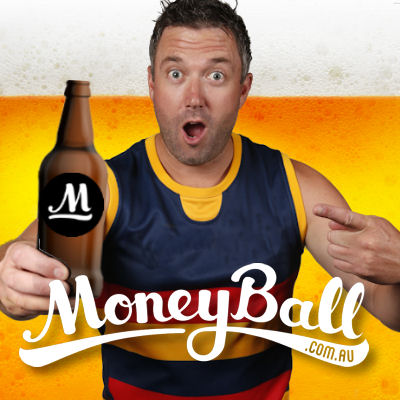 Here we go again you legends – Moneyball's big $5,000 Saturday Slam.
$5,000 with the winner taking $650 and its pays $34.18 right down to 89th
Hawthorn v Brisbane 1:45pm
St Kilda v Carlton
GWS v Collingwood
Essendon v Geelong
Adelaide v Melbourne 7:25pm
I have a mixed bag for you this week, but some sure things to help you take home the cash.
Sam Docherty (DEF, $10,400)
Ok… so I've started off with a premium defender and I think to win this week, you'll need at least one and Doch is your man.
He is averaging 123 in his last 3 games this year and under the roof at Etihad he has already scored a 132 there this year. Against the Saints, he is going to be huge, just like Shaw was last week when he had 30 touches and 9 marks.
Doch scored 120 and 114 against St Kilda last year and is set for a big one today.
George Horlin-Smith (MID, $5,500)
With scores of 62, 100 and 81 coming in his last 3, if we can hit GHS on a good week then we'll be in the money. The limited amount of data about GHS suggests he does tend to score better playing in Melbourne and this one is at the MCG against the Bombers.
With the premiums I'm targeting today, we're going to need a few guys like this, with our fingers crossed they can produce something special. He has scored a ton recently and certain has the ability to do that again.
David Myers (MID, $4,800)
Disappointing first game for Myers, only saw him knock up 41. I believe a few factors played into that though.
Firstly, the game was in Perth, a tough place to play your comeback back. Yes, I said "comeback game", this guy has played before and when he did he actually scored quiet well.
In fact, this man debuted in 2008 and in 2014 from 17 games he averaged a very impressive 81. Let's give the man another go back at the MCG against Geelong who are giving up the most 100+ and 120+ scores out of everyone in the last 3 weeks.
Oh and for the record, I hope that's a picture of Myers there, wouldn't know what he looks like but google said it was him so I'll roll with that.
Caleb Marchbank (DEF, $5,700)
Righteo… you can't go wrong with this guy. 84 last week and averaging 79 for the season. He'll be involved in all the cheap +6's in the back half against the Saints and under the roof he is even more tempting.
You could even partner him up with his team mate Tom Williamson (DEF, $4,200) who is at a very cheap price, but with all that said… don't forget Andy Otten (DEF, $5,800). Maybe the people at Moneyball forget to adjust his price (ha ha) because he is averaging 89 in his last three games and at this price you can't go wrong.
Jake Barrett (MID, $5,600)
Now that he has cracked back into the side, Barrett now needs to be on our Moneyball radar, especially against the Hawks. When Hawthorn played in Tassie 2 weeks ago, the allowed St Kilda to have 10 players score over 100. Now, I'm not saying that Jake here will do that, but at this price and coming off the back of a 69 from last week…. I don't think 80+ is off the cards.
Tom Rockliff (MID, $11,400)
I know, I know – "Good one Cal, of course, this is an easy pick"
Yes it is, but when you're spending this sort of money you need to understand exactly what you will be getting.
To win Moneyball last week, you would have needed Rocky's 167. It's as simple as that and this week, the writing is on the wall that there is a very good chance it is going to happen again.
The game is at UTas Stadium, the most Fantasy friendly ground ever in the history of Fantasy. Plus, you can enter via the "Jim Bacon Gates"….oink oink.
Hawthorn are the easiest team to score against this year and over the last 3 weeks, they have given up the 3rd most 100+ scores.
Last week, Viney scored 145 on the Hawks and Jones had 123.
Last time the pig played the Hawks, was in Tassie back in 2015 and on that day he had 45 touches and another huge 159pts.
That should be enough… I'll stop now
Go win some money you legends