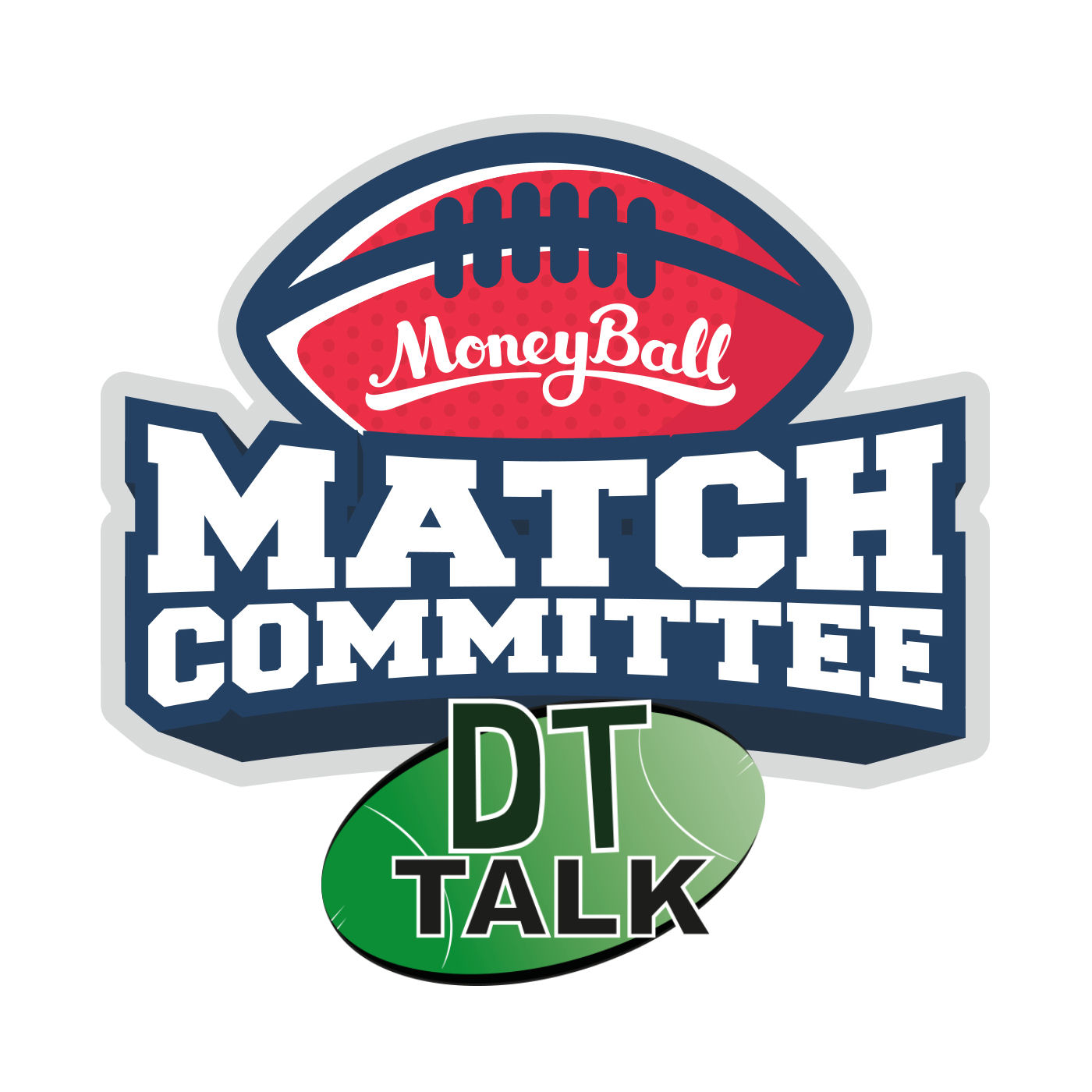 Tbetta here, and welcome to the self-proclaimed top resource for keen Aussie rules Moneyball punters! DFS (Daily Fantasy Sports) is taking off around the world and Moneyball have the perfect platform for you to turn your AFL Fantasy prowess into cold hard cash. Signing up is easy – head to moneyball.com.au and you could be ballin' within minutes.
If you're unsure how DFS works, be sure to head to the 'Help' section for all the info you need to start cashing in on your AFL Fantasy knowledge.
Click here to subscribe on iTunes.
West Coast vs Western Bulldogs
The Bulldogs and Eagles are ranked #3 and #4 respectively for uncontested possessions this year, so expect plenty of easy footy going around on Friday Night. There's no one in the competition who likes it outside and loose more than Lachie Hunter ($9,100 MID), and that's been evident with his scores of 102 and 163 against West Coast last year. Hunter's had a quiet start to the year in comparison to his blistering run to kick off last year, but 131 against Richmond last week suggests he's heating up.
Attention Eastern States media, casual footy fans and fantasy coaches around Australia: Luke Shuey's ($10,500 MID) numbers this year demand your respect. The Shuperman has now scored 110 or more for four weeks straight, averaging career-highs in disposals (29.7), marks (5.6) and fantasy points (116.6) over this young season. It's nigh time we started giving him his due, because Shuey isn't just a Champion Data angel anymore. He's a nut-and-bolts fantasy stud now.
VALUE PICKS:
Tom Boyd ($5,500 RU): Been a poor year after we all expected him to build on a break-out Finals campaign, but had 95 on Soldo from just a half game in the ruck. Can he repeat against an equally unheralded Vardy/McInnes

combo?

Tom Barrass ($5,600 DEF):

The defender keeping some seriously good defenders out at the Eagles has posted healthy scores of 75 and 82 in the past fortnight. Good value, but has a limited ceiling.

Elliot Yeo ($9,100 MID):

Yeo-Yo Watch: 123-point average in wins vs 77 in losses. The Bulldogs smashed West Coast by 47 points here in the Finals last year, so don't write this off as an easy home win – give his selection some serious thought.
Hawthorn vs Brisbane
The Brisbane Backline rule demands that you pick Jarryd Roughead ($6,500 FWD) this week. While I won't bore you with all the 18-month long data we have on this juicy trend, I will point out what Charlie Dixon (125) and Buddy Franklin (133) have achieved in the last fortnight against the Lions defence. Roughead himself loves playing Brisbane, boasting some awesome scores of 92, 111, 110, 98 and 118 in their last five encounters. The Hawks skipper played himself back into form last week, amassing 107 Moneyball points from 4 goals, to be one of my first-picked DFS players this weekend.
It's official – University of Tasmania Stadium is the single highest-scoring ground in the competition. Those stats don't lie, but if you want more anecdotal evidence, then how about the fact that the last time the Lions were down there, Rockliff ($11,400 MID) had 159 from a monster 45 touches and 14 tackles? Or that in the only other game at UTas Stadium this year, St. Kilda managed to get 10 players topping the ton against the Hawks? Go hard on Hawks and Lions this weekend folks!
VALUE PICKS:
Marco Paparone ($5,600 DEF):

106 last week, slotted in for Cutler in that backline machine perfectly. Excellent fantasy role and has been a great DFS guy for us previously.

Tim O'Brien ($5,100 FWD):

Another possible beneficiary of the Brisbane Backline rule. Has two scores of 90+ in the last three weeks and is averaging 7 marks in that time.

Ryan Burton ($5,800 FWD):

Like O'Brien, two scores of 90+ in last three. Averaging 87 for the year and hasn't let us down once.
St Kilda vs Carlton
St Kilda are another team that clearly leak points to opposition rucks, so picking Matthew Kreuzer ($8,000 RU) becomes very easy to justify. Grundy (118), Stef (124), Zac Smith (90) and McEvoy (103) have all benefitted from this match-up in recent weeks and Kreuz is in reasonable form with totals of 102 and 98 since having a week off in Round 5. Kreuzer's averaging 98 for the year – smashing his previous best of 86 per game in 2013 – and couldn't be doing much more to put his hand up for selection this week.
Averaging just 78 in his past three games, Nick Riewoldt ($9,900 FWD) is one that you might consider fading this week. He doesn't seem to be playing that Richo Role anymore since turning his knee into a deckchair, option to sit deeper forward and hence is relying on goals to score big in fantasy. In fact, his only ton since Round 4 was against Hawks, and he needed 4 goals to do it. At his lofty price, it's a pass from me.
VALUE PICKS:
Jack Sinclair ($4,900 FWD):

The 5th Jack at the Saints has 82 and 106 in his two games this year, which is more than we can expect at his price. He is playing more FWD than MID though, so don't be surprised if he pulls out a stinker at some point.

Dylan Roberton ($8,700 DEF):

The new kid on the backline block is averaging 121 in last four, including amassing 16.7 uncontested possessions per game.

Jack Steven ($9,500 MID):

Possibly the best pick for the week under $10k. 133 then 113 last week, despite being tagged. He's back.



GWS vs Collingwood
Stephen Coniglio ($9,000 MID) was straight back into the side and saluted with 115 – in a tagging role, no less! He's the only real fantasy beast at GWS and he'll definitely start to transition to a more attacking role, as he did last year (not tagging after Round 7). Cogs is as safe as they come, reaching at least 90 in 18 of his last 21 games.
Now we know GWS are very difficult to score against, but if someone can buck the trend, it's the ex-Giant, who loves playing his old team. Taylor Adams ($10,600 MID) has vengeful scores of 146 and 104 versus the Giants in his only clashes for his short Collingwood career. Averaging 7.9 tackles per game (ranked #3 in the league), you always know that TayTay is going to bring maximum effort every week.
VALUE PICKS:
Lachie Whitfield ($7,500 MID):

Obviously won't be match-fit, but it's easy to forget that he averaged 98 in last three games of 2016. Straight back into team and worth a punt IMO.

Josh Smith ($7,700 MID):

Has been excellent ever since his rest (111, 80). You'll need to grab a few picks in his price range to afford the big dogs, and Smithy is safe as houses.

Daniel Wells ($7,800 MID):

96 and 91 so far this year and Pies say he's raring to go. So why do I feel so uneasy picking him?

Devon Smith ($8,000 FWD):

87, 96 and 102 in his last three and another week without Greene can only help his scoring. I like it.
Essendon vs Geelong
Of the 25 highest averaging players for marks, only 2 are midfielders – one of them being Mitch Duncan ($10,000 MID) at 7.6 marks per game. With scores of  113, 134, 117, 128 in his last four, there's very little reason to leave Duncan out of your side this week.
Geelong has conceded more 100+ scores in the last five weeks than any other side at 5.8 per game, including 4 lots of 120+ scores to the Suns last week. How can you not want a piece of that pie? Obviously, Zach Merrett ($11,300 MID) jumps to mind after beasting it with 124 a game for the year. Also look at Dyson Heppell ($9,000 MID) and Jobe Watson ($8,000 MID) to save cash, because they've already proven their ceilings at times this year.
VALUE PICKS:
Zach Tuohy ($8,200 DEF):

131, 117 and 100 leading into this game, quarterbacking hard all year. A 32 disposal average over his last three is elite for a defender.

Michael Hurley ($7,700 DEF):

94, 108, 99. Also elite for a defender, but in a different category –  averaging 9 marks in last three. Can't keep ignoring him.

Adelaide vs Melbourne
Melbourne concede the most points to ruckmen over the last five weeks and run into a red-hot Sam Jacobs ($9,300 RU) this week. His "opponent" Pedersen has conceded scores of 91 (Bellchambers) and 124 (McEvoy) in his two efforts, imagine what a top-three pure ruckman like Jacobs will do? I'll give you a tip – he's gone 95+ in 5 of his last 6, all against better rucks than he'll face on Saturday night.
Cameron Pedersen ($6,000 FWD), on the other hand, is winning just 17 hitouts a game from his two appearances, but who cares? He's produced scores of 97 and 98 anyway. Even if Sauce Jacobs wins every hitout, Pedersen will still get his touches and you'll be a happy DFS shark.
VALUE PICKS:
Andy Otten ($5,800 DEF):

Lock him in. 99, 88, 79 in last three but his low scores earlier in the year have kept his price low. Bargain.

Matt Crouch ($9,500 MID):

Melbourne plays a high-possessions style and that suits Matt perfectly. Has scored 1118, 122, 116 in last three with a lowest disposal count of 35 touches.

Jack Viney ($8,900 MID):

Been ordinary all year but will gain so much confidence from 145 last week. Highest disposal count for the year (32) but also added a monster 15 tackles.
Richmond vs Fremantle
After a slow start, Lachie Neale (10,000 MID) is now averaging 114 in his last four and one has to wonder, is he back? I threw him up as a top pick last weekend and he repaid the faith, notching 138 from a tasty 40 touches. It was his first 35+ disposal game for the year – a feat he achieved 11 times last season – so it seems he's finally over his interrupted pre-season and he looks primed for a big day.
Aaron Sandilands ($7,900 RU) has won 50+ hitouts in the last four weeks straight and comes up against Richmond this week, who are ranked clear #1 for leaking points to rucks this year. I smell a lock. Jacobs (158) and even Tom Boyd (95) have gone big against Tigers in last fortnight, so imagine what Sandi will do? Nank won't win a tap, and you'll have a very full Sandi sitting in your Moneyball side.
VALUE PICKS:
Brad Hill ($8,100 MID):

Busted out 159 last week, largely due to 37 touches with only 3 contested! Not sure Richmond will let him flutter around like he did this week, but if they do, 16 marks again will be DFS gold.

Brandon Ellis ($7,600 MID):

96 last week was his first score above 80 for the year, thanks to a new backline role. Has Ellis finally figured it out? Freo one of the leakiest teams to defenders.

Connor Blakely ($7,000 MID):

TOG up to 75% this year, from 62% last season. Has seen improvements in fantasy as a result, 88 and 110 in last week despite a tagging role.

Gold Coast vs Port Adelaide
A forward averaging 113 in his last 3? Yes please, where do I sign? Chad Wingard ($7,600 FWD) has won 25+ disposals in all of last 3 weeks, after winning a high of just 19 in the first four weeks. There's been a clear evolution into a MID/FWD hybrid role, and an equally clear boost in fantasy output, so don't sleep on the Wingman Wingard.
Did you know that no player has ever scored a ton in China? Seriously though, who knows what's going to happen here? My suggestion is to fade this game in your Sunday Funday contests, as anything could happen. I'm talking weird results, late withdrawals, limited scoring, the whole bit – everything is up for debate, so play it safe. At a very minimum, make sure you're stacking either side rather than picking out an even spread,
VALUE PICKS:
Charlie Dixon ($6,800 FWD):

125, 124 on the trot, but is it real? The Gold Coast backline aren't quite as bad as Brisbane's, but they're not far off in terms of what they concede to opponents.

Alex Sexton ($6,800 FWD):

Pops up for us in DFS when the price is right. Scores of 80, 95 and 104 on the trot suggest he's worth a gander.

Gary Ablett ($10,400 MID):

Hasn't played Port since 2013, so if all we're left with is recent form, then he's a lock. Averaging more than any other player in the past 5 weeks at 131.2 ppg.
North Melbourne vs Sydney
With 91, 102, 101 on his recent resume, can you really afford to leave out Zak Jones ($6,800 DEF)? The former defender has been playing a lot of midfield time lately and was close to BOG last week, Horse won't reduce his midfield minutes now, surely? For that price, there isn't much more to say.
Kangaroos have sent out loose tags in 3 of past 4 games, curtailing the likes of Hunter (69), Fyfe (87) and Sloane (65) in that time. So the question becomes, who will they target this week? Maybe Josh P Kennedy ($9,300 MID), who was shut down to the tune of 58 by Red Bull Robbo last week? Or maybe his mate Dan Hannebery ($9,500 MID), who has 103 and 115 in last two?
VALUE PICKS:
Isaac Heeney ($6,900 FWD):

Lock it. 120 and 102 in past fortnight, and that's still with him playing a huge chunk of time forward. Imagine once he builds up match fitness?!

Luke Parker ($9,300 MID):

Not value, but he could be a nice unique pick for you. Has scored between 84 and 99 in every game this year, and you can feel that the Sydney midfield is going to go bang soon. Basement is solid obviously, but he hasn't even gone near his ceiling this year – don't forget Parker pumped out 5 scores over 135 last year.

Ben Cunnington ($7,200 MID):

Ruined my weekend with 41 two weeks ago, but he's surrounded that score with 111, 91 and 112. He eats up unlimited midfield minutes, which means he's a bargain on the proviso that he doesn't forget how to footy.
Always remember to gamble responsibly. If you're having problems with your betting, you can get help at Lifeline or talk to someone at Gambling Help Online.