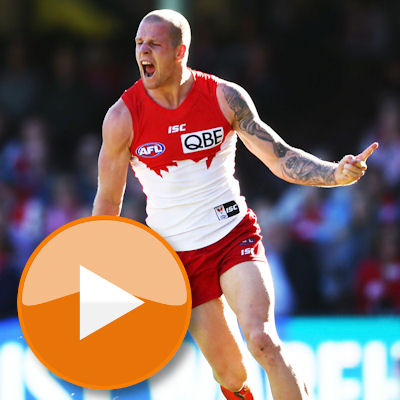 We are around a third of the way through the season and things start to get challenging. Yes, they may have already have been challenging so far this season with injuries, suspensions and players being managed, but there is more to come.
Gold Coast and Port Adelaide face off in China as they play for premiership points for the first time outside of Australia and New Zealand.
What scores can we expect from our Fantasy players in Shanghai? Will the long flight hinder the numbers of our stars?
The Traders discuss the big matches in the upcoming round and delve into the numbers that each ground has dished up over the last three years.
Also in this week's podcast:
Roy, Calvin and Warnie's great start to the season
Fantasy news including injuries, suspensions, "Magoos news" and more
Which cash cows to milk
What to expect from the China game and trading strategy
Social media questions answered
Click here to subscribe on iTunes. (Please leave a rating and review to help us move up the charts).
Team average per ground (2014-2017)
Thanks to Morts at dailyfantasysportsaustralia.com
| RANK | GROUND | GAMES | TEAM AVG |
| --- | --- | --- | --- |
| 1 | University of Tasmania Stadium | 13 | 1589.2 |
| 2 | SCG | 31 | 1587.5 |
| 3 | Domain Stadium | 73 | 1578.2 |
| 4 | MCG | 151 | 1574.9 |
| 5 | Etihad Stadium | 152 | 1574.7 |
| 6 | Adelaide Oval | 69 | 1567.4 |
| 7 | Simonds Stadium | 24 | 1566.3 |
| 8 | Metricon Stadium | 36 | 1563.7 |
| 9 | Spotless Stadium | 25 | 1558.4 |
| 10 | ANZ Stadium | 6 | 1554.5 |
| 11 | TIO Stadium | 3 | 1550.7 |
| 12 | Cazaly's Stadium | 3 | 1546.3 |
| 13 | TIO Traeger Park | 3 | 1546 |
| 14 | UNSW Canberra Oval | 11 | 1534.4 |
| 15 | Gabba | 36 | 1531 |
| 16 | Westpac Stadium | 2 | 1528.5 |
| 17 | Blundstone Arena | 9 | 1500.7 |
2017 averages – Fantasy points for and against (season)
| CLUB | PTS FOR | >100 FOR | >120 FOR | PTS AG | >100 AG | >120 AG |
| --- | --- | --- | --- | --- | --- | --- |
| ADE | 1683.1 | 4.6 | 1.4 | 1596.1 | 3.1 | 1.1 |
| BL | 1532.7 | 4.1 | 1.9 | 1624.1 | 2.6 | 0.9 |
| CAR | 1623.7 | 4.6 | 1.7 | 1652 | 4.4 | 1.6 |
| COLL | 1677.7 | 4.7 | 2 | 1650.1 | 3.9 | 0.9 |
| ESS | 1655.7 | 3.1 | 1.4 | 1630.4 | 3.9 | 1.6 |
| FRE | 1562.1 | 2.3 | 0.4 | 1635.6 | 3.1 | 0.9 |
| GC | 1690.6 | 4.4 | 1.4 | 1565.7 | 3.7 | 0.7 |
| GEE | 1615.7 | 4.7 | 1.3 | 1663.3 | 5.1 | 1.7 |
| GWS | 1617.6 | 2.9 | 0.3 | 1545.6 | 2.3 | 0.1 |
| HAW | 1628.4 | 3.1 | 1.6 | 1761.4 | 4.9 | 2 |
| MELB | 1719.3 | 4.4 | 1.4 | 1546.3 | 3.3 | 0.9 |
| NM | 1582 | 2.4 | 0.3 | 1561 | 3 | 0.7 |
| PA | 1637.3 | 3 | 1.3 | 1566.1 | 3.4 | 0.6 |
| RICH | 1467.9 | 2.3 | 0.7 | 1644.7 | 3.9 | 2 |
| STK | 1655.3 | 4.4 | 1.1 | 1685.3 | 5 | 1.3 |
| SYD | 1514.6 | 2.6 | 0.6 | 1714.4 | 4 | 1.4 |
| WB | 1688.7 | 3.9 | 0.4 | 1613.9 | 3 | 1.4 |
| WC | 1691 | 3.7 | 1.3 | 1587.3 | 3 | 1 |