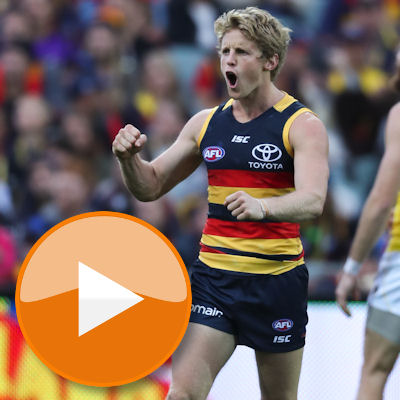 The Crows are flying, sitting at the top of the ladder at 6-0 and Rory Sloane (MID, $720,000) is leading the way as the top scoring Fantasy player in the competition.
A fracture of Sloane's eye socket interrupted his pre-season limiting his ownership. Even some coaches who started with him when named in round one decided that 68 wasn't good enough and traded him out.
Since then, Sloane has scored 152, 139, 143, 132 and most recently, 155.
The five round average of 144.2 is a true indication of his form and less than 15,000 coaches own the most expensive player in the competition.
Is Sloane a must-have? If he continues this form, then yes. A breakeven of 89 means that he isn't getting any cheaper.
The Traders will discuss whether you should shell out the big bucks for Sloane or other premium players around that $700,000 mark or do you look for a fallen premium as cash is hard to come by this season.
Also in this week's podcast:
Fantasy news including injuries, suspensions, "Magoos news" and more
Cash cow culling
Bye structure
Social media questions answered
Calvin's captain form guide
Click here to subscribe on iTunes. (Please leave a rating and review to help us move up the charts).
2017 averages – Fantasy points for and against (season)
| CLUB | PTS FOR | >100 FOR | >120 FOR | PTS AG | >100 AG | >120 AG |
| --- | --- | --- | --- | --- | --- | --- |
| ADE | 1722.3 | 4.8 | 1.7 | 1570.7 | 3 | 1 |
| BL | 1539.8 | 4.3 | 2 | 1620.5 | 2.3 | 0.8 |
| CAR | 1621.7 | 4.3 | 2 | 1680.3 | 4.7 | 1.8 |
| COLL | 1710.3 | 5 | 2.3 | 1652.5 | 3.5 | 1 |
| ESS | 1694 | 3.5 | 1.5 | 1604.8 | 3.8 | 1.5 |
| FRE | 1525.2 | 2 | 0.2 | 1670.5 | 3.5 | 0.8 |
| GC | 1655.5 | 4 | 1 | 1566.8 | 3.7 | 0.7 |
| GEE | 1625.2 | 4.8 | 1.3 | 1623.7 | 4.8 | 1.3 |
| GWS | 1623.7 | 2.5 | 0.3 | 1513 | 1.5 | 0.2 |
| HAW | 1618.7 | 2.8 | 1.5 | 1772.2 | 5.2 | 2 |
| MELB | 1723 | 4.7 | 1.3 | 1522.8 | 3 | 0.7 |
| NM | 1554.2 | 2.2 | 0 | 1579.8 | 3 | 0.8 |
| PA | 1612 | 2.7 | 1 | 1574.3 | 3.7 | 0.5 |
| RICH | 1461.7 | 2.5 | 0.8 | 1632.2 | 3.8 | 2.2 |
| STK | 1641 | 4 | 1.3 | 1702.7 | 5 | 1.5 |
| SYD | 1492.7 | 2.3 | 0.5 | 1751.8 | 4.2 | 1.5 |
| WB | 1683.5 | 3.8 | 0.3 | 1632 | 3.3 | 1.7 |
| WC | 1720 | 4 | 1.3 | 1553.7 | 2.7 | 0.7 |