Wounded Pig – Ep. 132
The shoulder of ham for our Fantasy Pig isn't looking good.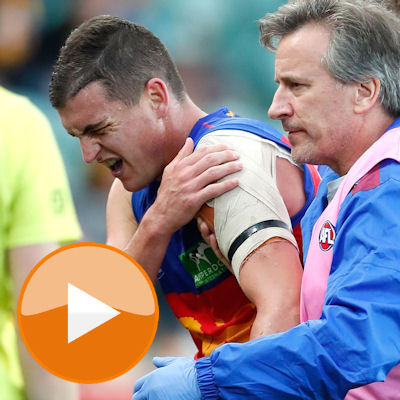 Watching the Fantasy Pig Tom Rockliff go about his business at University of Tasmania Stadium on Saturday afternoon pleased The Traders.
That was until the last three minutes of the game.
'Rocky' dislocated his shoulder after racking up an impressive 130 Fantasy points. While the results of his scans are yet to be known, it would be safe to assume he will miss this week and not out of the question that he misses the following week before the Lions' bye. Sadly it looks like he needs to be traded.
The positive is that the most expensive and highest averaging player in the competition has an understudy or two.
Tom Mitchell scored 132 in Launceston to take his average to 126 as his pig-like tendencies have increased since joining the Hawks. Later that evening at the MCG, Zach Merrett gathered 33 disposals and 12 tackles for 150 points.
One of the 'piglets' is the best option to trade the King Pig to, but if you already have the duo, there are plenty of suitable player to bring in to help improve your side as the bye rounds approach.
Roy, Warnie and Calvin discuss trade possibilities and more on this week's episode of the Official AFL Fantasy Podcast.
Also in this week's podcast:
Fantasy news including injuries, suspensions, "Magoos news" and more
Playing the breakevens
Gold Coast and Port Adelaide byes
Social media questions answered
Calvin's captain form guide
Click here to subscribe on iTunes. (Please leave a rating and review to help us move up the charts).
2017 averages – Fantasy points for and against (season)
| CLUB | PTS FOR | >100 FOR | >120 FOR | PTS AG | >100 AG | >120 AG |
| --- | --- | --- | --- | --- | --- | --- |
| ADE | 1663.6 | 4.3 | 1.4 | 1613.6 | 3.5 | 1.3 |
| BL | 1518.9 | 4.1 | 2 | 1639.6 | 3 | 1 |
| CAR | 1626.4 | 4.6 | 1.9 | 1652.5 | 4.4 | 1.5 |
| COLL | 1670 | 4.5 | 1.8 | 1658.9 | 3.9 | 1 |
| ESS | 1667.1 | 3.6 | 1.5 | 1590.5 | 3.4 | 1.4 |
| FRE | 1585 | 2.3 | 0.6 | 1611.3 | 2.9 | 0.8 |
| GC | 1683.4 | 4.5 | 1.5 | 1603.8 | 4 | 0.9 |
| GEE | 1577.6 | 4.1 | 1.1 | 1673.8 | 5.4 | 1.8 |
| GWS | 1630.4 | 3 | 0.5 | 1554.4 | 2.4 | 0.1 |
| HAW | 1643.4 | 3.5 | 1.6 | 1719 | 4.8 | 2.1 |
| MELB | 1721.4 | 4.6 | 1.5 | 1543.9 | 3.1 | 0.9 |
| NM | 1566.4 | 2.5 | 0.3 | 1589.9 | 3.6 | 1 |
| PA | 1666.4 | 3.4 | 1.4 | 1574.5 | 3.6 | 0.8 |
| RICH | 1464.5 | 2.1 | 0.6 | 1657.3 | 3.6 | 2 |
| STK | 1655.4 | 4.4 | 1.1 | 1680.3 | 5 | 1.5 |
| SYD | 1549.3 | 3.3 | 0.9 | 1682.3 | 3.9 | 1.3 |
| WB | 1675.6 | 3.8 | 0.4 | 1627.8 | 3.5 | 1.4 |
| WC | 1695.3 | 4.1 | 1.3 | 1586.9 | 3 | 0.9 |