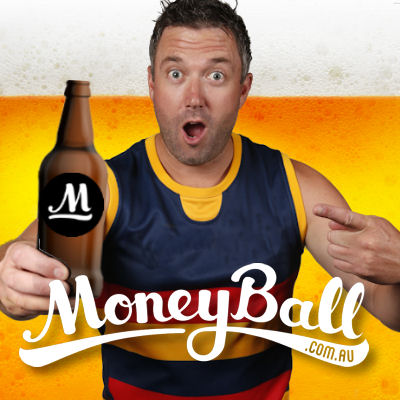 Hi there Moneyballers. Welcome to the big $5,000 Saturday Slam where winning cash is on the agenda for today.
I have my best tips for the day, so lock in a few of these bad boys, pick a few of your own and good luck as we sink a few froths and have a beautiful day of footy.
$5,000 with the winner taking $650 and its pays $34.18 right down to 89th
North Melbourne v Adelaide 1:45pm
Collingwood v Carlton
Port Adelaide v West Coast
Gold Coast v Geelong
Bulldogs v Richmond 7:25pm
Ivan Soldo (RUC, $4,300)
The potential 'one week wonder' finally gets his chance here, on the back of a one week suspension to Nankervis and that's perfect fine by us. Soldo has been playing second fiddle to Ivan Maric in the VFL and scoring pretty well at 71 points a game.
We can't expect too much from the 204cm unit this week, but then again he's only up against Tom Boyd who Shane Mumford whooped last week 52 to 22 in hitouts.
Not a picture of the man over there dropping a mark, but I thought we at least better know what he looks like and trust me, there are not a lot of images out there about him.
Jasper Pittard (DEF, $7,500)
Surprisingly cheaper than I thought considering he is as safe as house averaging 92 this year. He had 90 on the Eagles last year and at hom today, he should be right for another 90-105 score.
Another defender who has been getting the job done is Andy Otten (DEF, $5,200). Now I don't want to include him in my exclusive top 6, but he has scored 99 and 88 in his last two games and certainly needs to be mentioned. Playing forward and in the ruck, old mate Otten is back firing.
George Horlin-Smith (MID, $5,000)
George Horlin-Smith is not only another annoying name with a hyphen but he's priced around guys who are currently averaging 55-65 in Moneyball, and my friends, he's been much better than that.
He's been great with scores of 100 and 81 coming in his last two games and against the Suns, he should continue this form again this week.
Tom Williamson (DEF, $3,900)
In AFL Fantasy Classic this week, I have opted for this Carlton kid to play on my ground ahead of Curtly Hampton. Williamson is good for a 65-70 and at this price, that's fine. Although he does have the potential to be bigger and with the way the Blues flick it around the back-half, Willo should link up for a few +6s.
He has scored 71 and 67 in his last two games and this week he's up against the Pies at the MCG. Collingwood do tend to give up a few point from time to time and that's where Willo will be cashing in.
Will Hoskin-Elliott (FWD, $5,900)
If you're in Melbourne… open the curtains and if it's sunny, lock in WHE. In the rain two weeks back, Hoskin-Elliott struggled with just 52pts, which dramatically effects his overall average of 89.
In the sun, he hasn't scored under 72 and has even reached the heights of 124.
He had 100 last week and looks much better with the sun on his back
Taylor Adams (MID, $10,400)
Need someone to potentially score 150 today? Of course you do! Then Taylor Adams in your man.
Occasionally Adams is over-looked in Moneyball as others fancy his team mates in Treloar and Pendlebury. But this week, I'm saying avoid Treloar based on the fact I'm 92.4% confident he'll be tagged by the dangerous Curnow who has held him to 96 and 75 in their last two encounters. In my experience, a tagger who has had success, will tend to go back to repeat the feat time and time again.
Adams has a ceiling and from only 6 games this year, he has already pumped out 2 scores over 145. This is what we need to win these competitions and having Adams today is certainly a step in the right direction.
His record against the Blues isn't great I must admit, but his form at the MCG is through the roof with an average of 122 there from four games this year.
With the other dudes getting tag and god knows what else… Adams is our man and with him in our side, we'll be smiling all the way to the bank.