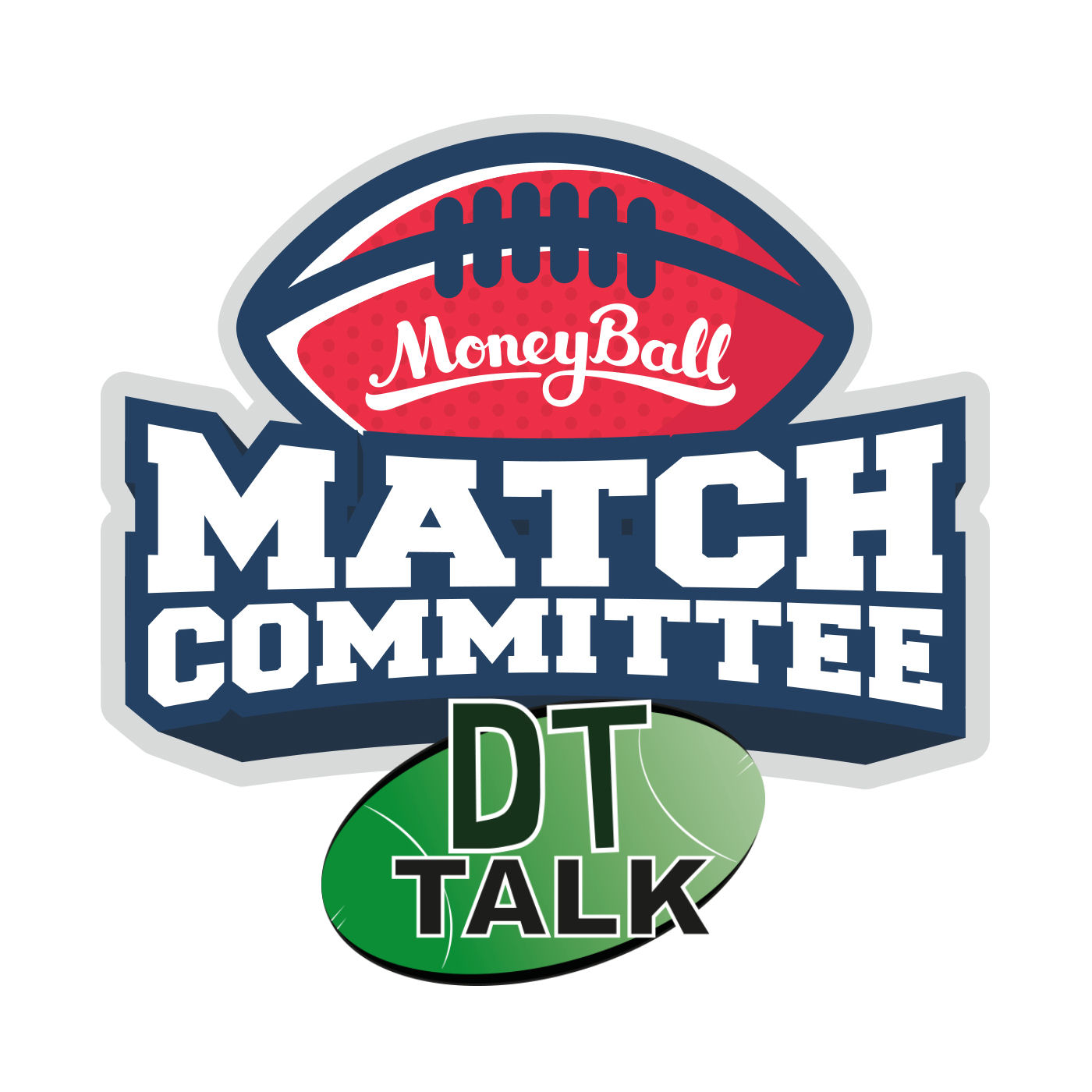 Tbetta here, and welcome to the self-proclaimed top resource for keen Aussie rules Moneyball punters! DFS (Daily Fantasy Sports) is taking off around the world and Moneyball have the perfect platform for you to turn your AFL Fantasy prowess into cold hard cash. Signing up is easy – head to moneyball.com.au and you could be ballin' within minutes.
If you're unsure how DFS works, be sure to head to the 'Help' section for all the info you need to start cashing in on your AFL Fantasy knowledge.

Click here to subscribe on iTunes.
Before we jump into the tips, it's important we quickly outline the changes to Moneyball this season. 
We now have a 'FLEX' slot in our squads, at the expense of the 4th 'MID' position we had previously. Quite simply, you can pick any player in the position, giving us a little more flexibility in forming line-ups.
Point scoring has moved away from the custom formula last season and now sits in line with the scoring system that you already know and love!
With those tweaks in mind, let's start ballin'!
St Kilda vs GWS
This match-up with be an arm wrestle of play-styles with the Saints preferring to trade haymakers, while GWS like to chip away at their opponents. Given that the Giants are the better side, it would be safe to assume their suffocating ways – they're only conceding 1.5 tons per game – will dominate the match-up.
When you're weighing up where the throw your cash, keep in mind that the Giants have allowed just one player to top the 120-point threshold against them this year. So maybe you don't spend up on a Jack Steven ($9,100 MID) type, even after his 133-point monster last week. Or you might overlook someone like Nick Riewoldt ($10,300 FWD), even though he's hit 110 points or better a few times this year.
On the other hand, a cheaper option like Jack Steele ($7,200 MID) is hitting his strides in a big way after after an injury-interrupted pre-season, and is actually coming off back-to-back career-high scores! I was pleasantly surprised to learn that the former Giant, for all the perceived frustration that he gives fantasy punters, has produced just the single score under 92 this year. Steele is man-hugging his way to relevancy this year, ranked 5th in the league in tackles and is fresh off totals of 9, 9, 10 and 10. If any Saint can withstand the statistical chokehold that GWS apply to their opponents, then it's the ferociously tackling Steele.
VALUE PICKS:
Dylan Roberton ($8,000 DEF):

Has now elevated himself to must-own status, averaging a huge 128 in his past three outings. Has a game-style that could excuse him from the GWS drought.

Seb Ross ($8,700 MID):

He's considered a role player, but scores of 120, 111, 117 in his past few suggest he's got a bit of talent. Only issue is price, where you can snap up Steven for a slither more dosh.

Koby Stevens ($7,700 FWD):

Impressive with 106 in his first game for the Saints, playing plenty of midfield minutes. Forward status is very juicy.

Shane Mumford ($7,800 RU):

The big Sausage Eater only has to contend with Longer, and has a 99-point average in his last few. Lock it.

Tim Taranto ($4,800 MID):

The first year Giant manages a career-best 82 on the weekend. Cheapest pickable player with untapped upside.
North Melbourne vs Adelaide
The message here is very clear: Stack Adelaide players, with a couple of possible exceptions. No North player has scored above 120 this year and that's highly unlikely to change against the undefeated Crows, who are the 4th stingiest team in the league for allowing triple-digit totals.
One possible exception could be Shaun Higgins ($7,800 FWD) after he swanned around as a full-time MID once again in Round 6. Missy is averaging career-highs in disposals and tackles and is in a rich vein of form, with last week's 119 being his best score in 3 years. North are lacking quality through the guts, so expect them to feed the classy Higgins whenever possible.
VALUE PICKS:
Rory Sloane ($10,900 MID):

The only current player ever to score 132+ in five straight weeks. Wow. Will North react with a midfield tag though?

Andy Otten ($5,200 DEF):

He's punched out scores of 99 and 88 in the past fortnight, so he's simply too cheap in this hybrid forward/ruck role.

Nathan Hrovat ($6,700 FWD):

Managed his first ton since 2014 last week, and first as a Kangaroo. 4 straight scores over 70 suggests his basement is healthy enough to take the gamble.

Rory Atkins ($7,400 MID):

83, 85, 105 in last three. Best value Crow on the market, and doesn't have the name recognition for the casuals to get on board.
Collingwood vs Carlton
Dry weather flat out means points for Will Hoskin-Elliott ($5,900 FWD) as, excusing that week in the wet, the wingman is averaging 97 over 5 dry-footy games! A big reason is his link-up ability, averaging 8.8 marks across those games. Unfortunately, the Saturday forecast for Melbourne is a soggy one, so I'll be fading WHE this week.
Taylor Adams' ($10,400 MID) had a exquisite season with an average of 122, but it's his scores in wins that excite me, being 137 and 148 this year. Looking back, Adams averaged 110 in wins last year vs 98 in losses, so the trend is clear. The question then becomes, do you think Collingwood will beat Carlton on Saturday? If so, lock in Adams and finish the day smiling.
VALUE PICKS:
Patrick Cripps ($9,500 MID):

Injury-interrupted pre-season but back in form with 121,117 in last two. I love him in all forms of fantasy heading forward.

Tom Williamson ($3,900 DEF):

Not a big fantasy guy but too cheap to ignore with 67 and 71 in last two. Can help you afford the plethora of studs.

Jordan de Goey ($6,400 MID):

We all love a tale of redemption don't we? Worth a punt at this price.

Josh Smith ($7,400 MID):

Came back super fresh after his resting with 111 from 9 marks and a 24:2 Kick:Handball ratio. That's how you fantasy footy, boys.

Port Adelaide vs West Coast
Sandi had 52 hitouts vs the underwhelming Giles/Vardy combo last week, which is why you need to have Patrick Ryder ($6,900 RU) locked in. He's produced just one score under 80 this year, so he's safe and will have the momentum with a favourable match-up. He's already topped 40 hitouts in two games this year, so he has all the tools to exceed triple-digits for the first time in 2017.
Last year it was Home vs Away, but we're now seeing a new Yo-Yo factor this year with everyone's favourite vulture, Elliot Yeo ($8,600 MID). After 6 games, Yeo averages 123 in wins (all tons), yet ticks over at just 77 in losses. It's a small sample size of course, but it confirms previously-held notions that Yeo likes it easy. As a result, it might be worth fading Yeo this week, playing the #2 team in Port at their home deck. It's not lost on me as an Eagles supporter that all their losses this year have been in away games.
VALUE PICKS:
Dom Sheed ($6,200 MID):

99 and 72 in his last two games. Eagles have a couple of sore onballers, so his midfield time could see a spike this week.

Chad Wingard ($6,100 FWD):

After averaging 61 for a three-week stretch, Wingard has gone 122 and 85, winning 25 or more touches in the last two. Back in the midfield and dominating.
Gold Coast vs Geelong
Leaky backlines form a big part of more weekly research and Gold Coast are trying to dethrone Brisbane in that regard, albeit due to injury to key personnel. It doesn't change the fact that Ben Brown had 6.2 for 115 last week, whilst 7 Crows forwards kicked multiple goals the week before.
Over the last two seasons, Tom Hawkins ($7,300 FWD) averages 89 points when he kicks 3 goals or more, and he should do that easily this week.
Last week was the first time both Dangerfield ($10,500 MID) and Selwood ($10,300 MID) have scored under 80, so don't expect that to repeat itself this week. In saying that, Danger is clearly sore and his skipper showed last week, thanks in part to Levi Greenwood, that he's susceptible to a tag. Regardless, Geelong will bounce back like you'd expect the team that's had the 2nd most tons this year (at 4.8 per game) should. Mitch Duncan ($9,600 MID) is my preferred Cat target after producing 4 scores over 110 this year, with a low score of just 95.
VALUE PICKS:
Zach Tuohy ($7,700 DEF):

Looked like JLT Series Tuohy over the past fortnight, with 131 (32 disp) & 117 (36 disp). Quarterbacking hard and his scores reflect that.

George Horlin-Smith ($5,000 MID):

Showing why many picked him in AF this year. 81, 100.

Gary Ablett ($9,900 MID):

Massive month after 138, 118, 118 and 162 on the trot. This is the most points he scored in a four-week span since 2014. He's back.

Alex Sexton ($6,300 FWD):

Has popped up for us in DFS in the past. 95 and 80 in last two.

Western Bulldogs vs Richmond
With Naughty Nanky out for an errant elbow, debutant Ivan Soldo ($4,300 RU) takes the ruck reins for the week at Richmond. While we rarely get pumped about rookie ruckmen, he'll come up against the similarly uncapped Boyd, who lost hitouts 22-52 against Mumford last week. His VFL form has been solid, playing as the back-up to Maric the past fortnight but had 50 hitouts a few weeks ago as the main man. Surely he can bust out a 65-point total for us? That's be great for his price, and it'd allow you splurge on the next guy I'll talk about.
Marcus Bontempelli ($9,900 MID) has played Richmond twice in his career, and they've resulted in scores of 133 and 115, plus 6 Brownlow votes as a sweetener. Adding to that, Richmond has conceded 2.2 120+ scores per game this year, so someone from the Bulldogs is going to go big and it might as well be the Bont! His last 4 scores scream consistency with 103, 107, 105, and 102, but I'm predicting a roof will be raised this weekend.
VALUE PICKS:
Kane Lambert ($6,000 MID):

Prone to a shocker but has 83-plus in 3 of the last 4. He's averaging 6.5 tackles in those so we can't fault his effort.

Caleb Daniel ($7,000 FWD):

Did he learn his lesson after being dropped? Top-scoring with 103 last week suggests that he might have.

Matt Suckling ($7,700 DEF):

Double-ups guy. All his scores have sat between 70 and 106 this year and he's modestly priced as a result.
Sydney vs Brisbane
Sydney gave up scores of 161 and 159 to defenders in Docherty and Simpson respectively last week, and that's a trend well worth chasing. Daniel Rich ($7,100 DEF) is the closest Brisbane equivalent with Cutler out, so consider him as one of your riskier but very capable options.
This week on the Brisbane Backline show we have Buddy Franklin ($8,700 FWD) and Sam Reid ($6,000 FWD), assuming he plays up forward, of course. This trend has been very clear for a long time so I won't bore you with the exact stats for the hundredth time, but I will point out that Charlie Dixon kicked 4.2 for 125 against them last week. Last year in the same game, Buddy kicked 5.3 for his 102 and you'd be a brave man to suggest he won't go be big again.
VALUE PICKS:
Isaac Heeney ($6,500 FWD):

Lock it. 26 disposals, 7 marks, 6 tackles and 122 fantasy points to top score for Swans last week. Clearly over his glandular fever and his midfield time will only build, especially because he looks like the only Swan who can football at the moment.

Claye Beams ($5,500 DEF):

Averaging 80 in his three games this year in a loose backline role. Could see an increased role in either the midfield or backline, with his brother Dayne and also Cutler missing.

Lewis Taylor ($6,700 MID):

Unfortunately a MID in Moneyball but only hasn't scored below 73 this year. I don't love it, but sometimes you're looking to round out your squad with a mid-priced player and you could do worse than the former Rising Star.

Melbourne vs Hawthorn
Firstly, Cam Pedersen ($5,800 FWD) is still an option despite being a shitty ruckman (even Bellchambers had 91 against him last week). He won't win the aerial battle but he works hard around the ground & grinded his way to 98 from 19 touches and 8 marks last week. Very pickable as a forward.
Ben McEvoy ($7,300 RU) will destroy him in the air and is an absolute lock in your Saturday Slam side. He's coming off 101, 123 and 103 in the past three weeks – with that 123 coming against the Eagles, where he barely had any ruck competition. Hint hint, nudge nudge.
Michael Hibberd ($6,300 DEF) has been running out of petrol tickets in his first couple of games, so it's luck that he puts runs on the board early!
Round 5:

First Half:

56.

Second Half:

41

Round 6:

First Half:

55.

Second Half:

39
Once Hibberd builds match fitness, he might even be able to sustain it for a full game!
VALUE PICKS:
Load up on Melbourne players, because it could get nasty and here's why:
Melbourne ranked #1 for fantasy points differential, averaging 200 more than their opponents.

Hawthorn ranked #16 for fantasy points differential, averaging 150 less than their opponents.

Hawthorn have conceded 5.2 tons per game this year, and 2 lots of 120+ score a week.
Christian Salem ($7,200 DEF):

Hasn't had a bad score all year. Easy pick will the easy footy he'll accumulate across half back.

Jack Watts ($7,800 FWD):

Is playing a variety of roles as needed and is producing in every one. His 5-week average of 93 is nothing to sneeze it, and it's potentially going unnoticed by most other Moneyball coaches.
Fremantle vs Essendon
Big question is… is Lachie Neale ($9,800 MID) back? He's coming off 114 against the Eagles in a belting and had 119 a fortnight ago, so there's a case to be mounted in the affirmative. Of course, naysayers could point out that his disposal numbers are way down and he's needed to kick goals to get there. More food for thought: Neale's last two against the Bombers are monsters at 131 and 126.
Fremantle are one of the worst team for conceding marks to opposition players (ranked #5) and amazingly conceded double-digit marks to 5 different West Coast players last weekend. That's a lot, and that's exactly where someone like Joe Daniher ($7,200 FWD) benefits, as the big Bombers is averaging 10.3 marks per game over the past three weeks without Freo's help. Daniher's last three scores of 98, 101, and 110 don't lie, and they could have been even larger if not for his wayward pegs.
VALUE PICKS:
Michael Walters ($6,600 FWD):

Ross says he'll fill a midfield void, but do you trust him? Don't forget that Son-Son averaged 94 in the first 8 weeks last year in a similar role. Take the punt.

Harley Balic ($4,200 MID):

Should come locked into your line-up. 73 and 91 in his last two and he was one of Freo's best players last week.

David Myers ($4,800 MID):

Can't overlook him, even if he hasn't played AFL in some time. Has dominated the VFL in the past fortnight and his selection will help you reach someone like

Merrett!
Michael Hurley ($7,300 DEF):

Can't ignore him just because he's a KPD. 85, 94 and 108 in the past three weeks and will be sitting in the same forward line that gave up 14 marks to

Yeo

and 13 marks to

McGovern.
Always remember to gamble responsibly. If you're having problems with your betting, you can get help at Lifeline or talk to someone at Gambling Help Online.