You're a premium? – Rd 6 Fantasy Review
Some shocking scores from our premiums made for a lower scoring round than usual.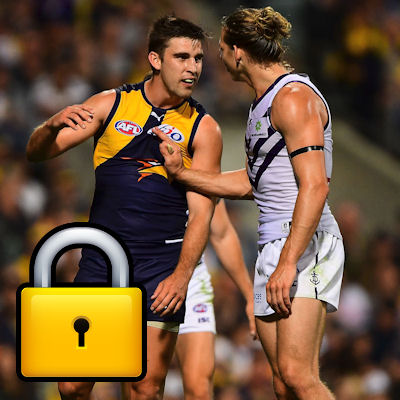 Copy and paste the following in the comments and fill it in. Post your AFL Fantasy results.
Team Name:
Round 6 Scores:
League Results:
Studs:
Duds:
On the Chopping Block:
Vent/Brag/Whatever:
Stay tuned to DT TALK this week for all fantasy advice you could ever need!
2017 averages – Fantasy points for and against (season)
| CLUB | PTS FOR | >100 FOR | >120 FOR | PTS AG | >100 AG | >120 AG |
| --- | --- | --- | --- | --- | --- | --- |
| ADE | 1722.3 | 4.8 | 1.7 | 1570.7 | 3 | 1 |
| BL | 1539.8 | 4.3 | 2 | 1620.5 | 2.3 | 0.8 |
| CAR | 1621.7 | 4.3 | 2 | 1680.3 | 4.7 | 1.8 |
| COLL | 1710.3 | 5 | 2.3 | 1652.5 | 3.5 | 1 |
| ESS | 1694 | 3.5 | 1.5 | 1604.8 | 3.8 | 1.5 |
| FRE | 1525.2 | 2 | 0.2 | 1670.5 | 3.5 | 0.8 |
| GC | 1655.5 | 4 | 1 | 1566.8 | 3.7 | 0.7 |
| GEE | 1625.2 | 4.8 | 1.3 | 1623.7 | 4.8 | 1.3 |
| GWS | 1623.7 | 2.5 | 0.3 | 1513 | 1.5 | 0.2 |
| HAW | 1618.7 | 2.8 | 1.5 | 1772.2 | 5.2 | 2 |
| MELB | 1723 | 4.7 | 1.3 | 1522.8 | 3 | 0.7 |
| NM | 1554.2 | 2.2 | 0 | 1579.8 | 3 | 0.8 |
| PA | 1612 | 2.7 | 1 | 1574.3 | 3.7 | 0.5 |
| RICH | 1461.7 | 2.5 | 0.8 | 1632.2 | 3.8 | 2.2 |
| STK | 1641 | 4 | 1.3 | 1702.7 | 5 | 1.5 |
| SYD | 1492.7 | 2.3 | 0.5 | 1751.8 | 4.2 | 1.5 |
| WB | 1683.5 | 3.8 | 0.3 | 1632 | 3.3 | 1.7 |
| WC | 1720 | 4 | 1.3 | 1553.7 | 2.7 | 0.7 |
2017 averages – Fantasy points for and against (last 3 weeks)
| CLUB | PTS FOR | >100 FOR | >120 FOR | PTS AG | >100 AG | >120 AG |
| --- | --- | --- | --- | --- | --- | --- |
| ADE | 1785.7 | 6 | 2 | 1591.3 | 3.7 | 1.3 |
| BL | 1601 | 4.3 | 2.3 | 1605.3 | 2 | 0.7 |
| CAR | 1644.3 | 5 | 1.7 | 1732.7 | 5.7 | 2 |
| COLL | 1645 | 4.3 | 1 | 1725 | 4.3 | 1.7 |
| ESS | 1692.7 | 3.3 | 1 | 1666.7 | 4.7 | 1 |
| FRE | 1525 | 1.3 | 0 | 1709 | 3.3 | 1 |
| GC | 1647.3 | 3.7 | 1.3 | 1635 | 4.3 | 1 |
| GEE | 1733 | 5.3 | 1.7 | 1620 | 4.7 | 1.7 |
| GWS | 1708.7 | 3 | 0.7 | 1440 | 0.7 | 0 |
| HAW | 1690.3 | 3.7 | 2.3 | 1725.7 | 5.3 | 1.3 |
| MELB | 1617.3 | 2.7 | 0 | 1565.7 | 3 | 0.7 |
| NM | 1584 | 1.7 | 0 | 1572.3 | 2.3 | 0.3 |
| PA | 1661.7 | 2.7 | 1.3 | 1610 | 4.3 | 0.7 |
| RICH | 1409 | 2.3 | 1 | 1709 | 4.3 | 2.3 |
| STK | 1787.7 | 6.7 | 2 | 1667.7 | 4.3 | 1.3 |
| SYD | 1475.3 | 2.3 | 0.3 | 1749.3 | 4.3 | 1.3 |
| WB | 1627.7 | 3.7 | 0.3 | 1636 | 2.7 | 1.3 |
| WC | 1739.7 | 4 | 1.3 | 1614.7 | 2.7 | 1 |