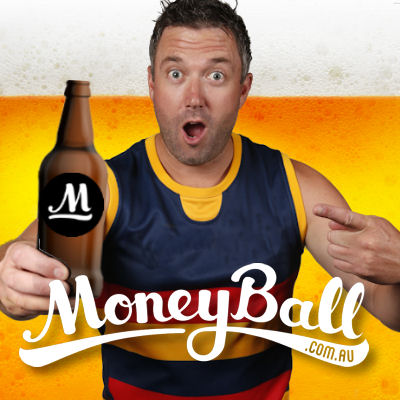 Welcome once again to the Saturday Slam with $5,000 big ones up for grabs.
Once again I have my top 6 picks heading into this big Moneyball contest and as always I've shopped around for a little value and some cheap dudes that need to be in your team. With what's left over, shop away at the premiums options that you think can go BANG this week.
$5,000 with the winner taking $650 and it pays $34.18 right down to 89th
Hawthorn v St Kilda – 1:45pm
Carlton v Sydney
Brisbane v Port Adelaide
North Melbourne v Gold Coast
West Coast v Fremantle – 8:10pm
Matthew Kreuzer (RUC, $7,500)
So I'm gambling here a little and trying to find so value away from the best pick in Stef Martin who is priced at a very fair $9,200. If you have the coin to reach Stef, then he's your man but if not, then Special K should be right against an average ruck line-up against the Swans.
Tippett and Sinclair will be his opposition and they gave Mumford 62 hit outs and 102pts last week. Kreuzer has only played four games this year but has topped the 120+ mark on two occasions. If we can get that again… we'll be laughing!
Kurt Mutimer (MID, $4,800)
The first gamer for the Eagles comes in at the bargain basement price and should be a starter in your team today. Fresh off 124pts in the WAFL, this guy can find the ball and loves a tackle. He's averaging 102 there from 5 games this year and squeezes into the best-22 on the back of a few injuries.
Many Fantasy coaches are worried about his job security but that's none of our concern here in Moneyball. "Use and abuse" is what we do and as he's named on the Half-Forward Flank. He's a starter and anything over 60 from him against the Dockers will be a huge bonus.
Dayne Beams (MID, $9,200)
He's a little cheaper than the other big boys and should produce, equally high or even better numbers against Port.
Firstly, Beams is averaging 115 in his last three games this year and his record against the Power is simply amazing with previous scores of 106, 125, 136 and 125.
Beams is sliding under the radar at the moment with the likes of Rocky and Zorko pumping out huge numbers and will be over-looked by many Moneyball coaches this week. Get on!
Daniel Howe (DEF, $6,400)
Howe played his first game last week against the Eagles for just 66, but against the Saints this week, the points should be flowing. St Kilda have given up the most 100+ scores this year and Howe has proven to us that he does have the ability to score.
He had just 13 touches last week along with 9 tackles and with more ball on offer against St Kilda, he should be a big improver down in Tassie. Another cheap defender is the rookie Ed Vickers-Willis (DEF, $3,800). He had 55 in his first game, but at this price we can't complain too much. He had 15 touches with 5 marks last week and against the Suns under the roof, he should be around those figures once again… if not slightly more.
Zak Jones (DEF, $6,200)
Roy's mate Zak topped scored for the struggling Swans last week with 91 which makes him a Moneyball gem. Last week against the Blues, Broadbent (110pts) did plenty coming off the half-back, along with Byrne-Jones (85pts).
Although his role is 50/50 from week to week, with the Swans struggling the way they are, Zak is one of the only players who are actually having a go and should produce decent numbers again this week at the MCG.
Jarryd Roughead (FWD, $6,200)
Yes… he gets one more chance and my sneaky happy hour special this week.
This is largely based on the stats above when I covered Howe. Plus… and the previous scores he has had against the Saints are super and therefore he needs another go.
95, 112, 87, 100 and 104 are his last five scores against the Saints and let's be honest, anything around those would be great this week.
Roughead is currently one of the most traded out players in Fantasy, which means that coaches are losing patience with him, and rightfully so. This 'trend' of frustration means that a similar thing will be happening in Moneyball this week and therefore this former premium will be slightly more unique.
He has scored over 100 in 4 of his last 6 games in Launceston, and they included two monster scores of 140 and 163. Now let's not get too carried away here, but anything over 80 from Roughy this week will be a win, I think he's a good 90+.
Remember that today, for those who are going to this game… the boys and myself will be at GUNNERS ARMS (walking distance from the ground) for a few brews and a nibble after the game. We plan on sneaking out early as Rocky starts and we want to watch it from the pub. See ya then!