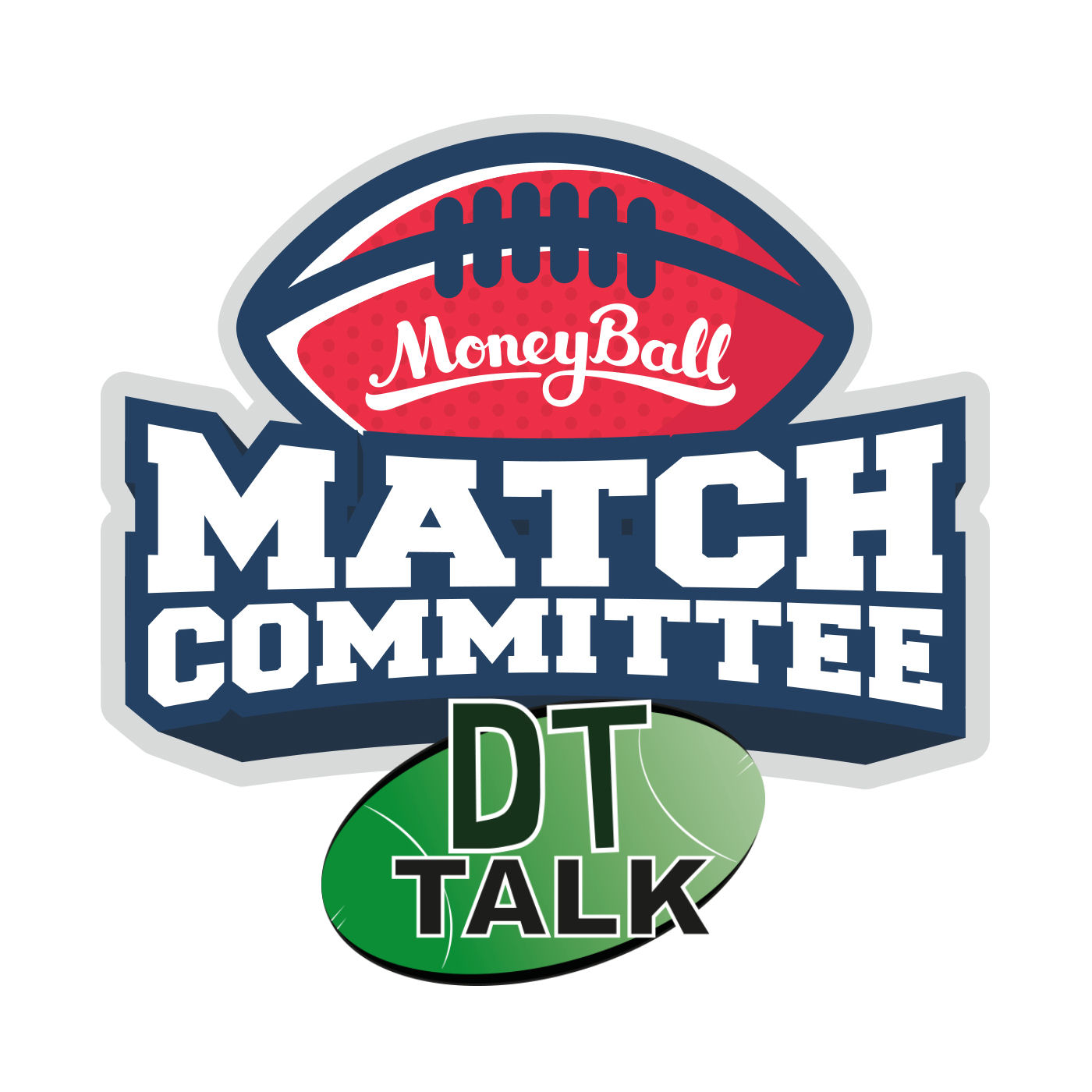 Tbetta here, and welcome to the self-proclaimed top resource for keen Aussie rules Moneyball punters! DFS (Daily Fantasy Sports) is taking off around the world and Moneyball have the perfect platform for you to turn your AFL Fantasy prowess into cold hard cash. Signing up is easy – head to moneyball.com.au and you could be ballin' within minutes.
If you're unsure how DFS works, be sure to head to the 'Help' section for all the info you need to start cashing in on your AFL Fantasy knowledge.

Click here to subscribe on iTunes.
Before we jump into the tips, it's important we quickly outline the changes to Moneyball this season. 
We now have a 'FLEX' slot in our squads, at the expense of the 4th 'MID' position we had previously. Quite simply, you can pick any player in the position, giving us a little more flexibility in forming line-ups.
Point scoring has moved away from the custom formula last season and now sits in line with the scoring system that you already know and love!
With those tweaks in mind, let's start ballin'!
GWS vs Western Bulldogs
Bounceback alert: Shane Mumford ($7,800 RU) is channeling some of his 2014 form this year with scores of 104 and 102 in past two weeks. Crucial to his increased output has been a return to beastly hitout numbers, averaging 54 over the past fortnight. Expect his dominance to continue on Friday night as he comes up against Tom Campbell ($6,900 RU), who's conceded scores of 112 (Goldy) and 121 (Stefan) over the past two weeks.
Round 5 was a week to forget for Tom Liberatore ($8,200 MID), who made crucial fantasy mistakes. Firstly, he was extremely handball happy with 17 handballs to just 3 kicks, leaving a whole bunch of points on the table. And secondly, he exposed us to the dangers of picking players who rely heavily on hard-to-attain stats like goals – or in this case, tackles. Last week was the first time Libba's totalled less than 8 tackles this year, finishing with just 3 in his 52-point blemish. For this reason, I'd overlook him for someone cheaper.
Liam Picken ($7,900 MID) is very similarly priced and positioned, but has way more upside that Libba. We only get him this cheap because of the Round 3 score of 33 stuck in his rotation, and his next lowest score is 96, so he's regularly passing his implied score and rewarding clever Moneyballers.
VALUE PICKS:
Jeremy Cameron ($8,000 FWD):

Averaging 108 in past month, Cameron's consistency has really surprised me, particularly given his key post role. He's building it on 9 marks per game and it might be worth a crack and seeing whether he can keep it rolling this Friday.

Matthew Kennedy ($5,400 MID):

Fresh off an 89 and has 16 tackles in the past two weeks. You can do a lot worse in the under $6k bracket.

Nick Haynes ($6,700 DEF) :

Back-to-back 100's which is out of character for him, but it might be worth the risk to see if it continues. These high disposal totals (27 and 24 in the past couple of weeks) are unsustainable but he might have found himself a nice little temporary role. Watch.
Hawthorn vs St Kilda
It doesn't feel real saying it, but after 5 rounds, Dylan Roberton ($8,000 DEF) is the 3rd highest averaging defender on the slate at 105 per game. Yes, the rangy backman from Fremantle is now the same Saint that's produced 112, 90, 134 and 118 in his past four tries. He comes up against Hawthorn in Round 6 – one of the leakiest teams to defenders so far this year –  so expect Roberton to continue quarterbacking his way to a cashable score this weekend.
Tom Mitchell ($10,200 MID) has the highest "basement" score of any player this year, topping 115 in every game. The potent mix of consistency and ceiling is what makes Titch a must-have this weekend, and realistically, the sky's the limit because he's been doing this during a team slump. If Hawthorn get good, watch out!
VALUE PICKS:
Daniel Howe ($6,400 DEF):

Posted 9 tackles last week playing as a full-time midfielder. I think he could be worth a gamble in the hope that he picks up more than 13 touches this week and thus, returns value.

Ben McEvoy ($6,600 RU):

That's two tons on the trot for the Big Boy, and now he comes up against the Saints, the easiest team to score Ruck points against this season. Value with upside.

Luke Breust ($6,800 FWD):

Your classic high variance player. In games where he's kicked multiple goals this year, he's scored in the 90's.
Play on our favourite DFS platform.
Carlton vs Sydney
None of the Swans MIDs are getting it done this year, so might as well save a few grand and pick Zak Jones ($6,200 DEF) at a fraction of the price, in a thinner position to boot. Zak top-scored for Swans last week with 91 and he basically justifies his selection with anything over 75.
Last year's wunderkind Ed Curnow ($9,300 MID) becomes a very interesting pick for a couple of reasons. Firstly, he's been tagging in recent weeks, restricting Lewis (68), Zerrett (98) and Hall (98). That's concern offensively, because his scoring has been way down this year, 15 points per game shy of his 2016 efforts. For me, the output of tagging targets like JJK or Hannebery is the bigger concern
On the other hand, without Murphy in the side, does Curnow move into a more attacking role? Ed has 7 scores of 110 or more last year, so he's a fantasy gem in full flight. A point of difference worth considering.
VALUE PICKS:
Isaac Heeney ($6,500 FWD):

He's had his warm-up now, and will be better than his 61 this week. We can't forget just how dominant Heeney was in the pre-season, and he'll start reaching that kind of output sooner rather than later.

Callum Mills ($6,600 MID):

With Jack out of the side, a few extra MID minutes up for grabs? After hitting 90 last week, Mills could be on the rise again.

Sam Docherty ($9,400 DEF):

Boasts a lowest score of 90 all year. Great for double-ups.
Brisbane vs Port Adelaide
You need to spend big on Lions, and it's not even debatable. Here's why; In every single Brisbane game this year, Stefan Martin ($9,200 RU), Tom Rockliff ($10,800 MID), Dayne Zorko ($11,000 MID) and Dayne Beams ($9,200 MID) have all been within the top 5 scorers for Brisbane. In fact, Beams' 94 in Round 4 is the only time this season that ANY of these guys have failed to hit the ton this year! The Lions are a high scoring bunch and they have a very clear heirachy, so make sure you have at least two of these top dogs in your Moneyball side.
I will single out Stef Martin ($9,200 RU) though, as he is just one of just 4 players to score a century in every game this year – as a ruckman! The reason for his improvement is no secret – he's improved his actual ruckwork massively this year, with his hitout numbers skyrocketing:
2014-16 hitouts per game: 29.7
2017 hitouts per game: 44.0
Feel free to flog him, because this horse is still galloping.
VALUE PICKS:
Karl Amon ($5,800 MID):

101 on the weekend but that's his first score of 70+ this year. Be wary, but Boak's injury could open to door for more consistent midfield minutes.

Claye Beams ($6,000 DEF):

He's burnt us many times in the past, but he's produced scores of 77 and 78 in his two games this year and is a chance to improve on that.

Robbie Gray ($8,500 MID):

Brisbane backline. Combine that with the fact that he's already kicked bags of 5 and 6 this year and scored 138 and 125 in those games. Are you thinking what I'm thinking?

Charlie Dixon ($6,000 FWD):

Another who'll obviously benefit from the Brisbane backline effect and did so last year, punting a bag of 5.
North Melbourne vs Gold Coast
When we say something like "forwards dominating against Gold Coast", you can be forgiven for being cautious – maybe we're just pulling those words out of thin air? Maybe we're manipulating the numbers? I can categorically rule that out in this case, because forwards really do dominate against the Gold Coast.
For instance, last week, 7 of Adelaide's 8 forwards kicked multiple goals. Walker (2), Lynch (3), Betts (3), Knight (2), Otten (2), Cameron (2),  Menzel (2) all went to the well, such was the supply and lack of resistance. While the Kangaroos are no Adelaide, still expect the North forward line to have a bit of an easier time. I don't love these blokes on a normal day, but given the opposition, it might be worth looking at guys like Ben Brown ($6,300 FWD), Mason Wood ($6,200 MID) and Taylor Garner ($5,000 FWD) for some additional oomph.
Ben Cunnington ($7,100) has the keys to the North midfield now and is almost a must-have on a value basis. With 3 of his 4 scores this year (missed Round 1 through suspension) being upwards of 90, he's smashing his salary-implied score on the regular.
VALUE PICKS:
Gary Ablett ($9,200 MID)

hasn't enjoyed a lot of much fanfare but now has 138, 118 and 118 on the trot. Seems to have low ownership due to perceived struggles with form or his bung shoulder, so might have a Moneyball POD on our hands here.

Aaron Mullett ($6,000 DEF)

: 93, 90 and 87 in his past three. Plenty of ball out of backline.

Jesse Joyce ($5,000 MID):

Has been surprisingly good for his price, culminating in 86 last week. Won't set the world on fire even if his hair does, but he's more trustworthy than the average $5k joe.
West Coast vs Fremantle
Lachie Weller ($6,100 MID) is cashing in on Lyon's youth policy set in motion a few weeks ago, pumping out healthy scores of 84 and 83 in the last fortnight. He's playing a lot off half back, averaging 26.5 touches in the past fortnight in a similar role to what Crozier filled last year in what was a big DFS win for sneaky punters. Anything over 80 at his price is golden, so feel free to anchor him in all your sides for the derby.
Connor Blakely ($6,400 MID) is now a tagger we need to worry about. His scalps in the past fortnight include Nathan Jones (77) and Jack Ziebell (56), so he's certainly meeting the job requirements. The big question is, who does he head to this week? My money is on Luke Shuey ($10,000 MID) in his Brownlow-esque form (and Crowley used to head to him, back in the day), but Andrew Gaff ($9,300 MID) has been targeted before.
VALUE PICKS:
Luke Shuey ($10,000 MID):

Mentioned him above, but we should point out that Shuperman now has the 7th highest average of all players in the past month. Taken his game to next level in fantasy.

Nat Fyfe ($9,800 MID):

A Derby specialist. 131, 106, 125, 102, 108, 122 in last six versus the Eagles, but beware of the new hybrid forward role he's playing. It might not be as conducive to big fantasy scores.

Bradley Hill ($7,400 MID):

Lowest score of 83 in his past four. Price is still modest due to a poor Round 1 effort. Will he pick up some of his brother's (hamstring) slack?

Aaron Sandilands ($7,600 RU):

Lock. Eagles let

McEvoy

score 129 on them last week and he has virtually no aerial competition.

Essendon vs Melbourne
Amazing, after 5 rounds and all the possibilities, Zach Merrett ($10,700 MID) is exactly tied with Rockliff and Zorko on 637 points scored for the year… Just casually, the most in the league. Zach is almost a must-have due to his ceiling, evident in his 4 scores of 129 or better. Actually, his only blemish was a 97 where he was tagged, and the Demons haven't sent out defensive assignments at all so far this year. Do what you can to get him in.
How is Alex Neal-Bullen ($6,300 MID) still so cheap? Is my computer broken? They know he's notched 4 scores of 90 or more this year, right? Like Melbourne, Essendon are also a high-possession fantasy team so expect the ball-winning types like Neal-Bullen to benefit.
VALUE PICKS:
Michael Hibberd ($7,000 DEF):

97 in his first game for two years. Looks like he suits the Demons' up-tempo style perfectly, so I'm optimistic about his potential to have an immediate impact.

Jayden Hunt ($7,000 FWD)

: Sneakily averaging 99 in his last three, pickable as a FWD but playing off a back flank.

Cameron Pedersen ($5,800 FWD):

Crisis creates opportunity, and the Pedo Bear whas a big opportunity to capitalise on the absences of

Gawn

and

Spencer.
Geelong vs Collingwood
After taking his time with a sighter a fortnight ago, Jamie Elliott ($5,100 FWD) resumed with 85 in the ANZAC Day match and more importantly, looked like his normal crafty self. Realistically, Billy is too cheap for what he can do, and the cash you save can help you reach Treloar/Adams/Selwood/Danger echelon players.
Joel Selwood's ($10,400 MID) 175 last week was the highest score of the year so far thanks to gaudy figures of 43 disposals, 8 marks and 9 tackles. He now trails only Tom Rockliff (4) for most career scores of 175 or more, having produced totals of 185 in 2009 and 178 in 2011. How can you not want someone like this in your side? The Pies are gifting points to opposition midfielders so there's no time like the present for building a side around Selwood.
VALUE PICKS:
Aaron Black ($7,700 FWD):

Avoid. Way too expensive, with his price based on that one fluke game of 101 in his Geelong debut.

Daniel Wells ($7,800 MID):

Surprised us all with 97 in his Collingwood debut, despite being underdone. Based on last week and what he did in 2016, he's underpriced. He is prone to a stinker though, so Wells is one for the GPP's rather than the double-ups.

George Horlin-Smith ($5,700 MID):

Another cheap guy who can help you afford the big dogs. 27 touches in his 81 last week.
Adelaide vs Richmond
Andy Otten ($4,700 DEF) has been huge for Adelaide as a utility, but finally put it together in fantasy in Round 5 with 99 points. Playing as a pinch-hitting forward, Otten now has three straight games with 2 goals under his belt, despite making his name as a defender. Even though Jenkins returns this week, Otten has been named in a forward pocket and there's no reason to suspect he won't score well again in that capacity.
Ranked equal #1 in the league with a huge 10 tackles per game is our new fantasy overlord Rory Sloane ($10,300). Only 3 current players have ever scored 132+ four weeks in a row with Sloane joining fantasy royalty in Rocky and GAJ with a crown of his own.
VALUE PICKS:
Brad Crouch ($8,800 MID):

119 in his season debut. Pick him until his hammy pings again.

Matt Crouch ($8,700 MID):

Super consistent type, with a low score of 80 capped with a high score 118. Suited to your cash games and double-ups.

Kane Lambert ($5,700 MID):

Cheap for a reason, because he's one hell of a rollercoaster ride. Can go big any given day, so don't phase him out of your line-ups completely.

Toby Nankervis ($7,000 RU):

Adelaide/Jacobs are the 4th hardest team for rucks to score against, but Nank the Tank will be full of confidence after 131 last week. Do you save the $1,400 or go safe with

Sam Jacobs

(106, 95, 108, 82 in his last four)? Tough question.
Always remember to gamble responsibly. If you're having problems with your betting, you can get help at Lifeline or talk to someone at Gambling Help Online.