Max, Gawn – Ep. 127
Plenty of issues face Fantasy coaches this week, with none bigger (literally) than Max Gawn.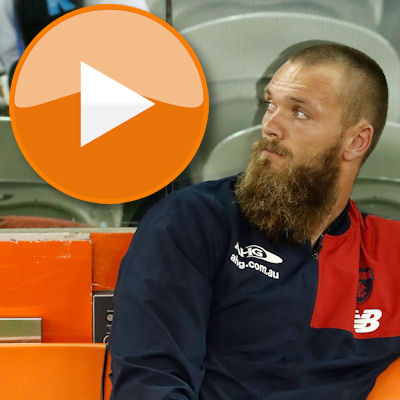 A long term injury isn't something that any footy fan likes to see, especially Fantasy coaches.
Max Gawn (RUC, $588,000) is set to spend the better part of the next three months on the sidelines following surgery on his injured hamstring. Melbourne's ruckman went down in the second quarter on 32 Fantasy points, meaning the most expensive ruckman at the start of the season dropped $46,000 in value this week.
The main talking point on this week's episode of the Official AFL Fantasy Podcast with The Traders is what to do with the 208cm hole left in the ruck division.
The 24 per cent of Fantasy Classic owners have a few choices. One is to find the cash and trade up to the in-form Brodie Grundy (RUC, $623,000), or basically straight swap him to Stefan Martin (RUC, $582,000) who is in the form that made him the top ruckman of 2015.
These are simple moves, but could be get clever with the moves and make get more points out of our squad?
Roy, Warnie and Calvin discuss the Max Gawn trade and help Fantasy Draft owners replace their first round pick with someone suitable.
Also in this week's podcast:
Chop's chopping block
Fantasy news including injuries, suspensions, "Magoos news", breakevens and more
Which players we should stick with and who to move on
The players we missed with a look at Charles' team who had the top scoring team of round three
Social media questions answered
Great stats to help your select your captain thanks to Pete and Calvin
Click here to subscribe on iTunes. (Please leave a rating and review to help us move up the charts).
| CLUB | PTS FOR | >100 FOR | >120 FOR | PTS AG | >100 AG | >120 AG |
| --- | --- | --- | --- | --- | --- | --- |
| ADE | 1659 | 3.7 | 1.3 | 1550 | 2.3 | 0.7 |
| BL | 1478.7 | 4.3 | 1.7 | 1635.7 | 2.7 | 1 |
| CAR | 1599 | 3.7 | 2.3 | 1628 | 3.7 | 1.7 |
| COLL | 1775.7 | 5.7 | 3.7 | 1580 | 2.7 | 0.3 |
| ESS | 1695.3 | 3.7 | 2 | 1543 | 3 | 2 |
| FRE | 1525.3 | 2.7 | 0.3 | 1632 | 3.7 | 0.7 |
| GC | 1663.7 | 4.3 | 0.7 | 1498.7 | 3 | 0.3 |
| GEE | 1517.3 | 4.3 | 1 | 1627.3 | 5 | 1 |
| GWS | 1538.7 | 2 | 0 | 1586 | 2.3 | 0.3 |
| HAW | 1547 | 2 | 0.7 | 1818.7 | 5 | 2.7 |
| MELB | 1828.7 | 6.7 | 2.7 | 1480 | 3 | 0.7 |
| NM | 1524.3 | 2.7 | 0 | 1587.3 | 3.7 | 1.3 |
| PA | 1562.3 | 2.7 | 0.7 | 1538.7 | 3 | 0.3 |
| RICH | 1514.3 | 2.7 | 0.7 | 1555.3 | 3.3 | 2 |
| STK | 1494.3 | 1.3 | 0.7 | 1737.7 | 5.7 | 1.7 |
| SYD | 1510 | 2.3 | 0.7 | 1754.3 | 4 | 1.7 |
| WB | 1739.3 | 4 | 0.3 | 1628 | 4 | 2 |
| WC | 1700.3 | 4 | 1.3 | 1492.7 | 2.7 | 0.3 |