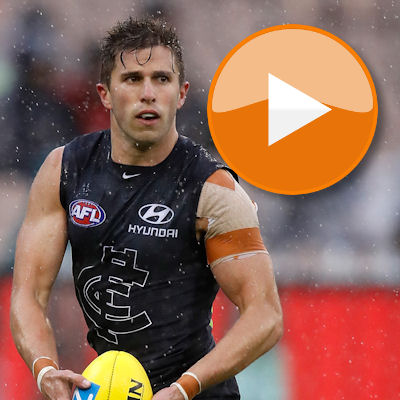 It was a round where things started evening out. Some of the players that exceeded expectations early on gave their coaches a reality check.
One man who is consistently getting the job done for his coaches is Marc Murphy. Carlton's skipper started at $482,000 and after four rounds is now worth well over $600,000. Murphy is the highest averaging AFL Fantasy player following scores of 139, 125, 145 and 124.
While there has been a fast start to the year from our premiums, Murphy is the only player to have scored more than 120 in each game.
If you're in the 73 per cent of coaches who don't have him, is it too late to get him?
The Traders discuss the big movers of the opening four rounds and how to get the most out of the cash cows in your team. Roy, Calvin and Warnie dissect the best trades and discuss the selection dilemmas facing Fantasy coaches ahead of round five.
Also in this week's podcast:
The highs and lows from round four
Fantasy news including injuries, suspensions, "Magoos news" and more
The dual position player watch list
Social media questions answered
A look ahead to Anzac Day and your Match Day teams
Click here to subscribe on iTunes. (Please leave a rating and review to help us move up the charts).
| CLUB | PTS FOR | >100 FOR | >120 FOR | PTS AG | >100 AG | >120 AG |
| --- | --- | --- | --- | --- | --- | --- |
| ADE | 1659.25 | 4.25 | 1.5 | 1600.5 | 2.75 | 1 |
| BL | 1517.75 | 4.25 | 2 | 1568 | 2.25 | 0.75 |
| CAR | 1603.25 | 3.75 | 2.25 | 1655.75 | 4 | 1.75 |
| COLL | 1720.25 | 5.25 | 2.75 | 1658.5 | 3.5 | 1.25 |
| ESS | 1709.5 | 3.75 | 2 | 1572.25 | 3.75 | 2 |
| FRE | 1535 | 2.5 | 0.25 | 1639.25 | 3.25 | 0.5 |
| GC | 1682.5 | 4.5 | 1 | 1528 | 3.25 | 0.75 |
| GEE | 1560.25 | 4.5 | 1.25 | 1620.75 | 4.75 | 1.5 |
| GWS | 1603.5 | 2.75 | 0.25 | 1535.75 | 1.75 | 0.25 |
| HAW | 1560.5 | 2.5 | 1.25 | 1786.25 | 5 | 2.5 |
| MELB | 1786.75 | 5.5 | 2 | 1501 | 2.75 | 0.5 |
| NM | 1554 | 2.5 | 0 | 1588.5 | 4 | 1 |
| PA | 1518 | 2 | 0.5 | 1603.5 | 3.5 | 0.5 |
| RICH | 1477 | 2.25 | 0.5 | 1575.25 | 4 | 2.5 |
| STK | 1594.25 | 2.5 | 1.5 | 1691.75 | 5.25 | 1.25 |
| SYD | 1500.5 | 2.25 | 0.5 | 1748.75 | 3.75 | 1.5 |
| WB | 1702.5 | 4.25 | 0.25 | 1631.75 | 3.5 | 1.5 |
| WC | 1708.25 | 3.75 | 1.25 | 1487.5 | 2.5 | 0.25 |