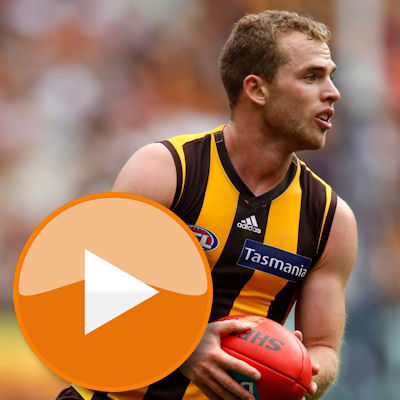 TWO ROUNDS in and AFL Fantasy coaches are starting to get an idea of what's working and what's not.
Cash cows are the backbone of your Fantasy Classic side. The cheap players are how you are able to generate the coin to upgrade players in your squad so you can get as many premiums in when it comes to the finals in the last four rounds of the year.
If you don't think you have the best cash cows in your team at the moment, you need to make them a priority with your two trades this week.
Roy, Calvin and Warnie work through the best moves to make ahead of round three.
Also in this week's podcast:
Fantasy news including injuries, suspensions, "Magoos news", breakevens and more
Trading strategy in the early rounds
Social media questions answered
At look at "PACK 'ER UP BOYS", Trion's team that won the week
A sneak peek at Calvin's captains research
Click here to subscribe on iTunes. (Please leave a rating and review to help us move up the charts).
| CLUB | PTS FOR | >100 FOR | >120 FOR | PTS AG | >100 AG | >120 AG |
| --- | --- | --- | --- | --- | --- | --- |
| ADE | 1665 | 3 | 1.5 | 1576.5 | 2 | 0.5 |
| BL | 1451.5 | 4 | 1.5 | 1631.5 | 3 | 0.5 |
| CAR | 1551.5 | 3.5 | 2 | 1690 | 3.5 | 2 |
| COLL | 1674 | 5 | 3.5 | 1585.5 | 3 | 0 |
| ESS | 1791 | 3.5 | 2.5 | 1467.5 | 2.5 | 1.5 |
| FRE | 1467.5 | 2.5 | 0 | 1628 | 3.5 | 1 |
| GC | 1530 | 3 | 0 | 1508 | 3.5 | 0.5 |
| GEE | 1476.5 | 3.5 | 1 | 1563.5 | 3.5 | 0 |
| GWS | 1520 | 2 | 0 | 1592 | 2.5 | 0.5 |
| HAW | 1580.5 | 2 | 1 | 1762.5 | 4 | 3 |
| MELB | 1865.5 | 6 | 2.5 | 1420.5 | 1.5 | 0.5 |
| NM | 1499.5 | 3 | 0 | 1593 | 4.5 | 2 |
| PA | 1595 | 2.5 | 0.5 | 1484.5 | 2 | 0 |
| RICH | 1476.5 | 2 | 0.5 | 1558.5 | 4 | 3 |
| STK | 1419.5 | 1 | 0 | 1840 | 6 | 1.5 |
| SYD | 1480.5 | 2.5 | 0.5 | 1642 | 2.5 | 0.5 |
| WB | 1789 | 4 | 0.5 | 1621.5 | 4.5 | 2.5 |
| WC | 1776 | 5 | 2 | 1444 | 2 | 0 |