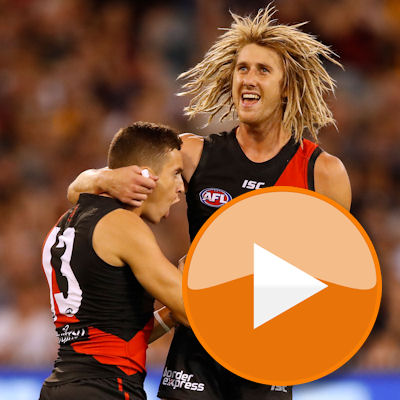 Round one scores have been tallied, new prices calculated and we're ready to make our first trades. With the weekly price movements, we need to be smart when using our two trades.
There were some very high scores this round with 62 players breaking the 100 point barrier.
It's important not to just chase last week's big score as Roy, Calvin and Warnie look at the best strategy for this first week of trading on the Official AFL Fantasy Podcast.
Also in this week's podcast:
Warnie's lockout experience.
What we learned from round one including the slow burning rookies.
The top team of round one, Paul Forrester's "raulup" that scored 2373 (see team below).
Your social media questions answered.
The Traders' team.
Click here to subscribe on iTunes. (Please leave a rating and review to help us move up the charts).
| CLUB | PTS FOR | >100 FOR | >120 FOR | PTS AG | >100 AG | >120 AG |
| --- | --- | --- | --- | --- | --- | --- |
| ADE | 1699 | 3 | 1 | 1469 | 1 | 0 |
| BL | 1445 | 4 | 1 | 1575 | 4 | 0 |
| CAR | 1601 | 4 | 3 | 1552 | 3 | 1 |
| COLL | 1832 | 6 | 4 | 1770 | 5 | 0 |
| ESS | 1894 | 5 | 4 | 1477 | 1 | 1 |
| FRE | 1518 | 3 | 0 | 1537 | 3 | 1 |
| GC | 1575 | 4 | 0 | 1445 | 4 | 1 |
| GEE | 1537 | 3 | 1 | 1518 | 3 | 0 |
| GWS | 1469 | 1 | 0 | 1699 | 3 | 1 |
| HAW | 1477 | 1 | 1 | 1894 | 5 | 4 |
| MELB | 1903 | 8 | 2 | 1339 | 0 | 0 |
| NM | 1388 | 2 | 0 | 1775 | 6 | 3 |
| PA | 1476 | 2 | 0 | 1550 | 2 | 0 |
| RICH | 1552 | 3 | 1 | 1601 | 4 | 3 |
| STK | 1339 | 0 | 0 | 1903 | 8 | 2 |
| SYD | 1550 | 2 | 0 | 1476 | 2 | 0 |
| WB | 1770 | 5 | 0 | 1832 | 6 | 4 |
| WC | 1775 | 6 | 3 | 1388 | 2 | 0 |