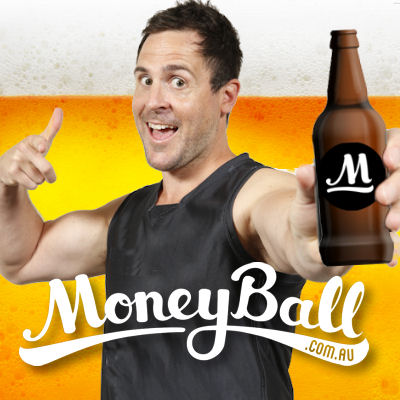 Daily Fantasy Sports (DFS) is one of the fastest growing games in Australia. Our mates at Moneyball are the leaders in the industry and run many different formats, including competitions for every AFL games across the season.
Today, we focus on Sunday Funday, which covers three games which you can use a combination of players to create your team. Basically, using the salary cap, you select players to form a team (like you would in AFL Fantasy) and depending on how they score (+3 kick, +4 tackle… normal Fantasy scoring), your team will be ranked and from your $15 entry fee, you can win big bucks.
POOL $5,000 with $650 for 1st,  2nd receives $310 and so on right down to $34.18 for players in 89th place.
Starts: Sunday 1.10pm
Includes:
Roos v Eagles
Crows v Giants
Dockers v Cats
Nothing better than a Sunday session, so here are my top six tips to take a piece of the prize pool
Finding value selections is the key to allowing us to pick the high scoring premiums, so although I would never dream of picking Sharrod Wellingham (DEF, $5,500) in AFL Fantasy Classic, he is almost a no brainer given the fact he is an experienced player and has JLT form on his side where he was the second highest scoring player over the pre season.
Matt Crouch (MID, $8,200) averaged a whopping 112 of the last six rounds last season and is well priced after a slow start to the 2016 season. He is coming off a great pre season where he was scoring at a rate of 1.13 PPM with 26 disposals in each of the games.
If you want to use the ruck department as another avenue for value, look no further than Aaron Sandilands (RUC, $7,200). He is cheap due to coming off an injury riddled season but looked outstanding during the JLT, taking full advantage of the new 'third man up' rule. At the end of last season, the Cats were giving up big points to opposition rucks and expect much the same here.
If JLT form is any indication of how a player is travelling, feel free to lock in Giants rising star Josh Kelly (MID, $8,000) for a little less than the top priced premiums. Over the Pre season he scored at an impressive 1.24 PPM (team high). With Coniglio out injured, it is fair to expect Kelly to step up and fill the void.
Now you have saved some cash, you might as well go and spend it on the best… he is after all fairly priced despite being the most expensive player. Patrick Dangerfield (MID, $10,000) ticks all boxes, he was the highest averaging player last year and he finished the JLT in ridiculous form with 135. His last two games vs the Dockers suggest he is under-priced with scores of 130 and 147.
Ah, it's Happy Hour, must be time for my shout…
The Cats recruited Zach Tuohy (DEF, $6,500) for a reason, and that is to provide drive off half back. He is currently priced at Carlton Touhy, but the Cats know how to utilise his run and want the ball in his hands, as we saw in the JLT where he ranked first in uncontested possessions. Well under-priced and should score well in the open spaces out West.
@RoyDT