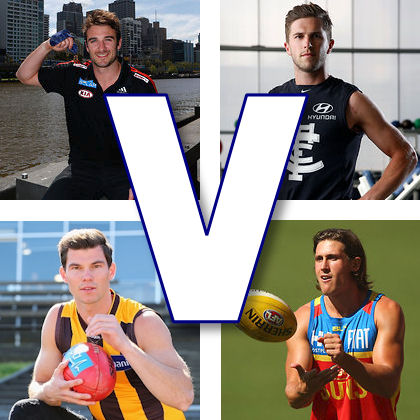 Tom is back putting players head-to-head in Versus. Today he looks at under-priced midfielders.
Jaeger O'Meara ($364,000)

v

David Swallow ($355,000) 
It was one of, if not the biggest off-season moves and it features a bloke who didn't play a single game in 2015 or 2016 because of a various long-term injuries. Last pre-season he underwent surgery on both knees but made a move down to Hawthorn in the 2016 trade period as apart of a deal which netted his former club pick 10 (used on Suns Academy prospect Jack Bowes) and the Hawks 2017 second round pick. This trade certainly brought about plenty of conflicting opinions. But one question which will not cause any debate is O'Meara's talent. Picked up by the Suns with selection 1 in the 2011 mini-draft, O'Meara promptly won the 2013 rising star award and looks set for much more if his body can hold up. Productive and cool in traffic with freakish evasive skills, 'JOM' is one of the brightest youngsters in the competition. He and former Swan Tom Mitchell have been recruited to fill the gaps left be departing legends Jordan Lewis and Sam Mitchell. There has been doubt over when O'Meara will be fit enough to make his debut in the brown and gold but the man himself recently announced he will be in the mix for round one. What this means for his participation in the JLT series remains to be seen. O'Meara's Fantasy ability which he demonstrated in 2014 makes him close to a lock if the stars align. It was in that year where Jaeger managed ten 100's for an average of 93 to back up 89 in his first year if you don't mind! The Hawks have placed a lot of faith in their medical staff who are confident his knee will fully heel and the 22 year-old Dongara prospect can get back to doing what he does best. Despite Jaeger declaring he plans to be fit for round one, he also added "with our midfield depth, I might have to develop other areas of my game over the pre-season and learn how to be more damaging going forward, or to play off the wing or halfback. Whether it's round one or round five, I'm not fussed. I just want to make sure I get it right." Although this doesn't make for great reading as a Fantasy coach, you can't blame the club for taking it slowly with their prized recruit, making sure he is fully ready before unleashing him on the big stage. For now, however, O'Meara should be in everyone's plans.
Injuries have riddled David Swallow's career so far. Taken by the Suns with the first pick of the 2010 National Draft, Swallow played 21 games in his debut season, averaging a healthy 76 Fantasy in the process. The brother of former North Melbourne skipper Andrew backed this up with an average of 73 in 2012 despite featuring in 12 games. The third year breakout conspiracy didn't rub off on the Western Australian who could manage only a mediocre 69. However a switch to the back line in 2014 saw Swallow claim the Suns best and fairest and boost his average output to 93 points per game. He also played all 22 games – a personal feat which he is yet to reach again. But this is where the injuries start to feature prominently. Swallow played 8 games in 2015 but could only manage a mere two NEAFL games last year as a result of a severe knee injury sustained in the pre-season. Unfortunately Swallow picked up a hamstring injury in his second NEAFL outing which well and truly put an end to his frustrating year. Interestingly, during those two NEAFL games, Swallow spent a considerable amount of time in defence. Priced at $355,000, Swallow is slightly cheaper than fellow medium priced midfielders Jaeger O'Meara and Scott Selwood. He offers real value in the midfield with the only obvious concern being durability. However coach Rodney Eade recently declared that Swallow's pre-season had been "terrific" and went on to say "He'll probably play all JLT games, but it'll be a graded game-time. He'll probably play a half next week, then three quarters, then a full game." Whether he features at half-back or in the midfield, Swallow has the ability to become a quality Fantasy prospect. The fact he has missed so much football over the past two years makes him a risk but after all you have to take risks to win this thing.
Verdict: O'Meara and Swallow. Both are supremely talented yet have missed two seasons of AFL football. Who knows what they might have been priced at if they had played those seasons. However both are now injury free and will feature at some stage during the JLT Community Series. Both classy midfielders are owned by nearly 30% of the competition but for me, O'Meara has the better Fantasy ability of the pair and with a new club, looks destined to return to the highs of 2013/14.
Jobe Watson ($477,000)

v

Marc Murphy ($482,000)
The past few years have been a bit of a mess for the Bombers to say the least and former skipper Jobe Watson had to endure the most pain of any banned player. Handing back his Brownlow Medal to its new owners Sam Mitchell and Trent Cotchin must have been excruciatingly hard but, after some speculation, Jobe will battle on in 2017. Like the rest of the returning players, Watson received a 10% discount on his 2015 average – 88.8. This average was down on previous years where he had pumped out six years of 90+. Therefore he should no-doubt be considered under-priced at a value of $477,000. Watson has been a consistent Fantasy scorer since 2006 – his third year in the competition. In fact he has averaged above 80 ever since then but over 100 just twice (112 in 2012 and 104 and 2014).  Expect his 2017 production to be around the mid-90 mark. This would mean he increases in price to around $550,000 – a more suitable pricetag. I like the idea of picking Watson or a similar player at M5 with Swallow or O'Meara at M6. This gives you four out and out premiums and a player who has potential to return to premium status along with a gun who may well fulfil his enormous Fantasy potential. Now this scenario is ideal and probably won't unfold as smoothly as it sounds but in the worst case, Watson still makes you enough cash to upgrade him to a quality premium. There are a few potential roadblocks threatening to derail what could be the last year of Watson's career. Firstly his durability, or lack of. It certainly isn't one of his traits, having played all 22 games just once (2012). We just don't know how Watson and all the returning bombers for that matter will perform. Will they benefit from a frustrating year out or will the drag of the drug saga effect their footy? It remains to be seen. Watson may also be suspect to a role change. Guys like Merrett, Parish, Langford and Howlett will be looking to secure more midfield time in 2017, possibly at the expense of the veteran Watson. Jobe really is a tricky one. There are strings attached but if they are resolved, I can't help but think he will be a valuable member of many Fantasy midfield's.
It's not often an All-Australian, number one draft pick, rising star nominee, best and fairest winner, club captain and quality Fantasy player is available at just $482,000. But that's exactly what Marc Murphy is. Since he was picked up with the first overall pick of the 2005 National Draft, Murph has been a loyal, consistent performer for the men in navy blue. He started off his career with a positive average of 75 and followed that up with 74 a year later. However since 2008, Murphy never averaged under 80 – until 2016. It was a disjointed year worth forgetting for the skipper who managed an average of 79 from his ten games before an ankle injury sustained in round 10 left him out of action for the remainder of the year. Aside from last year, Murphy has pieced together some very good Fantasy seasons, most notably 2011 where he averaged a sweat 111 points. It looks as though he is over that ankle injury and, if injuries don't return, another season in the 90's looks likely. Besides, the Blues will need him and Patrick Cripps up and about in order to help lead the Blues group of talented young midfielders headlined by prized draft pick Sam Petrevski-Seton. Murphy seems to tick all boxes as a mid-pricer. He has proven to have durability (playing over 20 games in seven seasons), consistency (averaged over 90 in seven seasons) and a high ceiling (posted scores of 121, 145 and 129 amongst others in 2011) and this year comes at a very affordable price. If he fits your structure, lock Murphy in and prepare for an average of around 95.
Verdict: Although Dyson Heppell has taken over the official reins as Bombers captain, Jobe Watson and Marc Murphy are considered leaders at their respective Melbourne based clubs. Murphy had limited game time in 2016 and Watson didn't feature at all. This has led to their prices being deflated to below their likely output. As he is the younger player, whose role is clearer, I'd lean towards Murphy in this comparison.