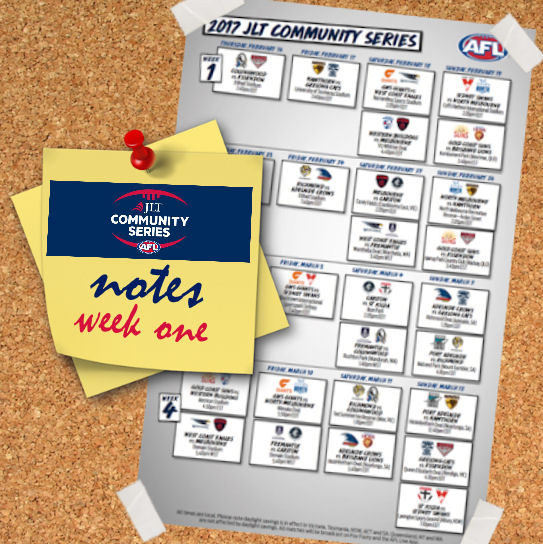 The DT Talk team will update each game of the weekend with our notes from them.
Collingwood v Essendon – Etihad Stadium
Thursday 16 February – By Warnie
Click here for DT Live stats/scores.
We've been waiting months for this! The first taste of footy to help us shape our Fantasy teams.
As always, make sure you're not getting too excited about the Fantasy numbers that are rolling through. For example, the Pies were without usual midfielders Scott Pendlebury, Adam Treloar and Taylor Adams – and there was no Brodie Grundy doing his thing in the middle either..
A big beneficiary was Tom Phillips (MID/FWD, $391,000) who played through the midfield as well as up forward to have 81 points next to his name at HT. He finished with 113 from 74% TOG. Jordan De Goey (MID/FWD, $455,000) may have moved up some draft rankings tonight attending the most centre bounces of any player. He scored 88 points (75% TOG) with 37 points coming in the last quarter. Josh Smith (DEF, $461,000) enjoyed a 47 point final quarter after being freed up from the back half to roam around as he pleased.
Granted Pendles and Treloar are out, but De Goey attended a game-high 24 CB's. Sidebottom with 22, while Watson and Z. Merrett with 18 each.

— Fantasy Freako (@FantasyFreako) February 16, 2017
With two goals, Will Hoskin-Elliott (FWD, $230,000) couldn't have done any more for those considering him. Looked comfortable as he roamed around the forward line, playing a high half forward and making plenty of contests. It felt like he was around the ball a lot.
Matt Scharenberg (DEF, $234,000) was on the watchlist and managed to have five kicks and three marks for 25 points (46% TOG). He didn't come on until the second half and looked ok in the backline, however there were plenty of cobwebs to blow out! Hopefully we see him again. Don't cross him off your list just yet. Like the 'Berg, Jamie Elliott (FWD, $330,000) was given limited time – 33% – but kicked a snag from his eight disposals. He finished with 40 points.
For the Bombers, Orazio Fantasia (FWD, $441,000) kicked the first goal of the game, finished with four for the match, to top score for his team. Pass. Ignore. Don't get sucked in… and leave him where he is on your Draft rankings.
There were no dramas with Zach Merrett (MID, $710,000) who did a few pigging things. 71 points from 77% TOG. Darcy Parish (MID, $446,000) was sensational – finding plenty of space – collecting 85 points (63% TOG) thanks to his 24 disposal game.
So the main guys we were looking at were the cheap Dons. Jobe Watson (MID, $477,000) played mostly in the guts and looked bloody awesome. First kick of the game and then collected 19 touches (I didn't like the K:H ratio of 5:14) and scored 69 (62% TOG). He looked as though he hadn't missed a beat. Loved it is game and he is still in contention as a mid-priced option, despite want to #StayStrongJLT. Bloody heck he was impressive. Confident, happy… the Jobe of old. He did go forward a little, but he had an equal team high 18 CBAs with Zach Merrett and did his best work inside.
A few commented that Dyson Heppell (MID, $548,000) looked slow. Maybe rusty, but fingers crossed he'll play one more JLT and we'll be ok with him. David Myers (MID, $197,000) found the ball eight time in the half of game time he spent on the field.
According the match centre, James Stewart (FWD, $227,000) spent the most time on ground for both teams with 90%. I didn't see him much – except for the goal and behind he kicked. It think we're paying too much for him. If he was basement priced, maybe… but surely the former Giant is a) not going to score a heap and b) will spent time in VFL developing. Andrew McGrath (DEF/MID, $250,000) was another I didn't notice too much. He played off half back (I think!!) and collected 9 touches, seven of which were handballs. 17 points from 63% TOG isn't making anyone think he'll be worth the $250K starting price… and reinforces the need to really go guns and rookies – the cheaper ones (if we can find them!!).
A couple of other notes. Unfortunately Ben Sinclair hurt his hamstring – unlucky bloke! Also Brendon Goddard, when not spending time in the midfield, was heading back. Something to monitor early in the season… for potential DPP (although my man Stants wasn't playing who will certainly be playing back there!).
Hawthorn v Geelong – University of Tasmania Stadium
Friday 17 February – By Sparksy
Click here for DT Live stats/scores.
After my AFL Live Pass not working, The Traders' radio broadcast not working and my Foxtel GO not working I finally managed to plonk myself down in front of a TV and watch my mighty Hawks take on the Cats! Not the most impressive of games skill-wise but the biggest rivalry in modern football always provides and tonight was no exception. The most impressive player, both in Fantasy and in the game, was the game-winner Kade Stewart ($307,000). Kade was pretty impressive last year and tonight he came out with a point to prove; he wants a spot in Hawthorn's best 22. He scored 96 from 80% TOG including a huge 9 tackles and two snags including the game winner! 85.7% disposal efficiency will hold him in good stead with the coaches too and I can honestly say that, while I didn't see this one coming, I definitely should have. His chase-down tackle on Andrew Mackie in the third was pure perfection and I'm honestly considering him, even with that price tag. Maybe I'm just silly… #StayStrongJLT Watching Isaac Smith ($538,000) and Liam Shiels ($499,000) intently I was quite disappointed. Neither looked like they'd lifted their games, as expected, and it certainly seems Hawthorn need Tommy Mitchell playing to make any difference to Smith and Shiels' game, each having 74 (86% TOG) and 82 (78% TOG) respectively. Young international Teia Miles ($150,000) had an unpolished 58 (72% TOG) but was nowhere near impressive enough to get a senior game this year bar extraordinary circumstances so stay away. Ryan Burton ($260,000) had a very strange change of role, playing up forward all game, sometimes as a lone forward?! He managed 51 (75% TOG) but he certainly wasn't good enough to get the role I thought he might and I'm starting to look for other options until my boy starts impressing Clarko. #StayStrongJLT Keiran Lovell ($195,000) was around the ball but wasn't quite prolific enough either to get a game without exceptional circumstances. He managed 49 from 73% TOG which is alright but, considering one of these guys needs to make a spot for themselves I just don't think anybody but Kade did enough. (Remember, this is only game one.) The two biggest Hawks on the watchlist were Jarryd Roughead ($373,000) and Jaeger O'Meara ($364,000) and they both had solid returns to football. Neither looked terribly rusty but there were clearly some cobwebs being blown out. In the post-match interview, Roughy mentioned that he ran out of 'petrol tickets' towards the end of the game while Jaeger didn't see any time in the second half. Roughy did have a strong start but finished with 60 points from 83% TOG while Jaeger went 1:1 with 47 points from 47% TOG. I'd say both will play at least one more JLT game, if not both which will be great for their match fitness and should give them a solid lead-up into Round 1.
Nice game from JOM – had an equal game-high 13 CBA to half time, as well as 12 disposals, 9 cont. possessions and 5 tackles. #JLTSeries

— Fantasy Freako (@FantasyFreako) February 17, 2017
The Losers (I mean, the Cats) were about as impressive (or unimpressive, depends how full your glass is) as the Hawks were in all aspects of the game. Quite untidy but still could definitely see all the structures and ideas were in place. The one player who impressed me beyond all comprehension was one I was keen to watch. Zach Tuohy ($442,000) was the highest scorer on the night, picking up 107 gorgeous Fantasy points from 90% TOG, including 33 disposals at 87.9% efficiency and most importantly 7 marks, 6 of which were uncontested! May as well change his last name to Enright honestly. Andrew Mackie ($451,000) had a big 10 grabs which amounted to 95 points from just 76% TOG but literally did not get a contested possession all night, unless you count being chased down by Kade Stewart. I'd personally stay away from him, it's not like three quarters of Box Hill and a couple of players who haven't kicked a Sherrin in a year or two will exactly be the cleanest of disposers so collecting those marks and clear possessions would be partially down to poor disposal efficiency from the opposition. He has earnt himself a spot on my JLT watchlist however. Patrick Dangerfield ($1 gazillion… But actually $712,000) was his old self, 92 points from 82%, a bunch of contested possies and 8 clearances. It's not like he had a lot of opposition for contested ball but still, can't deny the man is one of the current greats. One who intrigued me was Jeppa's boy, Tom Stewart ($172,000). He was certainly not what you'd consider a pretty footballer travelling at just over 50% by foot, but he did have pure guts, fighting hard to get the pill with five 1% acts and six tackles, plus a lazy 8 marks. I actually quickly stopped writing this review to chuck him in my team but I'm not sure how long he will stay there, we'll see if Coach Scott can handle terrible kicking. Jackson Thurlow ($282,000) was the one everybody was watching like a hawk (get it) and I thought he went about as expected. 69 points from 68% TOG helped along by a few marks and a few tackles. He did look a touch proppy but I don't think he's 100% yet either so these JLT games will help him get that fitness back. Now, Sam Menegola ($505,000) is so awkwardly priced this season but I seem to be talking myself into it more and more by the minute. He was the first player added to my watchlist because he was just so good last season and should be even better this season and he knocked out a 92 from just under three quarters of the game. Could he genuinely go 100+ this season? That would be mental. Tread with serious caution but if he can do the same with Jelwood in the team then my eyes might light up a little bit. Then again, I'm bloody crazy. Aaron Black ($150,000) justified his bottom-price-rookie tag. That may sound a bit harsh considering he scored 79 from 81% TOG with four big sausage rolls but considering two of them came from 'frees for' which were slightly contentious and one came from him going A over T I'm certainly not convinced, and he's even in my team. At least it looks like he has good job security. Brandan Parfitt ($200,000) and Jack Henry ($150,000) both didn't do enough to convince me they're AFL ready, maybe next season boys. Scores of 53 and 27 respectively. Chuck Steven Motlop ($499,000) right on the top of the useless and pathetic pile. 49 points from 85%, yuck, and to make matters worse I honestly remember seeing him twice all night. Just quickly, shoutout to Darcy Lang ($375,000) and Nakia Cockatoo ($365,000) neither of which are particularly Fantasy relevant but both I thought did great jobs tonight, Darcy with clean midfield play and Nakia with his forward pressure. That should definitely put them in Coach Scott's good book so might be worth keeping a small amount of eye time for them.
Serviceable game from Tom Stewart, 16 disposals, 8 marks and 5 intercept possessions. Black with 13 disposals and 4 goals. #JLTSeries

— Fantasy Freako (@FantasyFreako) February 17, 2017
GWS Giants v West Coast Eagles – Narrandera Sports Ground
Saturday 18 February – By Calvin
Click here for DT Live stats/scores.
With both teams sitting out a number of stars, it's really difficult to get a fair read into the scores in this game.
It was pleasing to see our old mate Jack Redden (MID, $392,000) amongst the points with 85. He nailed 9 tackles in that and at times sat too far forward for my liking. Certainly on the 'watch-list' but with so many Eagle's midfielders missing, there won't be as many points going around next time.
Which is why Sharrod Wellingham (DEF, $367,000) cashed in to be the top scorer for the Eagles with 114pts from 28 touches. Dom Sheed (MID, $361,000) has been knocking on the door for a while now and after his 93pts, a few Fantasy coaches may start to take a little more notice. However….Seriously, you can't look to far into this and he sits at a very risky price.
As for the cheapies, Kurt Mutimer (MID, $150,000) racked up 6 tackles for his 57pts and rookie-listed Francis Watson (DEF, $150,000) was pretty good for his 56pts. He had 15 touches and 7 marks and only took up the game when he was 17 years old. He's a mature-aged recruit who averaged 61 from 10 games last year in the WAFL.
The Giants actually won the game if anyone was caring and they we're lead by Josh Kelly (MID, $542,000) who carved everyone to bits. He was Winx and the rest where just lucky to the watch the show as he pilled on 128pts. Massive score, but at the end of the day he wasn't going against much competition.
Tim Taranto (FWD/MID, $248,000) impressed in his first run with the Giants with 97 and his forward eligibility will tempt many. Matthew Kennedy (FWD, $194,000) was an interesting one here for me who had 79 from 22 disposals. He played 3 AFL games last year but spent his time running around in the NEAFL to average 114. If he can squeeze into the team and be a regular player in the best-22, then this ball magnet is actually a possibility for us up forward.
Daniel Lloyd (MID, $150,000) is a rookie-listed rook, who took the most of his chances after not playing a senior game last year. He scored 71 which was helped by a handy two goals. He was another monster in the NEAFL last year (but who wasn't?) averaging 113 from 16 games and with that said, he still couldn't break into this team and will find it even tougher in 2017.
Lachie Tiziani (FWD, $150,000) only played in 66% of the game for his 74pts and it was great to see Tim Mohr (DEF, $150,000) back out there again. He only posted 41pts but did play pretty much all the game and although he'll be fighting to hold down a spot in the best-22, he's cheap and a heart beat on your bench if named in round one.
In summary… with so many players out, players got games that probably wont again. Rookie numbers were inflated so don't have false hope. The other mid-priced options also benefited and therefore I've probably just wasted your time reading. Thanks anyway.
Western Bulldogs v Melbourne – Whitten Oval
Saturday 18 February – By Nic
Click here for DT Live stats/scores.
Well it's been a mad day of footy with 12 straight hours of action and the final JLT match of the day saw the reigning premiers the Western Bulldogs taking on Melbourne at Whitten Oval.
Probably the biggest takeaway from this game was the battle of the beards in the ruck for the Dees with the club trialling two ruckmen. This probably left Fantasy players a bit worried that our man Max Gawn ($642,000) would be restricted, but the ruckman finished the day with 92 points; top scoring for Melbourne. Jake Spencer ($281,000) did have a good day for the Demons though, finishing with 23 hit-outs with quite a few going to advantage… according to Gerard Healy… I don't actually have the stats to back that up. So if Melbourne do go with the two big men, it might make locking Maxy in a bit harder, especially at his hefty price tag. From a Bulldogs perspective, Jordan Roughead ($411,000) isn't really Fantasy relevant, but he did leave the ground injured early in the game, which is worth noting. Josh Wagner's ($413,000) day was also ended early because of injury.
Looking to the midfield, a lot of eyes were on Jordan Lewis ($623,000) after moving across from the Hawks in one of the most bizarre trade periods ever and the 30-year-old delivered, finishing with 92 points. His kick to handball ratio was a little alarming considering he handed the ball off 10 more times than he put it to his boot, but that may have just been a one off. Lewis only averaged 103 points last year after 2014/2015 saw him average 110 points. Nathan Jones ($593,000) spent a lot of time off half back throughout the game and if that becomes a regular role for him, maybe we could see him getting a position change during the season.
The Demons' brigade of young midfielders, Angus Brayshaw ($422,000), Clayton Oliver ($416,000) and Jack Viney ($611,000) were all impressive, scoring 88, 76 and 88 respectively. Viney should get a lot more protection with Lewis in the middle with him, but it's hard to see him pushing his average much higher than it was last season (101 points). Oliver and Brayshaw are probably priced too awkwardly to consider at this stage.
If you're wondering why I haven't spoken much about the Dogs yet, it's because there wasn't really anything noteworthy. Jackson Macrae ($596,000) gaining dual position status has made him one of the must-have players of the competition, but he only played 56 per cent of the game and so you can't really read much into his score of 47. Luke Dahlhaus ($557,000) was the highest scorer on the ground with 115 points and he's probably gotten to the point where he's as safe a forward line pick as you'll get this year. However, the next highest score for the Bulldogs was Tom Liberatore ($491,000) with 76 from, coincidentally, 76 per cent game time.
Bernie Vince ($554,000) has become very Fantasy relevant since gaining defender status and he did nothing to dissuade coaches, finishing with a handy 88 from 91 per cent game time. Travis Cloke ($450,000) looks rejuvenated and in good at shape at his new club and might be one to consider for a draft league. He scored 63 points and probably ended any doubt as to whether he'll be selected for round one. Christian Petracca ($409,000) also looks set for a breakout year and I know he's been in my forward line from day one of pre-season. He probably won't be a full-time midfielder this year, but even across the half forward line he could be a very handy scorer. He only managed 58 points from 71 per cent game time today, but it's certainly not enough to give him the flick.
Jason Johannisen ($563,000) aka Norm aka Odell Beckham jr finished with a reasonable 62 and I'm calling it reasonable because the Bulldogs averaged 52 points as a team today. With their backline at full strength again, you'd assume JJ will be pushing up the ground even more this season. People have had their eyes on Christian Salem ($383,000) as a defender and he managed 57 from 70 per cent game time. It's probably not enough to get people rearranging their teams, however.
There were two returning Bombers out there today and neither blew the house down. Jake Melksham ($349,000) finished with 60 from 80 per cent game time, but his price tag might tempt a few. Personally, I think Melbourne's midfield is too deep for Melksham to score consistently. Stewart Crameri ($375,000) scored 49 from 84 per cent game time.
Finally, and most importantly, Bob Murphy ($486,000) got through unscathed and looked in reasonable touch. And that's the most important thing of all.
Marcus Bontempelli, Easton Wood, Mitch Wallis, Michael Hibberd, Matthew Suckling and Liam Picken all were left out of today's game.
Sydney Swans v North Melbourne – C.ex Coffs International Stadium
Sunday 19 February – By Sparksy
Click here for DT Live stats/scores.
An extremely Fantasy relevant game to work out the breakouts from the same-olds and it didn't disappoint. The game itself wasn't overly exciting but it did tell tales, especially about who's going to play in each team's midfield.
The "Battle for Tom Mitchell's Time" is the biggest inner-team war in Fantasy football this year aand it didn't disappoint. Callum Mills ($441,000), Isaac Heeney ($442,000) and Zak Jones ($333,000) all had a go at the extra time and all did a fine job. I couldn't find heat maps anywhere but, by my eye, it looked like Jones was slightly favoured over Mills and Heeney but only just and I love the look of all three. Mills and Heeney both played extremely well in their respective halves too, Mills with eight rebound 50's and Heeney with three inside 50's. It currently looks like Callum will skip his second-year blues although both he and Heeney need to work on their kicking, going at 58.6% and 56.5% respectively. Jones played mostly through the guts and looked right at home, picking up 21 disposals, 11 tackles and 7 inside 50's and that's enough to convince me. All three are fine picks, I'd probably go Jones, Mills, Heeney in order of value and Mills, Heeney, Jones in order of output. Mills scored 110 from 80% TOG, Heeney put up 99 from 81% TOG and Jones had 100 before being docked two points after the siren by Champion Data to rob him of the ton and give him 98 from 84% TOG. Luke Parker ($663,000), Daniel Hanneberry ($655,000) and Josh P. Kennedy ($653,000) were all fairly casual throughout the game, seemingly going at 50% effort maximum and finishing with 65, 54 and 46 points respectively. I personally think Parker is the pick of the three but he could also be rested up forward meaning Hanneberry might jump him in scoring. I certainly wouldn't worry about the low scores as it didn't seem like any of the three cared about the game too much. A hugely unique pick could be Shaun Edwards ($271,000). Coming from Essendon it looks like Sydney have picked him up for a reason and the boy does have spades of talent but has never been given too much of a chance. He does need to get picked each week which could be a worry so don't chuck him straight in your team but he can score, as shown by 56 points from 62% TOG, and he's cheap as chips. George Hewett ($349,000) was the surprise of the game for me, managing 70 points from 77% TOG. He racked up 24 disposals, 13 contested, played through the middle a fair bit and helped himself along with a few marks and tackles plus a scoring shot (albeit a behind).  Darcy Cameron ($156,000) is a bench DPP ruckman who could actually get a stint or two throughout the year. The big fella kicked a snag and had 5 1% acts which is pretty great for a tall bloke. He worked hard both ways as well, never letting his opponent get a free touch and I feel like this effort could let him leap-frog Naismith in the pecking order. He certainly looks ready made for AFL and managed 76 from 83% TOG. Now to everybody's favourite type of player, a Sydney draft pick who has been groomed for greatness in NSW, Oliver Florent ($230,000). The kid was good early but probably didn't show enough to get a gig in the Swans' 22, although he was name-dropped by Joey Kennedy at half time. He had two goals for 54 points (74%) but went very quiet in the second half.
Never-again frequenter Shaun Higgins ($484,000) top scored for the Roos and is doing his best to convince you that he won't burn you this season. He managed 91 from just 69% TOG and, while there is a spot in North's midfield and Higgins could be pick of the season, I just can't bring myself to pick him, yet. Trent Dumont ($457,000) and Sam Gibson ($546,000) could be the biggest beneficiaries from North's farcical handling of its veterans last year. The cleared-up midfield time means these two could live up to their potential. Dumont had a game high 12 tackles along with his 14 disposals and 80 points (73%) while Gibson racked up a lazy 17 disposals (15 uncontested) for 59 points but, get this, from 40% TOG. Gibson has always had the ability to score massively and maybe the need to lift as a leader of the club might cause him to do that more often. Ed Vickers-Willis ($150,000) looks to have the better of fellow bottom-priced Defender and teammate Mitchell Hibberd ($150,000). EVW was evident throughout the whole game, never going five minutes without popping up whilst Hibberd went around hardly sighted bar a short section of the third quarter. They managed 72 (86%) and 34 (54%) respectively but EVW was just way cleaner and more prominent, I've swapped them around already. Shaun Atley ($356,000) was his typical self in a completely different role, breaking through the midfield with his incredible pace rather than off half-back. Unfortunately I'm not sure it translates to enough points per game to make him worthwhile as he managed just 67 from 77% TOG but keep an eye on Atley because he definitely looks good running through the guts. Marley Williams ($332,000) was awful, especially Fantasy-wise. 53 points from 85% TOG and he wasn't clean with the ball, didn't shut down his opponent and provided no fire power off the half-back line. He may improve but he's not deserving of a spot in anybody's team right now. The three mid-priced forward options fought out the game for a spot in almost everybody's forwards line and honestly, none really impressed. Ryan Clarke ($293,000), Kayne Turner ($216,000) and Nathan Hrovat ($380,000) all tried to press their case for selection and Fantasy spots and Hrovat beat Clarke just. Hrovat started very slow when he came on but managed to clean up his disposal and net himself a couple of goals to finish on 63 points from 68% TOG, whilst Clarke had 41 points from 65% TOG without hitting the scoreboard. Hrovat definitely looked like he's playing through the middle rather than up forward but he needs to bring that output up a fair bit before justifying his price-tag. Stay away from Turner who managed just 27 from 85% TOG including a goal! Awful effort. One more for the ruck bench cover would be Braydon Preuss ($150,000) although I doubt he's much of a chance to play over Goldie or Daw once he comes back. Preuss was actually pretty incredible with 29 hitouts, a fair few of those to advantage and ended with 69 points (77% TOG). I just can't see him getting a game but I guess there isn't a lot to lose.
Gold Coast v Brisbane Lions – Broadbeach Sports Club
Sunday 19 February – By Dunny
Click here for DT Live stats/scores.
Like any good meeting we should start with the apologies.  Gold Coast were without Ablett, J Lyons, Jack Martin, Tom Nicholls and Peter Wright.  Brisbane's most notable missing was Dayne Beams.  That worried me as he is one that a lot of people are looking at.  If he doesn't play both of the next two games for the Lions then he is going to be a massive risk for us this year and won't be in my starting squad.
As you watch these games and look at players, the apologies are very important to keep in mind.
Well Roy would sack me if I didn't start with a look at his boy Tom Rockliff (704,000 Mid).  He only played three quarters for 58% TOG (whole game) and came up with 17 touches and a couple of tackles for 72 points.  He looked ok and I wouldn't be too worried.  He simply did what he had to do without being overly flashy.  Fellow midfielder Dayne Zorko ($640,000 Mid) pushed his case for selection even though he has lost his forward status this year.  If he regains it then he becomes very relevant again, he hasn't lost a beat over the summer with 16 touches and 11 tackles for 89 points and played a vast proportion of the game (87% TOG), not bad for the first hit out.    However, I don't think you can pick him up as a pure midfielder only.
The main thing that I wanted to watch in this game was the form of Stefan Martin ($538,000 Ruc) and I simply was worried about what I saw.  I do temper this with knowing it is pre-season and Fagan wanted to see a bit about what both he and Archie Smith ($342,000 Ruc) could do.  In terms of time on ground Martin had 46% and Archie had 54%.  If this continues into the regular season and they play the two big men then I would be saying stay far far away from Stef.  In terms of points it was 56 for Stef and 63 for Archie, this in itself worries me as they weren't up against the best rucks in the competition.  Stef also only had the 8 touches and 13 hitouts vs Archie's 11 touches and 27 hitouts.  The difference was that Stef kicked two goals.  I will be very interested to see how their split of time goes and how their scoring goes in the remaining two games.  But if things continue like this then I will not be recommending taking Stef into round 1 teams as he just didn't look as comfortable as Archie did out there.
The big positive for Brisbane was the first outing for Hugh McCluggage ($246,000 Mid/Fwd).  He really looked like he was a kid that wanted to play round one, he was a great runner and had himself 14 touches in 65% time on ground for 45 points.  He even managed to get an accidental knock to the head and had a stitch or two I believe.  If he keeps playing like this and naturally improving and gets himself in that round one side he will be taking up one of my bench spots this season.  Another youngster I was keen on seeing was Jake Barrett ($150,000 Mid).  He was ok without being brilliant.  He had himself 10 touches in his 77% time on ground.  He scored one more than Hugh with 46 points.  He will also be better for this experience and I think he should remain on your watchlist but he does need to more in the upcoming games.
If you are thinking about putting Daniel Rich ($494,000 Mid) this season, then just don't.  He played 64% TOG for only 39 points.  He simply isn't going to score to the level that you need him to.  One that was on a few watchlists was Jack Frost ($273,000 Def) but he just didn't do enough and is likely to find himself on a bit of a holiday for a poor tackle on Matera I think it was.
Top scorer for the Lions was Rohan Bewick ($405,000 Mid) with 108 from his 28 touches but I wouldn't be looking too closely at him at $405k as a midfielder only.
For the Suns the top scorer and best on ground clearly was Aaron Hall ($635,000 Mid) who racked up 33 touches (22 kicks in there) and 9 tackles from his 72% TOG for 127 points.  He looked great with his run through the middle of the ground.  He had a great start to the season last year and brilliant end to the season despite it being injury interrupted.  I think he should be on the radar still for you, but just beware that he will have Ablett back in that side again soon.  The other issue is his price.  He is very high for what he will give you and there is probably more proven premiums at that price.  I would like to see how he goes with Gaz back, but if Gaz gets another injury this season then Hall should be considered, my main concern though is his price.
Touk Miller ($493,000 Mid/Fwd) was another that many weren't willing to consider this year and he has had a good first hitout with 24 touches for 96 points.  Keep a close eye on him for the next few weeks but I am not as keen on him as I would be for Hall.  He was inconsistent last year so let's see if he can keep this up.
Michael Barlow ($583,000 Mid) and Pearce Hanley ($506,00 Mid) both had good starts to their career in Suns colours with 73 and 76 points respectively.  They both had 19 disposals, but I don't think they are worth picking as midfielders this season as they are just too expensive for what they are likely to output.
Kade Kolodjasnij ($437,000 Def) is another Sun that is perpetually considered by us.  He was good without being brilliant.  19 possessions from his 78% TOG he even slid forward and kicked a goal in his 63 points.  If this form continues he just isn't going to provide you the value or scoring you will need.
However, I did see enough from David Swallow ($355,000 Mid) to lock him in my side.  He only played 53% tog which is about what I would expect with him returning from injury.  But when he was out there he showed the silky skills we would expect from him and he had himself 15 touches and 4 tackles.  Let's look to see how much more TOG he gets in the upcoming two JLT games.
One of the two rookies that I was interested in was Ben Ainsworth ($244,000 Mid/Fwd) but he didn't show me what I wanted to see with 7 touches for just 27 points from 74% time on ground.  The other one that I was watching for was Jack Bowes ($232,000 Mid/Fwd).  He was certainly a bit more impressive, he had 11 touches with a tackle to have 35 points, but importantly he only had 60% time on ground.  He looked good in the parts I saw him and I expect him to improve next game and if he can put together that sort of output from 75-80% time on ground he could be a nice little cash cow before that round 9 bye that the Suns have.
The only injury concern from the game was Sam Day ($354,000 Def/Fwd) who went off to hospital with a dislocated hip.  I know he wasn't on your radars but if he is out for a period of time it will then open up a slot for someone else to come into the side.