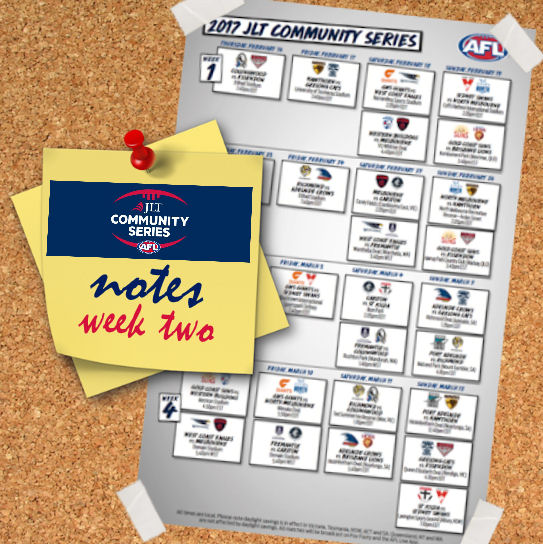 The DT Talk team will update each game of the weekend with our notes from them.
St Kilda v Port Adelaide – Etihad Stadium
Thursday 23 February – By Shags
Click here for DT Live stats/scores.
Round two of the JLT was opened by Saints vs Port, teams we have yet to have a look at. Both Saints and Port felt they had poor seasons last year so will be looking to start their 2017 season strong. St Kilda made their intentions clear by only leaving out versatile veteran Leigh Montagna and not playing a single rookie, whilst Port had a similarly strong lineup missing Robbie Gray and Matthew Broadbent.
It was definitely a game of two halves, with Saints getting off to a flier, but with Port scragging back the game to within only 1 point at the final siren.
In the first half Saints start was lead by Jack Steven (MID $630,000) who was everywhere and was on 80 Fantasy points by half time. He however was rested at half time, ending up with only 39% game time! Likely enough for many to slot him in their squads. Luke Dunstan (MID $416,000) was the highest scorer in what was bit of a slog of a match with 98 (71% TOG). Last years hype preseason player Jack Billings (MID/FWD $479,000) put in a reasonable game with an 80 (82% TOG) he was a bit handball happy, and like a lot of saints players dropped off a bit in second half. In similar positions were David Armitage (MID $518,000) 86 (74% TOG) and last year break out player Sebastian Ross (MID $594,000) 82 (71%) who each had enough of the ball to not rule out of contention, but not doing enough for an auto selection into your team either. Armitage in particular had a poor year last year (avg 83), but was a revelation the year before (avg 107), so is one I always keep an eye on. Nick Riewoldt (FWD $$667,000) had a great first half on 52, but was completely unsighted second half only scoring 6 more points. With 67% TOG, it would be a concern for those considering him, although they likely had him resting up forward. I have learnt from the past to never discount Saint Nick as DT Royalty.
New players for Saints Jake Carlisle (FWD/DEF $359,000), Koby Stevens (MID/FWD $517,000), Jack Steele (MID/FWD $432,000) had mixed games. Controversial recruit Jake Carlisle played centre half back for the Saints and seemed to get his hands on the ball a bit making a few good intercept marks finishing with 60 (66% TOG). His role as a key position would concern me, but is definitely on my watchlist. I wasn't impressed by Koby Stevens game with only 53 points from 69% TOG, and we barely got a look at Jack Steele with only 35% TOG and only 39 points, of which the majority was from his 7 tackles.
Port had a very poor first half, with the only player that seemed to stand up was Ollie Wines (MID $607,000), with 53 points to half time, but he went missing in the second half only finishing on 75 (74% TOG). Travis Boak (MID $541,000) had a solid but nothing too stand out 76 from 83% TOG. Chad Windgard (FWD $432,000) on the other hand had a great second half of 51 points, finishing on 79 (85% TOG). He has a reasonable price if he can get back to good form, but is traditionally an erratic scorer, as shown by his first half. Justin Westhoff (FWD $488,000) had a cracking final quarter with 39 DT points but he is on many peoples never again lists for a reason. There were a few DT relevant Port players that were disappointing. New recruit Patrick Ryder (RUCK/FWD) showed some glimpses early, but finished up with a measly 33 fantasy points. Although it seems Port always had the plan to manage him tonight. (EDIT: AFL.com.au is quoting 70% TOG, this appears to be wrong).
Hinkley: Paddy got through with no problems. The plan was always to take him off at half time. We'll continue to manage his playing time

— Port Adelaide FC (@PAFC) February 23, 2017
I thought Hamish Hartlett (DEF/MID $474,000) role looked good early get a few easy kicks in the backline in the first quarter, but finished up only on 55 from 87% TOG. Another possible defender option Jasper Pittard (DEF $496,000) was a similar story with only 55 from 90% TOG.
For me the story of the night was new mature aged rookie Brett Eddy (FWD $150,000) considered by some as the most dominant player in SANFL last year. He made some strong plays and grabs when he came on the field in the second half, giving port an option up forward and getting a decent 36 from 46% TOG. It could have been much more if he kicked straight (he kicked 0.3). There was a bit of hype about rookie Sam Powell-Pepper (MID $216,000 ) who has impressed Hinkly on the track and is even reportedly a good chance to line up round 1. He didn't show too much tonight with 40 from 67% TOG, and that price is really awkward.
Dan Houston (FWD $150,000) showed he could be a potential slowburn cashcow with 38 from 62% TOG.
We didn't see enough of Joe Atley (MID $188,000) 15 (31% TOG) and Aidyn Johnston (FWD $150,000) 8 (34% TOG) to make any great appraisals.
Richmond v Adelaide – Etihad Stadium
Friday 24 February – By Nic
Click here for DT Live stats/scores.
Thank you to both of these teams for making my job super easy! There is a tonne of Fantasy relevant news to unpack from this game, so let's get straight into it. A number of players with handy price tags performed strongly, potentially opening the door for round one and giving us all a few cash cows. The pick of the bunch from a Richmond perspective was Dan Butler ($150,000) who finished with 74 points and looked like a player who could slot into Richmond's round one line up with ease. The 20-year-old has actually been on the Tigers' list for three years now and could find a nice home in your forward line this year if he gets early games. Harrison Wigg ($150,000) was the standout on the Adelaide side of things. The midfielder racked up 87 points in an Adelaide midfield without Rory Sloane, Scott Thompson and Brad Crouch. He'll obviously fall down the pecking order once those players return, but considering midfield depth is something Adelaide sorely lacks, you can't rule this guy out of early games. Another that probably will be used there is Curtly Hampton ($204,000) who was used at centre bounces quite a few times throughout the match and all but locked himself into their round one side with a score of 89; which was the second highest score of the game. All the pre-season talk was about how impressive ex-Swan Toby Nankervis ($365,000) was looking and boy did he deliver. The ruckman scored 85 points in a team where Ivan Maric played 52 per cent of the game, taking some ruck time away from Toby. Nankervis looked like a contested marking beast early. He also managed 15 disposals and a goal. He is well and truly winning the race to be Richmond's number one ruckman this year. But wait, there's more! Jake Kelly ($210,000) scored 88 points off half back and was excellent. I wouldn't expect him to get a game round one if Adelaide's best backline is available however. Andy Otten ($150,000) played his first game of footy in two seasons and didn't look out of place in Adelaide's backline either, but I can see him being stuck as an emergency more often than not this season.
Dan Butler did his Rnd 1 chances no harm with a game-high 20 pressure acts + an = team high 7 score involvements. #SuperCoach #AFLFantasy

— Fantasy Freako (@FantasyFreako) February 25, 2017
However, where there are positives, there are also negatives. Put a line through Troy Menzel ($199,000). There was a lot of hype around him coming out of the Crows this pre-season, but the ex-Blue still does not run hard enough or get enough of the footy to even consider for your team. On top of that, it's hard to see him playing round one. He finished with 46 points from 69 per cent game time. Jason Castagna ($293,000) kicked three goals and is the type of player Richmond need to get games into this season, but his price may be a little too awkward to consider.
In terms of senior players, there wasn't really much to take away outside of Rory Laird ($584,000) top scoring for the game with 117 points. We all know how good Laird is, though. Dustin Martin ($646,000) spent a lot of time forward during the game, but of course we don't know if that was just to save some petrol tickets. Dion Prestia ($561,000) only played 61 per cent of the game, but managed 68 points. If you're considering him as a unique option, there wasn't anything to really say either way whether he's going to be a top calibre scorer this year to come out of tonight. Josh Caddy ($517,000) is the other big-name Richmond import and he finished with 77 points from 67 per cent game time. His dual position status certainly makes him tempting and he did nothing tonight that should deter you from picking him – another player to watch closely over the next fortnight. Sam Jacobs ($534,000) only played 40 per cent of the game so don't read anything into his score of 44. Charlie Cameron ($402,000) and Wayne Milera ($286,000) spent a lot of time in the middle for the Crows tonight and scored 63 and 79 respectively. Again, with so many of Adelaide's best midfield not playing, it's hard to get an accurate gauge on whether they'll actually get any midfield time when the actual season starts. Oh… and Shaun Grigg ($574,000) top scored for the Tigers with 88… for the 50 of you with him in your team, you probably wanted to know that.
Melbourne v Cartlon – Casey Fields
Saturday 25 February – By Nic
Click here for DT Live stats/scores.
Well… after five straight hours of watching Melbourne beat my Blues, I'm a little cranky but I'll do my best to not let that reflect in these notes. The top scorer on the ground was Christian Petracca ($409,000) who finished with 96 points. Petracca seems ready to become a consistent scorer for the Demons and given his dual position status, I think he's a player seriously worth considering. Angus Brayshaw ($422,000) also has that forward status, but he probably doesn't have as high a ceiling as Petracca does in terms of scoring ability. I wouldn't take much out of Brayshaw's game today though as he only played 62 per cent for a score of 55 points and was mostly unsighted. Jack Viney ($611,000) continues to look like a seriously tempting option, scoring 96 points as well. Jesse Hogan ($477,000) was incredibly impressive player as an on-baller in the first half, winning quite a few clearances. Needless to say key forwards usually have to be pretty special to become Fantasy relevant, but Hogan's 85 today certainly got him onto my watch-list… are watch-lists still a thing? Remind me to check that…
Of the Demons' imports, Jordan Lewis ($623,000) continues to look good. It's hard to see him missing a beat at Melbourne. He only scored 70 points today, but it's not worth reading anything into that. Jake Melksham ($349,000) is also an interesting one. He was the leading disposal getter for the Demons, who had their full strength midfield out there, and finished with 83 points. Obviously, he'd only be a short-term cash cow, but he could make you $100,000. Personally, I wouldn't go near him, but it's worth mentioning. Fellow ex-Bomber Michael Hibberd ($428,000) scored 39 points from 73 per cent game-time. Make of that what you will.
Obviously, a lot of the Fantasy debate this preseason has centred around whether Max Gawn ($642,000) can perform to the same level with the Dees playing two ruckmen and the opening two games of the JLT Series have shown that Gawn can certainly still score well with Jake Spencer ($281,000) taking some of his spotlight. However, Gawn did get a few cheap marks inside 50 during this game at points where Carlton defenders were probably off playing cards somewhere and not defending, which padded his score a bit.
Moving onto the Blues, Jarrod Pickett ($150,000) came into this game as the most selected player from either team and he managed 27 points after not taking the field at all in the first half. He looked lively though and will certainly be in the equation for a round one debut. Marc Murphy ($482,000) comes into 2017 underpriced because of his injury riddled 2016 and he got through unscathed, but didn't set the world on fire. He scored 63 points from 84 per cent game-time, but was clearly treating it like a warm up game … which I guess it was. Sam Docherty ($609,000) and Kade Simpson ($611,000) are such consistently solid players that it's almost not worth discussing them. They scored 67 and 68 points respectively from full games, but neither looked like they'd missed a beat. Caleb Marchbank's ($205,000) first game in navy blue (or white in this case) looked very promising. The defender notched up 85 points, but I wouldn't be jumping on him just yet. I would presume he'll be used as lockdown defender for most of the year, so don't expect him to average over 60 or so. Carlton are a team that will probably give their younger players early games, but of those that played today, Harry McKay ($150,000), Kym LeBois ($150,000) and Zac Fisher ($198,000), none will probably make the round one cut. Charlie Curnow ($237,000) seems a good bet for round one and he even spent a bit of time playing as a rover, but he's a bit more expensive.
But most importantly of all, the highest Fantasy scorer to come out of Melbourne versus Carlton today was Daisy Pearce ($000,000) who finished with 109 points from her 29 disposals. Which really sucks because Warnie has her in his AFLW Fantasy team in the league we created and I'm playing him this week… Just wanted to vent about that…
West Coast v Fremantle – Wonthella Oval, Geraldton
Saturday 25 February – By Tbetta
Click here for DT Live stats/scores.
"Eagles slick. Dockers shit."
That was a text I received from Warnie halfway through the 3rd quarter, and that pretty much sums up the game if you're looking for context for the fantasy scoring. West Coast shot out from the start and put the cue in the rack at half time, whereas it was unconfirmed whether Freo had even located the venue half an hour into the game.
Still, where there's data there's meaning, and I've done the hard work of reading into which numbers matter. Before we get into specifics, it's worth noting that the heat policy was enacted for the Geraldton hitout, resulting in a shorter game and cropped scoring as the mercury reached 34 degrees.
Players of interest missing – Lachie Neale (recovering from surgery), Aaron Sandilands (calf), Luke Ryan (not good at footy), Griffin Logue (left out), Francis Watson (omitted from final squad), Naitanui/Lycett/Giles (assorted ailments), Harley Bennell (body).
We might as well start with the big story lines and work our way back from there. Nat Fyfe ($595,000 MID) was almost the only bloke in purple who can keep his head up. For those worried about his fitness, he moved like a thoroughbred from the outset, and scored in typical fashion with 61 AF points from 22 touches (16 contested). Standard stuff from him, and I expect his ownership will shoot up from 38% if anything based on this game – Freo can't be this horrible in the season proper, surely?
This debut of Sam Mitchell ($602,000 MID) was another thread not lost on the commentators, and they were rewarded with another classy game from the former Hawk. He recorded the first kick of the game and had 5 within a few minutes – it's easy to see him ticking along very much like he has done in the past few seasons, only with navy on his chest instead of maroon. He finished on 83 from 28 touches, and it would have been much more if anyone cared about the game after the first half.
Other players to move clubs had varying results. Nathan Vardy ($352,000 RUC) looked like a baked potato in the first quarter, but worked his way into the game to finish on 50. Still, he was coming up against a Sandilands-less ruck division, so we needed to see a lot more to legitimately consider him in salary cap formats. Drew Petrie (54) was his back-up, and proved to be exactly what we expected when the trade went through – depth. Not fit for fantasy consumption.
Cam McCarthy ($211,000 FWD) currently sits in about a quarter of teams and they'll all be rethinking his selection after being held goalless for 21 AF points. Smart coaches will give him another week though, as his struggles were likely more about Fremantle's failings than his own, with the Inside 50 count extremely lopsided. Still; a young key forward in a lacklustre side… The concern is justified.
Outside of the new recruits, it was largely business as usual for these two clubs, without too much to write home about in terms of new roles or game plans being rolled out into the public sphere. Sharrod Wellingham ($367,000 DEF) didn't earn any midfield time tonight (unlike last weekend, where he basically captained East Perth for 114) but still found plenty of the ball in defence to score 86. I'm wondering whether the Eagles will look to instill Wellingham as a quarterback type out of defence, rather than the dour and boring structure that has rendered the West Coast backline a fantasy wasteland for the past few seasons. Keep your eyes peeled, as his price is low and it's easy to forget he was an 80-point player back in Collingwood colours.
It's no surprise that with the belting, the Eagles forwards had their fair share of the fantasy pie. Mark LeCras ($498,000 FWD) was like a vulture on the carcass of the Dockers, scoring 124 on the back of 22 touches, 13 marks and 3 sausage rolls. Josh J Kennedy ($536,000 FWD) chimed in himself with 5 goals for his 93 AF points. These two did nothing to quieten the rumours of "downhill skiing" from the West Coast forward line, and you can expect similar output from them this year as in years past.
Other tidbits that might interest you:
Luke Shuey ($597,000 MID)

was the pick of the MIDs with 107 points from his 27 touches. He looked to find extra space today, which could have been due to a lack of tag (JLT series unofficial rule, no tagging), but it also could have been due to the presence of Sam Mitchell and his genius. I'll be watching.

Andrew Gaff ($564,000 MID)

finished on 85, despite a slow start. If you were looking at him to push back into mid-100's territory, I saw nothing today that should change your mind.

Dom Sheed ($361,000 MID)

is one for the draft coaches out there. 75 from just 62% TOG today proves what we already know about him; he can find the pill.

Jeremy McGovern

is a SuperCoach special. Dominant 1v1 and looks fitter.

Bradley Hill ($417,000 MID/FWD)

has DPP but that's as far as your excitement should go. Played on a wing but was barely sighted for his 48.

Standard Connor Blakely ($453,000 MID)

. Looked sharp when on the field, but suffered with TOG. 
That's all from me – if you have any questions or criticisms (or if you just want to froth over Sam Mitchell), hit me up on Twitter: @Tbetta9.
North Melbourne v Hawthorn – Arden Street
Sunday 26 February – By Sparksy
Click here for DT Live stats/scores.
A game of real highs and lows, North Melbourne vs Hawthorn was sometimes the most beautiful football I've ever seen and sometimes unwatchable with the Roos prevailing comfortably in the end. Both teams had a couple of Fantasy relevant players, particularly Hawthorn, so without further ado let the post-match Fantasy analysis begin.
The Roos fielded a solid 22 without a lot of their top end talent missing. Trent Dumont (MID $457,000) was HUGE with 25 disposals and a goal for 105 points from 67% TOG. His stats were a bit inflated as Sam Gibson wasn't playing but, considering it was an almost full North Melbourne midfield that's a good effort by my standards! At that price too he could be breakout. I'd say consistency will be an issue and he's not for me but you never know I guess! Nathan Hrovat (MID/FWD $380,000) continues to make a small case for selection. At the moment I can't justify his price but he does look impressive every now and then throughout the game. He had 18 disposals and two goals including an impressive dribble goal for 72 points from 81% TOG but I'm just concerned the output isn't enough for the price. Fellow under-priced forwards Kayne Turner (FWD $216,000) and Ryan Clarke (MID/FWD $293,000) don't seem so under-priced these days. Turner continued to make me unimpresses, increasing his output slightly to earn himself 52 points from 76% TOG but was a bit wayward and seemed to think his spot in the side was a gift rather than earned. Clarke had 12 points from 15% but got injured early in the second quarter which ended his day. It sounds like it was a corked quad but could potentially be more serious. I would say they were just being cautious but if he doesn't play in North's next JLT game put a line through him for the start of the season. Rookie forwards Jy Simpkin (FWD $228,000) and Cameron Zurhaar (FWD $150,000) were actually quite impressive on the field but not on the Fantasy scoreboard. 32 (45%) and 38 (70%) points respectively was alright, especially from Simpkin, but you can't justify the lack of job security and the inflated price tag in Simpkin's case. Bottom-priced Defender contenders Ed Vickers-Willis (DEF $150,000) and Mitchell Hibberd (DEF/MID $150,000) continue to fight for that spot in the Roos' defence and I still think EVW has the upper-hand over Mitch despite being outscored today. Hibberd looked much more at home, managing 64 points from 85% TOG including 25 disposals and three marks but also 6 clangers. EVW was much cleaner and looked like a veteran out there, managing just 13 disposals but going at 100% efficiency to gather 50 points from 81% TOG.  Shaun Higgins (FWD $484,000) *shudders* was BOG again with 24 disposals and a snag adding up to 94 points from 85%. It's a real struggle to find a reason not to have Higgins in your team based purely on the facts from this season. He's performing, getting more midfield time due to the exit of North's grandads, he's a really classy player and a leader at the club, but I just can't bring myself to pick him due to his previous indecencies in my team. Fellow Shaun, Shaun Atley (DEF $356,000) wasn't as prolific as last week but still used his pace to breakthrough at times. His midfield role was more limited with Swallow and Ziebell back in the team but he was still thereabouts and managed 60 points from 80% TOG including 5 tackles. The ruck trio Todd Goldstein (RUC $582,000), Majak Daw (RUC/FWD $354,000) and Braydon Preuss (RUC $150,000) all played today and I can't see North Melbourne sticking with it however I think it will be Daw who gets dropped! Majak just doesn't look to have improved at all as far as footballing skills go. Yes he's a freak athlete but it's his seventh season in AFL and you still forget the bloke is playing for 12 Rounds until he takes mark of the year. The only reason he is Fantasy relevant is because his inclusion has an impact on the other two ruckmen. Goldstein was the game changer and had 71 points from 65% after being off for most of the second quarter with some sort of hand injury apparently. He came back on and completely shut down the Hawks midfield unit by giving his rovers first use of the ball and Hawthorn had no way back. Braydon was equally impressive with three goals and 27 hitouts getting him 76 Fantasy points for 73% TOG. He should be picked Round 1 at this rate and, if he is, chuck him on your ruck bench! Team leaders and midfield generals Andrew Swallow (MID $499,000) and Jack Ziebell (MID $573,000) were back today at about 60% and looked to be about what they were last season. Swallow had 55 (65% TOG) and Ziebell had 41 (43% TOG) which is nothing to scoff at but I just think there are plenty of better options.
Hawthorn had some studs come in and plenty go out today and none were bigger than the addition of Tom Mitchell (MID $638,000) for his first game in brown and gold. Titch looked like the cogs were clogged in the first half, still being good but not what we've come to expect. He finished the half with 37 points before going beast mode and adding 56 points in the second half to end on 93 from 77% with 26 disposals, 6 marks and 3 tackles. I can see Titch going next level this season so pass up on him at your peril. Other new midfield recruit Jaeger O'Meara (MID $364,000) was golden. I was in love watching him and every time he touched the ball my heart fluttered. The boy was insanely good, with two smooth score involvements, one classy goal for himself and 22 disposals he managed himself an easy 76 from 81% TOG. He's an easy one to pick too because he's not going to be one of those players you get angry with for doing crappy things because he just never does them. Captain Jarryd Roughead (FWD $373,000) was fantastic again, playing up in the midfield and streaming forward. He's fantasic value as I can't see him going below 75 all season which means he should fatten up beautifully and be that stepping stone you need for a mid-season upgrade. You surely couldn't do it but I remember Roy mentioning this man in a podcast and I'm inclined to agree with him to a certain extent, but Ty Vickery (FWD $311,000) was massive for the Hawks today, playing his role perfectly and reaping the rewards. He did a bit of everything and capped it off with two goals playing mostly forward but also in the ruck wracking himself up 90 Fantasy points from 82% TOG. Granted this was without 'Big Boy' McEvoy but I can see the Hawks going with Tyrone as backup ruckman until (and if) Ceglar gets back, possibly playing him third string to Fitzpatrick. Could you really put him in your forward line? He could be value. Fighting for probably the last spot in Hawthorn's 22, Kade Stewart (FWD $307,000), Teia Miles (MID/FWD $150,000), Ryan Burton (DEF/FWD $260,000) and Kieran Lovell (MID/FWD $195,000) all gave it a good crack, each having their ups and downs. Stewart wasn't as good as last week but was still solid, gathering 57 ponts from 82% TOG but was quite undisciplined personally. Miles wasn't good enough for me again, 46 points from 74% but basically went unsighted. Burton played Gunston's old role, barely leaving the forward 50. If Gunston continues to run amuck up the ground and Sicily stays off half-back I think Burton will get a spot but not have the output we need from him to warrant his price tag. And Lovell came on in the second half and was very good despite only managing 29 points. My main concern is the fact that he was very fresh compared to everybody else on the field. I'm keen to see which one is named Round 1 but expect Clarko to rotate all of these players in and out of the team throughout the year. Luke Hodge (DEF $525,000) was great but once again lacked a bit of scoring punch, managing just 57 points from 77% TOG but played mostly in defense and not through the guts. Fellow Defender Josh Gibson (DEF $494,000) had 68 points from 73% TOG while looking a touch rusty. The problem with Gibbo is his consistency, he can give you a 150 one week and follow it up with a lock-down role 37 pointer, I wouldn't pick him but he does have a huge ceiling. One that I said needed to step up this season was Liam Shiels (MID $499,000) and he disappointed again. Without Isaac Smith, Shiels was meant to be a leader in the midfield while Titch and O'Meara adjusted to a new club but he barely lead from the back let alone the front managing a measly 50 from 61% TOG and only having 3 tackles to go with that, far from his best. Will Langford (MID $427,000) is another midfielder I want to lift this season and he did before going down injured on all fours. He had 42 points from 36% TOG before leaving the ground prematurely. If he gets back up for the next JLT game he could be one to watch. Rookie Blake Hardwick (FWD $176,000) was okay on debut but won't be Fantasy relevant this season, pass on him. And pass too on Taylor Duryea (DEF $415,000). Warnie's boy found his way 36 points from 61% TOG and probably gained a concussion to go with it. I can't see him lifting his game this year either, especially with Birchall missing from the team today he really should have taken charge and he didn't.
Remember Fantasy Coaches #StayStrongJLT
Gold Coast v Essendon – Harrup Park, Mackay
Sunday 26 February – By Warnie
Click here for DT Live stats/scores.
There was plenty to watch Fantasy-wise in Mackay and a fair bit of excitement for me as a Bombers supporter. Sadly the boys didn't get the job done after a promising start (much like last week… maybe something to think about with two fadeouts in the JLT so far).
The Suns were without Ablett, Hall, Witts, Lynch and Rosa while the Dons were missing quite a few walk up starts in Zach Merrett, Zaharakis, Heppell, Kelly… oh and Fantasia. Also, sadly ball-magnet Kobe Mutch didn't make the cut from the squad of 29.
25 touches and a couple of goals helped Alex Sexton (MID, $384,000) to a game high 108. This shouldn't change your thinking on him. Playing in the guts was Michael Barlow (MID, $583,000) who played his natural role and won plenty of the pill on the inside and out. 31 disposals and just 70% TOG was impressive for his 100 points. He just needed to put it on the boot a bit more with just 7 kicks to his name. I can see the former Docker being around that 100-105 range as he will basically play on ball most of the game. Maybe not enough for Classic, but keep that in mind when drafting. Joining the midfield brigade and starting there at the first bounce was Touk Miller (MID/FWD, $493,000). Six tackles to go with his 21 touches and 75 points (68% TOG) should see him highly selected if there is plenty of midfield time in the final JLT game.
Will Brodie (MID, $234,000) has been the best of the GC draftees in these opening two games. He picked up 81 points (75% TOG) in a classy game playing through the midfield and pushing forward. He also kicked two goals. His use of the ball was impressive and we could very well see him play early in the season, if not round one. Brodie attended a team high 16 centre bounces. Ben Ainsworth (MID/FWD, $244,000) didn't get as much clock but also kicked two goals and scored efficiently with 54 from 58% TOG.
I was keen to see David Swallow (MID, $355,000) back up from his great game last week. 56 points (71% TOG) may not be something to write home about, but he got through and had some important possessions, going at 100% efficiency (not that it matters in Fantasy). He seemed to play mostly on the outside, running the wing. He's now got a couple of games under his belt and should still be in calculations for your round one squad as a 'rose'.
I'm dropping Kade Kolodjashnij (DEF, $437,000) down my draft order slightly. I'm not sure he's going to be the thing we thought he was in his first couple of seasons.
It didn't take long for me to spot Brent Stanton (MID, $574,000). As we've mentioned all pre-season following the Essendon training reports, Stants was playing in defence. Not even changing from midfield, or off a wing back there, he was pretty much the +1 for the Dons. Granted Kelly wasn't playing, but Stanton's role is going to be Fantasy friendly and we all know how much of a magnet he is – and I will go as far as saying pig. 23 touches, five marks, three tackles and 87 points (80% TOG). Watch him run the ball out of defence and link up for a few +6s. Don't start him, but know that by round six we will most likely be able to pick him as a DEF/MID. One to jump on in the mid-teens in Draft. I know I will be.
Second yearer Darcy Parish (MID, $446,000) was the best of the Bombers with a whopping 97 points from just 57% TOG. That's 170 on my points per 100% TOG formula.
Jobe Watson (MID, $477,000) got busy late, playing midfield and forward, to finish with 24 disposals and 79 (70% TOG). If you're entertaining him as a midfield starter and thinking he's a 95+ player, then he's looking good to fulfil that. The forward role will be there, but he's too important through the middle to have him playing on the HFF for too much of the game. Judging from today, it wouldn't be enough to gain him FWD status in my opinion. Priced at 80, he's worth starting – it's just that he's probably behind a few other 'roses' around that price.
Kicking two goals in the first quarter and finishing with four for the game, Joshua Begley (FWD, $190,000) put his hand up high to get an opportunity early on this season. He looks ready. He was the leading goal kicker for Eastern Ranges last season, kicking 17 in his first 3 games. James Stewart (FWD, $227,000) kicked one goal, but he's not going to be a prolific scorer. If he was basement priced, I'd entertain, but not at over $200K.
Andrew McGrath (DEF/MID, $250,000) was better this week (45 from 73% TOG) and will also be pushing for round one. I have come to the conclusion though that we might have better options for a cheaper price. His output will be solid, but $250K is a fair price to pay – and I think he will be managed a bit through the season. The stress is though that there aren't a truckload of rookies knocking down the door!
While I think there might be some worries with picking the returning Bombers, they now get a week off and we should see them with a side that looks closer to their best 22 in the last weekend of the JLT. Bring it on.