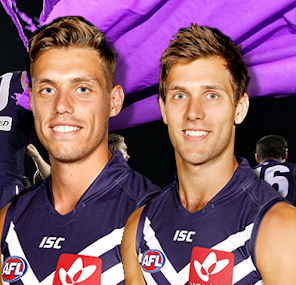 We don't mess around here at DT Talk and when we need some info, we go straight to the source itself.
Today, Calvin chats with NAB Challenge star Tommy Sheridan and Matt de Boer to uncover some hidden truths from the Fremantle camp.
Calvin – Over the last 7 games without the vest Matty de Boer avg. 85 – is this what we can expect from him this year?
Tommy  – Now that the vest has been terminated we will see a Matty De Boer playing a full game and accumulating points. He can play forward and get on the end of a few but he does a lot of grunt work inside the stoppage and has exceptional pressure so expect plenty of tackles, clearances and disposals when he plays that inside mid role.  Don't look into last year's avg score as it's not an important indicator. I have Matty as my value pick.
Calvin – We all know how important rookies are when forming your Fantasy team, who are some rookies that we might see from the Dockers come round one?
Tommy  – In terms of first year boys Darcy Tucker has proved himself already in Nab 1 and unfortunately hurt himself but he's one to keep an eye on.
Calvin – Harley Bennell (FWD/MID, $509,000) joins the crew this year, how do you see his role in the team?
Tommy  – Harley has returned in great shape but had a few hiccups with a minor injury this pre season. Since that though he continues to shine on the track and he will play a pivotal role for Fremantle so 500k for Harley is well worth your money.
Calvin – After averaging 111 in 2014, Michael Barlow (FWD/MID, $515,000) only managed to average 93 last year, despite playing all 22 games. In your expert opinion, what was the reason for that dramatic drop in scoring? Will he return to the midfield more in 2016, and get back to his very best?
Tommy – Micky Barlow is a tackling machine, a durable athlete and will continue to keep he's Fantasy admirers happy.  He's a ball magnet and still had a good year last year. He's pre season says to me that he will be back to his best. Positional wise not exactly sure as that's Ross's decision where he will fit best but yeah expect to see him up forward and in the midfield throughout the 2016 season.
Calvin – Tommy Sheridan… what do you see his role as in 2016? He dominated the NAB and finished 2015 with scores of 84, 89, 89 and 102.
Matt de Boer – "Tommy came back super fit from the off season and has been really enjoying working with new coach Brent Guerra, focusing predominantly on the half back role. Expecting big things from him in 2016 and he will be in my team"
Finally, here's a quick questions off some Twitter fans…
@JoeJooce asks, which first and second year players impress you the most and who will likely crack the seniors?
Tommy – If you go by NAB Challenge you can already see Lachie Weller, Ed Langdon and Connor Blakely showing strong growth from last year and hunger to squeeze into the team for round 1.
@JeppaDT asks, is Connor Blakey the real deal?
Tommy –   He is a competitive beast inside with great lateral movement and sharp hands so has the ability but I wouldn't say the same thing in terms of his Beard/haircut combination.
@chrisbobbyjones asks, how often will we see Fyfe forward?  
Tommy –  To be honest that again is up to Ross but we know he can take a big mark and with limited rotations I wouldn't surprised to see him rest in the square more this year.
@Dimmy_95 asks, how's Lachie Neale's pre-season coming along?
Tommy – Lachie Neale continues to improve, he's in great shape so expect another damaging season from the little master.
Well there you have it – massive thanks to the boys for their effort in helping our teams heading into round one.