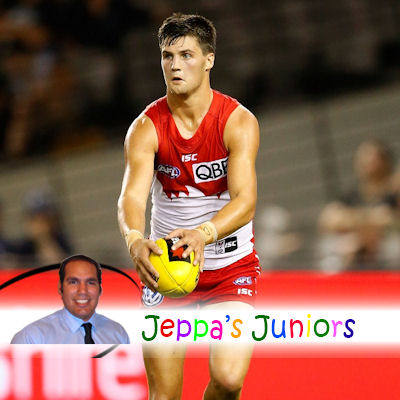 I'm back ladies and gentlemen and it's time for some hardcore Fantasy and Dreamteam planning so I hope you're ready!? To start, I thought we'd look at the slim defender options available.
Decent cheap defenders aren't in abundance this season so plan carefully. With a lack of scoring punch evident, I think it is sensible to start with no more than two rookie priced defenders on your field!
Considering role, job security and scoring ability, here are my best defender rookie options (not in order) TO START WITH this season…
1. Nic Newman
AFL Fantasy Price: $150,000
AFL Dreamteam Price: $132,400
Predicted Average: 65
Skillful, composed and hard working. These are the adjectives that describe Nic Newman. In 2016, the rookie listed Newman dominated the NEAFL competition, averaging 28 possessions and winning best on ground in the NEAFL grand final. Gaining promotion to the Swan's senior list back in November was reward for his excellent season. Sydney don't have a clear ball wining half back but Jake Lloyd and old man McVeigh appear to be penciled in for defence roles this year. Never the less, Newman is at bargain basement price and he just cant be ignored. Hopefully he can find some hot form in the preseason competition and force his way into the Swans best 22. Put him on your watchlist!
2. Matthew Scharenberg
AFL Fantasy Price: $234,000
AFL Dreamteam Price: $197,500
Predicted Average: 63
Injuries have got the better of Scharenberg to date but don't let that deter you. The skillful halfback was an elite junior and Collingwood could definitely do with some polish from defensive 50. Coming off his second knee reconstruction, Scharenberg has done plenty right this preseason and he was one of Collingwood's best in their intra club last Wednesday (source). Assuming he's 100% fit, Scharenberg has no job security issues, in my opinion, but at an inflated rookie price, is he worth the risk? We'll definitely have to wait on Scharenberg's JLT Series form before making a call. Watch this space.
3. Lachlan Keeffe
AFL Fantasy Price: $184,000
AFL Dreamteam Price: $139,100
Predicted Average: 53
A change of role could see Keeffe as a regular in the Pies 22. After serving his 2 year ban, the agile big man has returned to the Westpac Centre in ripping condition and he's been penciled in for a forward / ruck role this season (source). Buckley might finally have a reason not to pick Jesse White! Jokes aside, don't expect too much from Keeffe in an AFL Fantasy scoring sense. He'll likely average in the low 50's which makes him bench cover at best. I'll be keeping a lose eye on him for the remainder of preseason before deciding whether or not he's worth that little bit extra in price. Don't ignore him.
4. Luke Ryan
AFL Fantasy Price: $150,000
AFL Dreamteam Price: $125,300
Predicted Average: 60
The word around the West is that Luke Ryan was drafted to fill a need at Freo. He's a medium defender with an elite kick that reads the play extremely well and he takes plenty of intercept marks. The mature age recruit averaged an impressive 14 kicks, 6 handballs, 6 marks, 3 tackles and 84 Fantasy points for Coburg in the VFL last season so the Fantasy potential is definitely there. The Dockers don't have an abundance of quality kicking players and he's made a good impression thus far (source) so I think there's a spot for him pending form in the lead up to Round 1. At this stage, he's my first picked defender rook and I suspect that he'll be a popular pick this season.
5. Andrew McGrath
AFL Fantasy Price: $250,000
AFL Dreamteam Price: $219,800
Predicted Average: 67
Not a lot of first year players are as AFL ready as Andrew McGrath. The Sandringham product is likely for Round 1 but Worsfold has already flagged plenty of rest for him throughout the season (source). McGrath has drawn comparisons to Johannisen given his pace and ability to create from half back. He averaged an impressive 118 Fantasy points in the TAC Cup last season so he's Fantasy relevant but we need to see how he copes playing alongside the bigger bodies. As good as McGrath is, I'll struggle to pay top dollar for him. He's not for me unless he dominates in the JLT series. It's a wait and see.
6. Ed Vickers-Willis
AFL Fantasy Price: $150,000
AFL Dreamteam Price: $132,400
Predicted Average: 50
Untried defender Vickers-Willis looks set to make his mark at a new look North Melbourne this season. At 190cm and 86kg, he's a little undersized for a key post but suits a lockdown role like the one that has been recently vacated by Michael Firrito. For a young bloke, Vickers-Willis' leadership traits are quite impressive and after a couple years of development, he's physically ready for the AFL. History tells us that young talls do not score well but his job security and bargain basement price could still make him a very handy D8. I'm very keen to see what he produces in the JLT Series.
7. Tom Stewart
AFL Fantasy Price: $172,000
AFL Dreamteam Price: $125,300
Predicted Average: 64
I'm going to go out on a limb here and say Stewart has the best job security of any rookie defender this season. He's the modern day backman with his ability to take an intercept mark and burn opponents on the rebound. Stewart's got plenty of admirers at Geelong including defensive coach Matty Scarlet and if that's not enough well he's been given the famous #44 in his first season. Stats wise, he gets plenty of +6's from an uncontested mark and kick game and can push up the ground and kick a snag or two. Stewart is currently sitting as my D5 in both Fantasy and Dreamteam. He's the real deal.
8. Aaron Francis
AFL Fantasy Price: $230,000
AFL Dreamteam Price: $258,000
Predicted Average: 62
Young Francis has the tools to become a champion footballer. He's strong, athletic, good overhead, an accurate kick and can run and create from defence or kick a goal when he's up forward. From his 3 games last season, Francis failed reach the heights we expect in the world of Fantasy but with another preseason under his belt he'll definitely improve on his 48 average in 2016. Given his talent and ability to play a variety of positions, I believe there's a spot for Francis in the Bombers best 22, question is…will you pay the extra to have him in your side? His dual position status is handy but I'm sitting on the fence for now.
9. Mitchell Hibberd
AFL Fantasy Price: $150,000
AFL Dreamteam Price: $132,400
Predicted Average: 61
A lot of water needs to go under the bridge before you pick Hibberd. Naturally, his bargain basement price is a big draw card but his game time might be scarce and / or inconsistent which would be a huge burden to those that own him. Listed as a defender, Hibberd has the aerobic capacity to win plenty of the footy in the midfield, namely on a wing. At a 190cm, he's a big running unit that would be handy in any team and with a contract extension in place for some time now, the Kangas appear to rate him too. We wont know much about Hibberd until the JLT Series but I highly recommend putting him on your watchlist!
10. Curtly Hampton
AFL Fantasy Price: $204,000
AFL Dreamteam Price: $171,500
Predicted Average: 67
Forgotten footballer Curtly Hampton looms as a tasty prospect. Injuries ruined his 2016 season however, a new midfield role in 2017 and a healthy body are points worth noting. If Eddie Betts is impressed (source), then we should be too. Back at GWS, Hampton averaged a solid 68 Fantasy points per game in 2014 and I see no reason why he cant better that slightly pending the opportunities are there for him at the Crows. Get Hampton on your watchlist immediately because I believe he still has plenty to offer. Don't be surprised if he has a breakout season.
Unfortunately, Jarrod Berry recently suffered a knee injury and faces a 6 week stint on the sidelines. Berry wont be ready for Round 1 but you can bet your bottom dollar that he'll feature at some point this season. Follow him closely.
Other rookie priced defenders that could come into Fantasy and Dreamteam contention this season include Andy Otten, Griffen Logue, Francis Watson, Jordan Ridley, Bailey Rice, Jack Scrimshaw, Ben Long, Alex Johnson, Daniel Nielsen, Colin O'Riordan, Caleb Marchbank, Alex Morgan, Declan Watson, Kieran Collins, Hugh Goddard, Tom Doedee and Pat McKenna.
Look out for my post JLT Series analysis on the defender rookies that performed well, those that struggled and maybe one or two that snuck under the radar! Remember rooks are classified as players under $250,000 in either Fantasy or Dreamteam.
Loading ...