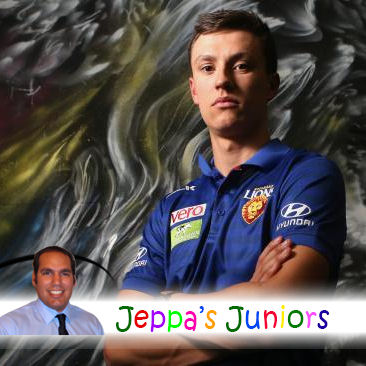 This season, quality rookie forwards come at a cost. We'd all love to spend $150,000 on multiple youngsters with guaranteed job security but unfortunately we are not that lucky. Given the slim pickings on other lines, I'm currently rolling with two starting forward rooks and I recommend you do the same. It's undoubtedly the year for midpricers.
As for the rucks, well it's pretty thin as usual. Almost all of us will have my cheap nominated rookie rucks on our benches come Round 1.
Considering role, job security and scoring ability, here are my best forward and ruck rookie options (not in order) TO START WITH this season…
FORWARDS
1. Brett Eddy
AFL Fantasy Price: $150,000
AFL Dreamteam Price: $109,300
Predicted Average: 54
He's rookie listed but keep your eye on the Power's latest mature age recruit. Eddy has been a colossus in the SANFL in recent seasons and he's versatile enough to play as both a key and medium forward. The 27 year old looked pretty comfortable his first AFL preseason hitout against the Saints last Thursday too with 6 kicks, 5 marks and 36 Fantasy points from less than half a game of footy. Job security is the issue with Eddy and unless injuries strike at Port Adelaide then he might not get promoted to the senior list prior to Round 1. If all goes to plan and Eddy is named for Round 1 then leave him on your bench as he wont be a big time scorer.
2. Ben Ainsworth
AFL Fantasy Price: $244,000
AFL Dreamteam Price: $206,300
Predicted Average: 62
When you think of Ainsworth, think of a young Dayne Zorko. The dynamic forward is incredibly agile, has pace to burn and he knows where the goals are. He showcased his talent in JLT Week 2 with 13 possessions (92.5% efficiency), 2 marks, 1 tackle, 2 goals and 55 Fantasy points from 57% time on ground. Problem with Ainsworth is, will he find enough of the footy on a consistent basis? He'll definitely have some great games but I think it's a big ask for him to score 70+ each week. Inconsistency is a down side but the positive is job security. His dual position fwd/mid status will also come in handy. Not for me but still a decent option.
3. Dan Butler
AFL Fantasy Price: $150,000
AFL Dreamteam Price: $132,400
Predicted Average: 63
Well here's some value! Butler is your modern day small forward who hasn't put a foot wrong this preseason. From intraclubs to the JLT Series, it is all looking very good for Round 1. He puts the pressure on in the Tiger's forward half, which will give us plenty of +4's and he breaks the lines and creates with his speed. Butler does have competition at Richmond for the small forward role with Castagna, Rioli and now Shai Bolton but Hardwick has played two zippy forwards in the past and that should continue. He'll be a popular pick and he's currently my F6 in AFL Fantasy.
4. Jack Bowes
AFL Fantasy Price: $232,000
AFL Dreamteam Price: $179,300
Predicted Average: 62
Picking Bowes comes with its risk. Expensive for a rookie, Bowes has been talked up by coach Rodney Eade (source) but as good as he may become, he's still very raw. Like Ainsworth, Bowes' job security will be decent but those unscheduled rests and quiet games will sting when you're paying well over $200k for a cashcow. I doubt he'll be a popular selection this season given his price, which might give some a nice point of difference. If I decide to pick him it will be in Fantasy only so I can trade him out if it turns pear shaped. I like him as a player but he's on my watchlist only for now.
5. Hugh McCluggage
AFL Fantasy Price: $246,000
AFL Dreamteam Price: $210,800
Predicted Average: 64
McCluggage is AFL ready. Last year's pick 3 in the draft is a serious talent even if it hasn't translated on to the field yet. He's only managed 45 and 37 Fantasy points from 65% and 74% time on ground respectively but the opportunities will no doubt be there for him this season and he looks set for Round 1 (source). McCluggage averaged an impressive 118 Fantasy points in the TAC Cup last year so he's Fantasy relevant but it could take some time adjusting to the big stage. I've never been a big fan of spending $200,000 plus on rookies but for McCluggage I may make an exception.
6. Aaron Black
AFL Fantasy Price: $150,000
AFL Dreamteam Price: $132,400
Predicted Average: 57
Plenty are getting excited about Aaron Black but its not all sunshine and rainbows. Yes, he had a great game in JLT Week 1 amassing 13 possessions, 1 mark, 4 tackles, 4 goals and 79 Fantasy points but what happens when he doesn't bag a major? Owners wont be thrilled with sub 50 scores. Black is definitely a talented footballer and thankfully, he's impressed plenty in his short time at Geelong (source) but a spot in their best 22 is far from assured. If the stars align and he plays Round 1, I'll pick him but as a bench warmer. He's too cheap to ignore.
7. Jay Kennedy-Harris
AFL Fantasy Price: $150,000
AFL Dreamteam Price: $160,400
Predicted Average: 54
Value is the theme for Kennedy-Harris. Entering his 4th season of AFL, JKH is mature enough to know how hard he needs to work and he was recently endorsed as a big improver by new coach Simon Goodwin (source) so take note. With the Dees on the way up, he should score at a decent click but there wont be too many games where he reaches 60+ Fantasy points. Kennedy-Harris is bench back up only ladies and gentlemen so if he's starting on your field then move him to the pine!
8. Sam Durdin
AFL Fantasy Price: $150,000
AFL Dreamteam Price: $132,400
Predicted Average: 52
Meet North's new swingman. Over the summer, Durdin has been moulded as a key defender after spending most of last season in the VFL up forward. He's got the backing of veteran teammate, Scott Thompson (source) and with the ability to play multiple roles, his job security is looking very solid. Unfortunately, young key talls aren't traditionally big Fantasy scorers however at a bargain basement price, he's ideal as an F8 especially with North Melbourne looking to blood some youth this season. Durdin is sitting pretty on my forward bench.
9. Kayne Turner
AFL Fantasy Price: $216,000
AFL Dreamteam Price: $180,900
Predicted Average: 57
Courageous with plenty of fight, Turner will be a regular for the Kangaroos this season. The nuggety forward applies plenty of pressure on the opposition and Brad Scott has been a huge fan in recent seasons. Spots have opened up at North but Turner's lack of scoring punch and inflated price will be an issue for some Fantasy coaches. He's yet to fire in the JLT series but I wouldn't put a line through him yet. Keep him on your watchlist.
10. Will Hoskin-Elliott
AFL Fantasy Price: $230,000
AFL Dreamteam Price: $258,900
Predicted Average: 63
Hey Will, come to Collingwood and we'll give you plenty of opportunities unlike those you received at GWS. That's a summary of Derek Hine's comments to the young rangy forward to get him to the Magpie nest in the off season. In fairness, WHE has had more than his fair share of injuries over the past couple of years but his preseason to date has been excellent and he featured in the Pies first JLT series game with 13 possessions, 3 marks, 3 tackles, 2 sausage rolls and 70 Fantasy points. Playing up forward with stints on the wing, he fits into the Pies best 22 so he's worth the extra spend but don't expect massive scores. I'm sitting on the fence for now.
Some of you may ask why Tim Taranto and/or Matthew Kennedy aren't in my Top 10. The answer is simple really, JOB SECURITY or lack there of. GWS are stacked with talent and I cant see Taranto or Kennedy slotting into the Giants 22 on a regular basis.
Other rookie priced forwards that could come into Fantasy and Dreamteam contention this season include Josh Thomas, Josh Begley, Riley Knight, Oliver Florent, Cam McCarthy, Jy Simpkin, James Stewart, Jordan Dawson, Jordan Gallucci, Shai Bolton, Callum Brown, Tyrone Leonardis, Jarrod Pickett, Kieran Lovell, Callum Brown, Harry McKay, Michael Apeness, Teia Miles, Sam Weideman and Harley Balic.
Loading ...
RUCKS
There are only a few rookie priced ruckmen I'd consider starting with this season…
1. Braydon Preuss
AFL Fantasy Price: $150,000
AFL Dreamteam Price: $132,400
Predicted Average: 59
Preuss is an absolute brute of a bloke! The young ruckman is a small chance to play alongside Goldstein this season but I suspect Brad Scott will run with Ben Brown as a pinch hitting, secondary ruckman. Preuss did team up with Goldy against the Hawks last weekend however, and he finished with a notable 6 possessions, 2 marks, 27 hitouts, 2 tackles, 3 goals and 76 Fantasy points. There's no doubt that Preuss will play senior football at some point this season so he could be handy down the track. Cheap, cheap, cheap.
2. Darcy Cameron
AFL Fantasy Price: $156,000
AFL Dreamteam Price: $125,300
Predicted Average: 60
Big Darcy Cameron is handy for your ruck bench. The Swans third/fourth choice ruckman is listed as a dual position ruck/forward which is non negotiable for at least one of your ruck bench players. Injuries to Callum Sinclair and Sam Naismith may however, see Cameron debut in Round 1 (source)! The lad from Claremont just needs to play 10+ games so we can all sleep a bit better at night knowing we've got a playing ruck emergency. Get him in your team!
3. Tim English
AFL Fantasy Price: $214,000
AFL Dreamteam Price: $138,800
Predicted Average: 52
Injuries to the Dogs talls propels English up the rookie ruck order. Touted as the next Dean Cox, he has got the skills on the ground and in the air, he just needs to add strength to his light frame so he can compete against the bigger bodies. English played last night in the JLT as the Dogs number 1 ruckman and got pushed around like a rag doll. 13 possessions, 2 marks, only 5 hitouts, 3 tackles and 54 wasn't the worst stat line known but it won't get much better. Even though he could play a few early games, English isn't worth the extra spend in my opinion. I personally would run with Cameron and Preuss on your ruck bench in Fantasy and Cameron solely for Dreamteam.
Look out for my post JLT Series analysis on the forward and ruck rookies that performed well, those that struggled and maybe one or two that snuck under the radar! Remember rooks are classified as players under $250,000 in either Fantasy or Dreamteam.