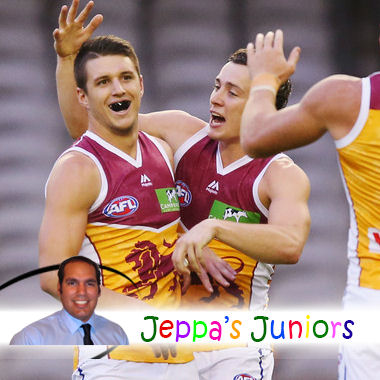 Very thin midfield rookie options have given me sleepless nights, so much so, I can only provide you with a Top 8 list not a Top 10. As far as team structure goes, I would NOT have more than one rookie priced midfielder in your starting 22. There are a few youngsters around the mark but hardly any are 'locked' for Round 1. Considering role, job security and scoring ability, here are my best midfield rooks (not in order) TO START WITH this season
1. Jake Barrett
AFL Fantasy Price: $150,000
AFL Dreamteam Price: $134,800
Predicted Average: 70
In his short time at Brisbane, Barrett has impressed the right people (source). New coach Chris Fagan stated last week that he's very pleased with Barrett's efforts thus far and if he continues to play well then it's looking great for Round 1. Hallelujah! Barrett is a very tough midfielder that can play forward and have an impact. He featured in JLT Week 3 amassing 17 possessions (94% efficiency), 6 marks, 5 tackles, 1 goal and 86 Fantasy points from just 66% time on ground. Note that Barrett is rookie listed but there is room for him on the Lions senior list so no panic there. If he's named for Round 1, he's a must have!
2. Will Brodie
AFL Fantasy Price: $234,000
AFL Dreamteam Price: $183,800
Predicted Average: 66
The Suns have found a hard and honest midfielder in Will Brodie. He's strong, excellent in tight and knows where to go to win the footy. In JLT Week 2, Brodie put his name in the frame for Round 1 after racking up 18 touches, 1 mark, 4 tackles, 2 goals and 77 Fantasy points from 75% time on ground. He only played a few minutes last night against the Dogs, which isn't a great sign and it looks like he'll just miss Round 1 selection (source). Brodie will play a fair chunk of senior footy this year though it's just a question of when he gets his first opportunity. He's not for me unless an injury curse strikes the Suns.
3. Joe Atley

AFL Fantasy Price: $188,000
AFL Dreamteam Price: $125,300
Predicted Average: 64
Hard working, winner and leader…these are some of the terms associated with Joe Atley. The former Bendigo Pioneers captain is an inside mid that has a real thirst for the contested ball. He is also decent overhead and has an impact when resting forward. After being used sparingly in the Power's first JLT Series match, Atley was one of the better Port players in their second JLT hitout racking up 14 touches, 3 marks, 3 tackles, 1 goal and 64 Fantasy points form 60% time on ground. With the likes of Gray, Wines, Boak, Ebert, I doubt Ately will get a look in early in the season but we can hope. Put him on your watchlist!
4. Robbie Fox

AFL Fantasy Price: $150,000
AFL Dreamteam Price: $109,300
Predicted Average: 63
Last year it was Papley, this year it could be Robbie Fox. Sydney are looking toward another successful mature age recruit in the form of an inside mid. The 23 year old Tasmanian had a dominant season for Coburg in the VFL last year averaging 22 possessions, 1 mark, 7 tackles and 76 Fantasy points before injury ended his season early. Clearly the Swans saw something they liked and after a strong summer and some Swan injury woes, Fox is in the mix for Round 1. With a cheap option in Fox, it's almost impossible to ignore him and I'll definitely be picking him as bench back up if he's named for the season opener.
5. Declan Mountford
AFL Fantasy Price: $150,000
AFL Dreamteam Price: $132,400
Predicted Average: 60
With North Melbourne on a rebuild and looking to youth, Mountford is a slight chance to feature early this season. He didn't play in the Kangas dress rehearsal for Round 1 last night but he has been prominent this summer. In JLT Week 1, the young athletic mid had 8 touches, 1 mark, a whopping 7 tackles, 1 goal and 61 Fantasy points in only 33% time on ground which is a massive effort. In JLT Week 2 however, he could only manage 10 touches and 24 Fantasy points from 69% TOG suggesting he's bench cover at best. I know I'm scraping the barrel here but I reckon Mountford is worthy for your watchlist.
6. George Horlin-Smith
AFL Fantasy Price: $240,000
AFL Dreamteam Price: $201,700
Predicted Average: 72
He's been around for a while now but maybe this is the year that Horlin-Smith has a break out season. 40 games in 5 seasons isn't great output and his job security amongst Geelong's start studded midfield should be perceived as a big risk in 2017. Horlin-Smith forced us to pay attention after racking up 23 possessions, 6 marks, 3 tackles, 1 goal and 98 Fantasy points against the Crows in JLT Week 3. This all from only 57% time on ground! GHS's hefty price tag is enough to deter many but his scoring potential sits around 75 and he might be worth the risk for those that don't mind a punt. Not for me.
7. Harrison Wigg
AFL Fantasy Price: $150,000
AFL Dreamteam Price: $132,400
Predicted Average: 67
They say that if you can't kick then you can't play footy. Well I reckon Wigg could teach the hacks how to kick…he's that good. Now 20 years old, Wigg is ready to make a name for himself at Adelaide. He was named emergency a handful of times last season and after plenty of improvement over the summer, it's time for him to mix it with the big boys. I suspect he'll play between the wing and half back when he does get his opportunity and after scoring 87 Fantasy points in JLT Week 2, there's definitely a Fantasy game about him. A cheap gem we'll all own if he is named to play in Round 1.
8. Sam Powell-Pepper
AFL Fantasy Price: $216,000
AFL Dreamteam Price: $143,300
Predicted Average: 65
I saw this young Sandgroper in the flesh at the U18 All Star game last year and trust me he's AFL ready. Not only is he a physical specimen for a youngster (doesn't mind a Dusty fend off), he can also roost the ball 60+ meters. SPP's preseason to date has been above and beyond expectations. In JLT Week 3, the young beast racked up 8 tackles (a team high by 3) to go with 2 kicks, 11 handballs and 56 Fantasy points from 67% time on ground (watch his highlights here). SPP is a lock for Port in Round 1 and even though he's a little pricey for Fantasy and handball happy, we're probably forced to pick him cause of the slim midfield rook options available.
Injuries to rookie priced David Myers, Sam Petrevski-Seton and Nathan Freeman rule them out for Round 1. Myers especially would have been a lock for every Fantasy coach but we'll just have to wait for him during the season proper.
Other rookie priced mids that could come into Fantasy and Dreamteam contention this season include Dylan Clarke, Will Setterfield, Jordan Foote, Zac Fisher, Jack Graham, Dean Gore, Daniel Lloyd, Dallas Willsmore and Josh Clayton.
Look out for my post JLT Series analysis on the midfield rookies that performed well, those that struggled and maybe one or two that snuck under the radar! Remember rooks are classified as players under $250,000 in either Fantasy or Dreamteam.