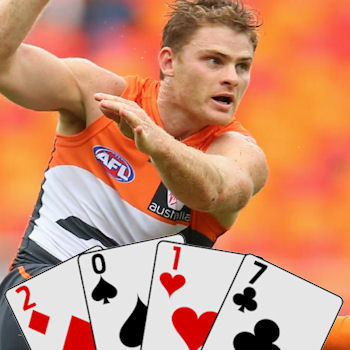 Name: Heath Shaw
Team: GWS Giants
Position: DEF
AFL Fantasy: $614,000
Bye Round: 13
2016 Average: 101.8
2016 Games Played: 22
Predicted Average: 100
Click here for DT Live profile.
Why should I pick him?
Heath Shaw has got the Fantasy game worked out.
While he has always had a positive kick to handball ratio, in the last two seasons it has been 4.3:1 (2015) and a 6.5:1 (2016). In this time he has played every game, which is an impressive feat as we have to go back to 2007 for the previous time that he played more than 20 games in a season. Why has Heater missed? Some injuries… and plenty of brain farts including the infamous suspension of a Friday afternoon for betting on games in 2011 which saw the 'reverse trades' button launched the following year and that drink driving incident with Alan Didak in 2008.
Since his move to GWS in 2014, the defender has delivered averages of 80.5, 96 and 101.7. Across his career he has basically been a mid-80s kinda guy, with 2011 – the year he chucked some dollars on a footy game and was suspended – his best with 91.7. As noted, the last two years at the Giants have been pretty impressive.
As a must-have top six defender in the last two seasons, Shaw has knocked up 20 Fantasy tons in that time. Last year was a thing of beauty. If you didn't start with him, or grab him early, then you were paying a sh*tload for the now 31-year-old. In round nine he posted a beast like 176 (36 kicks, two handballs if you don't mind) after three 130+ scores in the month prior. At that point he was the most expensive player in the competition averaging 120. And true to form, Calvin paid the big bucks for him at that point.
A nice stat was from round five through to 13, he didn't score below 95 and averaged 120 (remember Dangerfield was 118 for the season).
The Giants' game plan should continue to see the ball in Shaw's hands as he is the general when it comes to getting the ball out of the back 50 and metres gained. Linking up with his successor – Roy's boy Zac Williams (not my Nathan Wilson) – should see decent numbers continue.
Why shouldn't I pick him?
From round 14 (week before the GWS bye), Shaw averaged 87 points. He copped some forward tags that previous owners of him would remember hurt real bad. I'll never forget when I had him in 2008 and he was held to 21 against West Coast. Yep, 21… in a whole game.
While he was still able to get some numbers on the board copping those tags, he was far from producing premium scores.
Although I think Shaw will be sharing the ball with the likes on Williams (not Wilson) as he develops into that role, there could be a changing of the guard this year. Heater might need to play a little more defensive, do some jobs… play some roles as the Giants aim for their first premiership.
And again, while he has been dependable since moving north, there is a reason why we call him Headache Heath. When will the next brain fart be?
Deck of DT Rating.
KING – Although he probably warrants it, naming Heath Shaw as an ace is likely to come back and bite me. He is very likely to be a top six defender. He might cop the occasional tag but as the Giants look to fill the void when he retires, I think blokes like Williams may cop some of that attention. Starting with him was the right thing to do last  year – and possibly again this season – but being priced as high as he has ever been, coupled with the lacklustre finish to the season, I think I will have him as an upgrade target. But geez – if he's averaging 120 at some point before I get him, then that boat will have sailed and he may not ever be mine.
Loading ...
FOLLOW ME ON TWITTER: @WarnieDT for all thing AFL Fantasy (and more). Got something to say about the deck? Use the hashtag… #DeckofDT.