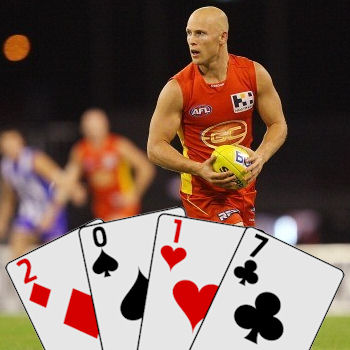 Name: Gary Ablett Jnr
Team: Gold Coast
Position: Mid
AFL Fantasy: $611,000
Bye Round: 9
2016 Average: 101
2016 Games Played: 14
Predicted Average: 95
Click here for DT Live profile.
Why should I pick him?
GAJ is the little master for a reason. When he was on top of his game the question wasn't whether to pick Ablett but whether you would ever risk taking the captaincy off him.
His potential to hit an absolute monster score has set him apart and etched his name in DT Royalty. His previous high scores of 186, 176, 174, 168 and countless scores ranging between 120 to 150 over his career are all fresh in the minds of anyone who has played Fantasy in the past 5 years. But is he past his best? If you're picking him you're hoping the answer is no!
Last year he still showed us glimpses of the brilliance he's capable of. He jumped into round 1 with an interrupted preseason and no NAB games to post a 134 against the undermanned Essendon side. He then had a great run after returning from a concussion in round 10 to post 4 scores in a row over 120 all while copping various tags against West Coast, Sydney, Richmond and Hawthorn. This in itself proves Ablett is still capable of putting up the big scores we hope for.
While Ablett has been plagued by injury the last couple of seasons, Eade playing him more as a forward this year will possibly lessen the body contact you'd generally receive as an inside midfielder in an aim to keep his body fresh longer. As it was Ablett's shoulder that has been the main concern, suffering repeated dislocations, we can take heart in the fact that he opted to undergo the Latarjet procedure, which is expected to prevent recurrent anterior instability in approximately 94-99% of cases.
With less midfield time we may expect to see a drop in Ablett's score but Gold Coast have proven that even in a losing side they can get the ball to their forwards. Last year they only won 6 games but still managed to have Tom Lynch finish 4th in the race for the Coleman.
With his shoulder seemingly fine and brutal role dealing with close checking taggers being possibly limited, we could certainly see a return to Ablett's glory days!
Why shouldn't I pick him?
As mentioned above, Ablett underwent the Latarjet procedure last year which does greatly reduce the risk of further issues. At the time of writing this however, Ablett is still not taking part in any contact drills and Gold Coast has released their intentions to only have him play in the last match of the JLT series. This isn't unusual for Ablett as he would usually only play one round of the preseason comp to get into the season but after the amount of trouble his shoulder has put him through, you would think he would want more time mentally to get comfortable with it before the season starts.
While he has been a Fantasy god in his career, there is no escaping the fact that he is getting older. At 33 this year and with the way he has played the game it is no surprise that his body is feeling the toll. His shoulder has been a recurring issue over the last 3 seasons (which has hopefully been remedied now) but it hasn't been his only concern. His 2015 season was cut short after round 17 due to a knee issue and he missed the 2016 preseason with a toe injury. All up in the last 3 seasons Ablett has missed 33 out of a possible 69 games.
Recently we've seen Eade talking a lot about Ablett's role moving forward.
With Aaron Hall having a stellar season, Matt Rosa showing his worth, the return of David Swallow, emergence of Fiorini, the addition of Barlow, Lyons and Hanley together with the young talent Gold Coast drafted in the off season it is obvious that they are looking at establishing their midfield without Ablett. In a recent interview Eade mentioned that he'll be aiming to spread Ablett's playing time between 60% Forward and 40% Midfield.
While I have no doubt in GAJ's ability to still find the ball in the forward line and (as mentioned above) Gold Coast's ability to get the ball to their forwards, his best scoring games recently (around the 120 mark) are when he accumulates a lot of the ball and lays 8 or more tackles. Both of which are incredibly hard to accomplish inside the forward 50. While I was unable to find last years data, I know that Jamie Cripps had the most tackles inside his forward 50 in 2015. This averaged to 5.16 a game. If we're hoping that Ablett will offset these scores by kicking more goals and we know that 3 tackles are worth 12 points, then Ablett needs to average 2 goals a game just to make up for that. Which of course being Ablett is entirely possible, but then we need to start thinking about how many more he needs to offset the drop in disposals. In short, the more time Ablett spends in the forward line, the less likely it is that we will see the 120's that make him appealing.
Deck of DT Rating.
KING – Honestly this rating has been excruciating. On one hand it just seems absurd that GAJ isn't an ACE but on the other hand a part of me feels like even KING may be too high for what he may produce this year.
I feel we are spending too much money on too much unknown with Ablett this year to be able to confidently start him. Will his shoulder hold up? Will he get much time on the ball? Will he travel to China?
I personally won't be starting Ablett but I will be keeping an eye on him. We should have answers to the above questions by his round 9 bye, which means he could be an amazing upgrade target to bring in for cover during the bye rounds.
Worst case scenario is that Ablett sits in the forward line while getting his mojo back and then become eligible as a cheap forward option when he returns to Geelong in 2018!
Loading ...
FOLLOW ME ON TWITTER: @Anthonydsmith86 for all thing AFL Fantasy (and more). Got something to say about the deck? Use the hashtag… #DeckofDT.