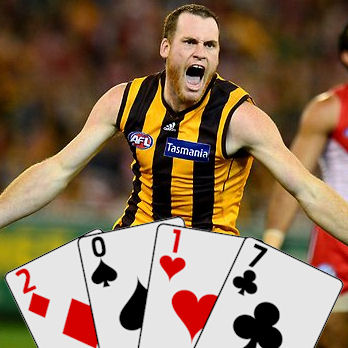 Name: Jarryd Roughead
Team: Hawthorn
Position: Forward
AFL Fantasy: $373,000
Bye Round: 13
2016 Average: 0 (88 in 2015)
2016 Games Played: 0 (20 in 2015)
Predicted Average: 85
Click here for DT Live profile.
Why should I pick him?
Jarryd Roughead. Just saying his name puts a smile on my face. Jarryd Roughead. You should pick him because you love him. That's why I'll be picking him. But lucky for you, I've got many, many more reasons why you should.
In a season where the top line talent looks weak in our forward lines, you can get an established star and save yourself some pretty pennies. $373,000? That's highway robbery for a man of his ilk. He didn't play in 2016 (you all know the reasons), but his 4 seasons before that he averaged between 86 and 91, playing 82 of a possible 88 games. That is consistency personified. If Roughy had played in 2016 and averaged 88, he'd be priced at around $533,000. THAT IS A $160,000 DISCOUNT. Pretty handy dollars to have up your sleeve.
Since Buddy left the Hawks at the end of 2013, Jarryd Roughead was left to take the mantle as the number 1 key forward in the team. This was before guys like Jack Gunston had peaked (who arguably still hasn't), and this was prior to Ty Vickery (don't laugh) being in the team. Roughy returns to the Hawks in 2017 (as captain mind you, bloody champion) with a supporting cast of Gunston, Vickery (stop laughing), Breust, Rioli, Puopolo, Sicily, Burton and Schoenmakers (don't laugh).
Whilst some people are wary of the Hawks in 2017 – I am not. Yes, losing Sammy Mitchell and Jordan Lewis is going to affect the way they play footy. Yes, they have lost two champions of the club. BUT, with the inclusion of Jaeger and Titch, plus the stepping up of guys like Shiels (who I am very bullish on in 2017 just quietly), Hartung and hopefully Langford, I think a new look midfield might be just what the doctor ordered. A new look side, a different brand of footy – the ball will still be making it's way forward.
Other guys around the same price range include James Rose, Shane Kersten, Matt Taberner and Dylan Buckley. I don't think I need to say much more than that.
While he might have lost some conditioning and some fitness during his 12 month layoff, one thing you don't forget to do is kick snags. But he doesn't need to kick 80 goals to have a dominant year. In 2013, he won the Coleman with 68 goals to help him average 86, but in 2015 he only kicked 43 yet still averaged 88! Being such a mobile big man, the Hawks can use him in the centre (either in the ruck or as an on-baller), or he can roam between the 50m arcs, or he can sit in the goal square and take hangers. His points can come from anywhere!
Why shouldn't I pick him?
When he has a quiet game – he can be quiet. Three scores in the 40's in 2015, all of which he had some pretty handy opponents (Carlisle, May and Rance). Quiet games, especially for a key forward, can be forgiven – but it doesn't sugar coat the fact that scores in the 40's just aren't acceptable. From memory, the games against Gold Coast and Richmond were in the weather – and while it does rain from time to time during footy season, it's a risk you've got to take with a big man.
The Hawks do play a few pretty handy teams (with some pretty handy fullbacks) twice in 2017 – Sydney (Grundy), Adelaide (Talia), Collingwood (….nobody), Geelong (Taylor) and Gold Coast (May). Some tricky matchups there for the big Rough.
The elephant in the room – his health. While none of us truly know what kind of shape and what kind of health he will be in, I do know this: The Hawthorn Football Club will absolutely not risk the health of this man. If he is fit and playing, then you can bet your bottom dollar that there is no risks whatsoever.
Lastly, we can't read into the future. Fingers crossed we never see a recurrence of that bastard cancer in this man ever again (or anybody for that matter).
Deck of DT Rating.
KING – If he was priced at $473,000, I'm not sure he'd get the same rating. But he isn't, so I'm not. He is absolute value at $373,000, and he's a bloody champion. Pick him, for that very reason.
Loading ...
FOLLOW ME ON TWITTER: @cruttonhutton for all thing AFL Fantasy (and more). Got something to say about the deck? Use the hashtag… #DeckofDT.