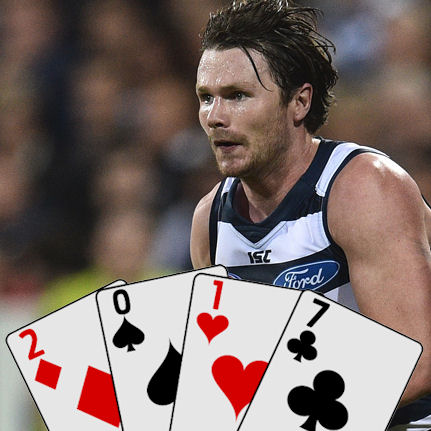 Name: Patrick Dangerfield
Team: Geelong
Position: MID
AFL Fantasy: $712,000
Bye Round: 12
2016 Average: 118
2016 Games Played: 22
Predicted Average: 123
Click here for DT Live profile.
Why should I pick him?
What a silly question. He averaged 118 last season. He played all 22 games. He ticks literally every box you could possibly want as an AFL Fantasy coach. He's durable, he has a high ceiling and is almost impossible to tag. If you really want to know why should pick him, just go and take a look at his stats last season.
He hit the ton in 18 out of his 22 games, 20 out of 24 if you include his 2 finals. From Round 4 onwards his lowest score was 93, averaging a ridiculous 122 points. He scored 130+ on 7 occasions, including a whopping 187 points in Round 12 against North. Trust me from experience, not owning Dangerfield is gruelling. Good luck watching Geelong play if you don't have him!
During the years of Gary Ablett's similar dominance, you couldn't bare the idea of starting the season without him. Why should Dangerfield be any different? I certainly can't see him going backwards! Some will argue that there's too much value in the midfield and I agree to an extent, but that's why we have 8 midfield slots. Dangerfield is the best player in the competition and if he's not the highest scoring player this season, he's guaranteed to be in the top 2 or 3. Sometimes reliability is under-rated in Fantasy, it's not a 'stat' but it will give you peace of mind in that panic period before lockout.
Apart from the fact that he's a machine, he also has a Round 12 bye. Bingo! I'm still finding myself gravitating towards Round 11 premiums so if this is a perk in picking the best player in the game then I'm in!
As you can clearly tell I'm a Dangerfield fan, but apparently over 70% of the competition (so far) disagree with my prediction. What concerns me more is that last years Brownlow medallist and highest averaging player tends to be an auto selection for casual players. Are we putting too much thought into our teams? I just think that Dangerfield is getting left out too easily, however if I get to play 3 out of 4 managers with Dangerfield as a unique then I'm happy!
Why shouldn't I pick him?
I've genuinely had to sit down and think about this one. If he has a slow start to the season his price could potentially plummet and you may lose out on a lot of cash.
He's going to have to match his performance levels of last season to be worth $700,000+, which even for Paddy is going to be a huge task. Geelong are planning towards spreading the weight load and easing the pressure on Dangerfield in the midfield, if this happens his scores could lower slightly.
If young guns like Neale and Treloar continue their form from the end of last season then even if Dangerfield replicates his form, he may be joined by a few newcomers. Every dollar saved is a win in Fantasy so it makes sense to chase the value.
You'll be noticing a lot of 'ifs' here. That's because based on his performances last season I can't see Dangerfield doing anything other than dominating to competition just like he did last year. It's going to take an unforeseen event to alter this prediction.
Deck of DT Rating.
RATING – Ace. He's 26 years old and heading into the prime years of his career, if anything Dangerfield has the potential to build on his breakout season and go 120+ this year. How do opposition teams stop him? I can't answer that question and for that reason he's in my team and going nowhere. From experience I can tell you once he gets going it's bloody hard to bring him in! Just make sure you're on the right side of the fence when Dangerfield has his next 40+ disposal game… He's an Ace. Gun. Machine. Beast. Whatever you want him to be. Lock!
Loading ...
FOLLOW ME ON TWITTER: @mattcraigdt for all thing AFL Fantasy (and more). Got something to say about the deck? Use the hashtag… #DeckofDT.