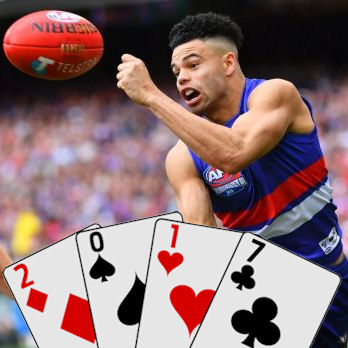 Name: Jason Johannisen
Team: Western Bulldogs
Position: DEF
AFL Fantasy: $563,000
Bye Round: 11
2016 Average: 93.3
2016 Games Played: 13
Predicted Average: 102
Click here for DT Live profile.
Why should I pick him?
He's the reigning Norm Smith Medallist, end of article.
…
Okay, so maybe that's not enough to convince you. J-Jo was my pick of last season. He was beautifully underpriced playing for a juicy Fantasy-friendly side who, at that stage, were a chance to cause a stir come finals time. Now, of course everything played out a bit differently with J-Jo getting a long-term injury and missing Rounds 5-14, but we get to reap the benefits this season with Johannisen being priced AT LEAST 6 points less than what he should end up as, a 100+ average Keeper. I can't heap high enough praise on this bloke, honestly, he is just that good and I'm not even a Dogs' supporter. A combination of game-breaking pace, lethal foot skills, undying lust for the pill and destroying anyone who gets in the way of him and the Sherrin makes him a coach's dream. Mix in a career kick to handball ratio of 2:1, 5 marks per game, and a massive ceiling of 144 (so far) and he becomes a Fantasy coach's dream too!
That's not even close to being the end of the story. I mentioned his career kick-handball ratio. J-Jo also averaged just over 24 disposals per game in 2016, including a wondrous 16.6 kicks per game. *Fantasy coaches salivate simultaneously*. Add to that Johannisen's scoring consistency: including finals he played 17 games; 6 of those were 100+, 9 were 90+, 13 were 80+ and, of the 4 that were below 80 he had 67 and 64 against Hawthorn, a team known to control play and shut down outside running, an injury effected 70 against Carlton and a 79 (so close) against the Saints. So, round up the 79 to 80+ and he scores poorly against one team and when he gets injured. I'd like to couple all of this with the fact that, and this is said with every limb of my body crossed and touching every wooden object in sight, Johannisen is  no more likely than anybody else to get another long-term injury which should equate to even more consistency! Sprinkle on top that Johannisen was top 10 in the league for both kicks per game and bounces per game, and that makes him a top 10 run and carry player, right?
No matter what, my main doggie is Fantasy gold and a must have. If he isn't in every Fantasy contender's team I'll be astonished. Priced at $563,000 or 94.9 points, he's the equal 9th most expensive Defender (equal with Bachar bloody Houli nonetheless) and he's a lock for top 6 in my opinion.
Why shouldn't I pick him?
I can't think of many reasons at all. I can lock in Taylor Adams to average more than him, then it's a scrap between Johannisen, Boyd, Docherty, Simpson and possibly Shaw, then you have Laird, Kelly, Joey and Vince. That's without any of the DPP's we'll get. I personally have Johannisen equal second with Docherty, with Boyd only missing out because I think he will play a few less games this year. So, if you disagree strongly with my order, as in you have at least 6 players ahead of him, and you're willing to spend $30k+ more to get one of those players, then don't pick him. The only other reason to not pick him is fear of injuries but that's just like picking any other player. J-Jo got injured in Round 4, came back in Round 15 and then played 13 games straight without any setbacks. So, for Johannisen to miss through injury would take a brand-new injury, therefore he has the same chance as anybody else to miss a significant amount of games through injury. This means that, unless you're not going to have anybody at all in your Fantasy team, injury really isn't an excuse not to pick him.
Just pick him. Please. Or don't but I'm confident you'll regret it.
Deck of DT Rating.
Ace – Taking the whole of Fantasy into consideration, he's probably a King. He won't average 110+ but, unless Pendles (or someone similar) gets Defender DPP, no Defender will average 110+. In my books, a 100+ average as a Defender, the consistency he provides with his multiple ways of scoring, and the fact he plays for the best Fantasy scoring team in the league makes him an 'ace' Defender.
Loading ...
FOLLOW ME ON TWITTER: @Sparksy361 for all thing AFL Fantasy (and more). Got something to say about the deck? Use the hashtag… #DeckofDT.