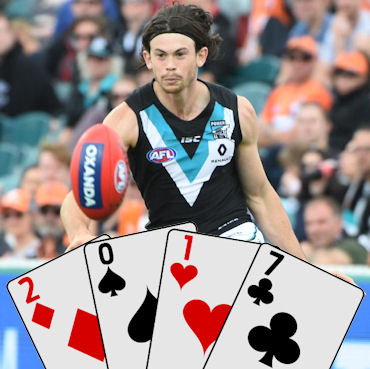 Name: Jasper Pittard
Team: Port Adelaide
Position: Defender
AFL Fantasy: $496,000
AFL Dream Team: $488,000
Bye Round: 9
2016 Average: 82.27
2016 Games Played: 22
Predicted Average: 85
Click here for DT Live profile.
Why should I pick him?
Jasper is a bit of a wild card, and as a supporter, he can be very frustrating to watch.  But importantly, from our point of view, he has increased his average consistently over the last three seasons going 66, 75 and now 82.  He was one of the top rebounding defenders last season and he increased his disposal count from 399 and 393 in 2014 and 2015 to 498 in 2016.  The important thing about that is that he had 339 kicks and 159 handballs last year.  This trend has been the same all of his career in terms of his kick to handball ratio.
During 2016 Pittard had three scores over 100 (two were 110) and 6 scores in the 90's.  So nearly half of his games resulted in scores over 90.  The other key is that over the last three seasons he has played 22, 20 and 22 games, so he has become very reliable.
If he can get rid of the poorer scores where he goes missing (see below) then he could be a safe selection for your side.  Without his lowest couple of scores he should be able to at least maintain his average if not slightly improve it.
Why shouldn't I pick him?
Whilst Jasper has been improving and had some great games last season, he also knows how to go missing.  He had 9 games under 80 to go with his 9 over 90.  Of those 9 under 80, there was a 29 and 2 under 60.  He is also only the 18th highest averaging defender, so there are plenty in front of him.  These lapses in scoring are just as likely to lose you a weekly matchup, he just can't be relied upon to give you a solid consistent score each week.  If that floor was no scores under 65 you could probably  live with the lower scores but this sort of variation just isn't acceptable.
Whilst his average has been on the increase over the past three years, last season was the first time he has averaged over 80.  He is just as likely to go back to the 70's which would see him as being a liability for your side.  He has been one of the key link up players for the Power coming out of defence in the last few years, so if the Power start to get a roll on and some drive off half back from Jasper, he may be the target of some of the better small forward 'defensive' players.
The other big risk is if he is asked to play a lock down role on one of the more mobile forwards from the opposition.  Given his build, speed and agility this is a role he may be asked to do and that will destroy his scoring.
Deck of DT Rating.
Jack – Many will go to Jasper, but I am a little unsure still.  His average is good, but it is the unpredictability of him that is the concern.  His 29 and three scores in the 50's mean he isn't a brilliant selection, but if you are willing to take a risk then he can pay off big for you.  In a draft league however, he is certainly someone you should be targeting.  Not in the early rounds, but he is someone that you should look to bolster your defence.
Loading ...
FOLLOW ME ON TWITTER: @pkd73 for all thing AFL Fantasy (and more). Got something to say about the deck? Use the hashtag… #DeckofDT