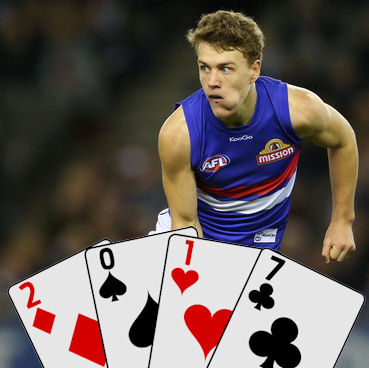 Name: Jack Macrae
Team: Western Bulldogs
Position: Fwd/Mid
AFL Fantasy: $596,000
AFL Dream Team: $586,200
Bye Round: 11
2016 Average: 98.83
2016 Games Played: 18 (21 inc finals)
Predicted Average: 100
Click here for DT Live profile.
Why should I pick him?
To be honest when i put my hand up to write about Macrae back in November last year I didn't expect him to be this popular. The most selected player so far across most fantasy formats- and for a few very good reasons of which the biggest are his 2016 average of 98 and his DPP eligibility of Mid/Fwd.
He has proven to be a reliable performer over the last few seasons, averaging 98,104 and 104 over the last 3 years. Flashback – in 2015 he went on an incredible streak of scoring where he hit triple figures 8 weeks in a row including two monster scores of 143 and 130.
Jack has a big ceiling – in 2016 he posted scores of 139 and two scores of 126. Jack had 10 scores in triple figures from his 21 games, and of those 11 scores under 100 a further five of those were in the 90's. So that's a 15 out of 21 strike rate (71%) of 90 or better fantasy score's in 2016 – not bad for a midfielder but elite for a forward.
We have lost Dusty, Joey and even Zorko from our forward lines in 2017, so finding one of those reliable forwards in our fantasy teams who doesn't rely on goal scoring to generate points is critical.
Why shouldn't I pick him?
Honestly its pretty hard to make a case to not pick him – but here we go.
In my opinion his biggest issue is he shares the bye round with a few other tasty forward options including this preseason's hype machine Isaac Heeney and/or Luke Dahlhaus along with the two highest scoring forwards from 2016 in Roo and Buddy.
He can throw the occasional low score – a 2016 season low of 69 against the Swans in round 15 his worst effort, he also had an injury affected 70 in round 19 (hamstring injury forced him off at 3QT) and a 78 in round 3.
The emergence of other Bulldogs midfield guns in Hunter and Bont and even Libba and Daniel mean that Macrae is not always the first option for the doggies to free up and can be forced into that inside midfielder role where he handballs more than kicks.
At a tick under $600k he isn't cheap by any stretch of the imagination, could that money be better used elsewhere? Someone like a Touk Miller will save you around $100k and previously mentioned hype kid Heeney is over $150,000 cheaper – do you start with either/both of these instead and flag Macrae as an upgrade target if he has a quiet game or two?
Deck of DT Rating
 Ace – As a forward he ticks all the boxes you could want and I believe those that choose not to start with him will be trying to work out how to get him in pretty early on. Set and forget top 6 forward option with the added bonus of DPP action (if needed) over the bye rounds.
Loading ...
FOLLOW ME ON TWITTER: @lefty113 for sport related banter. Got something to say about the deck? Use the hashtag… #DeckofDT