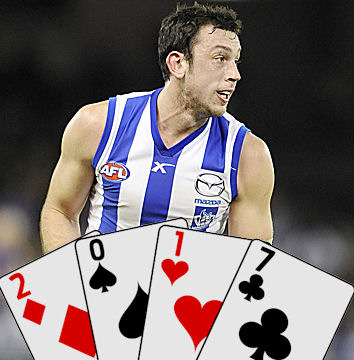 Name: Todd Goldstein
Team: North Melbourne
Position: RUC
AFL Fantasy: $582,000
Bye Round: 12
2016 Average: 96.4
2016 Games Played: 21
Predicted Average: 108
Click here for DT Live profile.
Why should I pick him?
Last season Goldy was priced at 114, yet coaches found it hard not to select him given his total dominance in the ruck. He's a beast around the ground as well as the ruck, meaning he's capable of posting some ridiculous scores. Fast forward 12 months and we can pick him up for peanuts in comparison, yet he's not even in the top 6 selected rucks at the moment! Something doesn't add up here?
Firstly let's clear the air, Goldy didn't have a poor season at all. We just judge him on a different scale. There's no doubt he struggled with a knee concern late last year. Until Round 10 Goldstein averaged a brilliant 105 including 6 tons, can't complain at that! After Round 10 however he averaged just 88, missing the Roos Round 15 contest before limping through the remainder of the season. This was evident as he managed just 1 ton after returning to the side. Let's be clear, a fully fit Goldy is an uber premium and capable of averaging well over 100. According to most sources, he's back to full fitness. He has been managed throughout pre-season but there is no injury concern to worry about. Full steam ahead.
If the new ruck rules are going to advantage anyone it will be Goldstein! He holds the season hitout record from 2015, and even though there are less stoppages now an extra 3-4 points per game could be the sealer for those on the fence. 1 on 1 Goldy is going to win far more contests than he loses, simple as.
If the fact that he's an uber premium in any position isn't enough, the Roos also have a handy Round 12 bye. Only 4 teams have the week off so you should be able to cover him without issue. Another sweetener is Goldstein's ability to get the season off to an absolute flyer. He has averaged 119 in the first 5 rounds of 2015 and 2016, going 120+ on 4 occasions. Not that Majak Daw was ever a real threat, but his pre-season surgery should see Goldy solo ruck to start the season. If Goldstyne is to return you may well struggle to get a ticket on the express.
Why shouldn't I pick him?
Despite being in the prime of his career at 28 years of age, he's still being managed during pre-season. He may look old but I wouldn't have thought that was a necessary precaution unless there was a small problem. The presumption that Goldstein can return to his best form is reliant on him being 100% fit, otherwise he may amble around to an average in the 90's. It's definitely a concern but you can only go on the players word, and the word coming out of North Melbourne is that he's targeting a personal best season. Good enough for me!
Obviously the biggest sticking point is the emergence of Gawn and Grundy. Both are under 25, both are clearly their teams number 1 ruck and both finished 2016 in peak fitness and top form. It seems that there's only one direction for them to go in, and that's up. Can Goldy keep up? Who knows, let's just remember that we thought Goldstein and Martin were untouchable last season!
Deck of DT Rating.
ACE – Forget what anyone tells you, Goldstein is still an uber premium and in my opinion comes with a handy discount. He's definitely capable of a reproducing a 105+ average and that's exactly what I'm expecting. If he was seemingly worth top dollar last year then surely he's a no brainer at this price! A lock for me.
Loading ...
FOLLOW ME ON TWITTER: @mattcraigDT for all thing AFL Fantasy (and more). Got something to say about the deck? Use the hashtag… #DeckofDT.