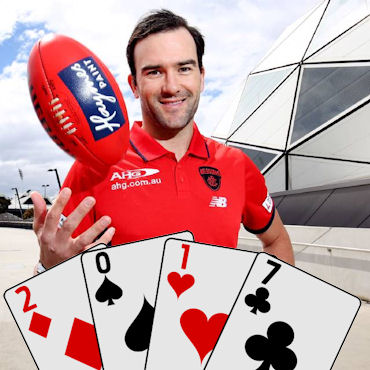 Name: Jordan Lewis
Team: Melbourne
Position: Midfielder
AFL Fantasy: $623,000
Bye Round: 11
2016 Average: 103
2016 Games Played: 22
Predicted Average: 90-95
Click here for DT Live profile.
Why should I pick him?
Between 2007 and 2013, Jordan Lewis was an above average, consistent fantasy scorer, averaging between 83.1 (2008) and 94.7 (2007), whilst never topping the 100 average mark. The issue was, whilst he was a prolific midfielder, an integral part in the Hawthorn midfield rotations, he probably wasn't as fit as he needed to be to run out games as he, nor the hawks, would have liked.
We saw a new and improved Jordan Lewis in 2014 – leaner, fitter and noticeably determined. He went on to average 109.6 in 2014 from 21 games, including 8 scores over 120 (and two of 119 if you don't mind). He backed it up in 2015, averaging 110.7 from 19 games. He started off like a house on fire with scores of 156, 119, 152, 130 and 117 (average of 134.8) from Rounds 1-5. In 2016, he averaged a very healthy 103.2, from 22 games. He's been a super fantasy performer for the past 3 years.
As part of the major re-shuffle at the Hawks this past off-season, Jordan Lewis was given an ultimatum: Play out the final year of your contract in 2017, and see what happens after that, or take a 3 year deal (with considerably more money, apparently) at the Melbourne Football Club. He subsequently packed his bags and left the Hawks. I would expect that there is a fair bit of determination that is pushing Jordan Lewis in 2017 – a bit of a "I've still got some left in me".
Jordan Lewis joins the young demons midfield, which comprises of Jack Viney, Dom Tyson, Christian Petracca, Clayton Oliver, whilst still with the services of older guys like Nathan Jones and Bernie Vince. I sense he will relish being part of such a strong midfield, and might even fly under the radar. I sense that monitoring his JLT community cup is going to be very important, to see where he fits in the Demons side.
Why shouldn't I pick him?
Jordan Lewis of 2016/7 has a lot of Brad Sewell in 2013/4 about him. Brad Sewell was still a best 22 player in 2013, but in 2014, you could tell he was at the end. Father time is just around the corner – he's a hard-at-it, in-and-under type – a 241 game warrior, turning 31 years old in April. Getting to that age where his best footy is probably past him, and he's been battered from pillar to post throughout his career. How much good footy does he have left? Whilst I do think that a change of scenery will do him good, and from his perspective it's nice to have that security blanket of a longer contract than he would have got at Hawthorn. But what can you expect from him in 2017?
Which brings me to his role. With a demons midfield consisting of Viney, Tyson, Oliver and Petracca, I'm not sure that Jordan Lewis will have the same influence or requirement than he did at the Hawks. In fact, his change to the Melbourne Football Club screamed 'coach the younger players' as much as it did 'come in and lead the midfield group'. I expect him to be an onfield leader/coach, organising stoppages and setups, while Jones, Viney and Tyson do much of the heavy lifting, such that Jordan Lewis did at the hawks.
I would expect Jordan Lewis to play a bit more forward in 2016, as we saw in 2012-2014 at the hawks. His forward 50 entry is elite, and i think that he'll rotate between on-ball and a half forward flank, and not spend a majority of his time on the ball. Somewhat like Bernie Vince in 2016 (although he was on a back flank), and with Nathan Jones purely in the midfield, his experience is vital.
Coming from a Hawthorn team that comprised of Sam Mitchell and Luke Hodge in the midfield, Jordan Lewis was never really prone to a hard tag. Although the young demons midfield is very promising, it does lack a Sam Mitchell type. Will Jordan Lewis cop more opposition attention than he previously has before?
Jordan Lewis is priced around the same mark as Coniglio, Sidebottom, Hunter and Viney, all of whom i think have greater upside than he does. He also shares the Round 11 bye with other fantasy stars and popular picks such as Rocky, Parker, Hannebery, Marc Murphy and Bontempelli.
Deck of DT Rating.
QUEEN –After averaging 109 in 2014 and 110 in 2015, his averaged dropped to a (still very healthy) 103 in 2016. At his age, and in his new colours, can we expect that number to spike back up again to 110+? Probably not. In saying that, will the young demon players look to him at every opportunity? He is great at finding space and can collect those juicy +6's – at least he was. Let's not forget, he's 31 in April and has played 241 games in a very physical role. It's hard to keep up to that level for much longer. He certainly will be a point of difference, and perhaps a little risky, but if he can pump out one more season at 110+, you might be laughing all of the way to Fantasy heaven.
Loading ...
FOLLOW ME ON TWITTER: @cruttonhutton for all thing AFL Fantasy (and more). Got something to say about the deck? Use the hashtag… #DeckofDT.