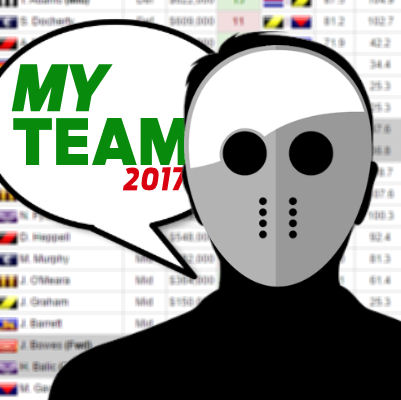 Fantasy is here! The game opened up on Monday night and thousands of coaches have already got their teams in. They'll be tweaked hundreds of times over the next 58 days until lockout.
Post your team (in an easy to read format) and discuss where it's at in the comments below. Now that we have My Team cranking, discuss any players, team structure, etc in the comments. As always, keep it civil and if you're advice, make sure you dish out some of your own (make sure it well thought out and not blatant trolling – we're totally over that after 10+ years of DT Talk!).
Get keen for a massive season ahead.
The 100 most popular players selected in the Drawing Board for AFL Fantasy Classic. As at 24 January. Don't forget you can play with the Drawing Board right through the pre-season. Stay tuned for what Chad has in store in 2017. Data View is quite possibly the most underrated Fantasy tool on the web.
Player
Club
Fantasy
Position
Fantasy
Price
Ownership
Percentage
Hibberd, Mitchell
NM
DEF/MID
$150000
84.6
McGrath, Andrew
ESS
DEF/MID
$250000
77.4
Ryan, Luke
FRE
DEF
$150000
76.9
Macrae, Jack
WB
MID/FWD
$596000
75
Barrett, Jake
BL
MID
$150000
73.1
Adams, Taylor
COLL
DEF/MID
$622000
72.4
Pickett, Jarrod
CARL
MID/FWD
$150000
71.7
Heeney, Isaac
SYD
FWD
$442000
71.5
Myers, David
ESS
MID
$197000
68.6
Heppell, Dyson
ESS
MID
$548000
65.2
Rockliff, Tom
BL
MID
$704000
64
McCluggage, Hugh
BL
MID/FWD
$246000
62.9
Graham, Jack
RICH
MID
$150000
58.9
Pierce, Lewis
STK
RUC/FWD
$150000
58.5
Docherty, Sam
CARL
DEF
$609000
58.3
Thurlow, Jackson
GEE
DEF
$282000
55.7
Freeman, Nathan
STK
MID
$150000
50.8
Beams, Dayne
BL
MID
$519000
50.1
Eddy, Brett
PA
FWD
$150000
48.2
Mitchell, Tom
HAW
MID
$638000
47.3
Fyfe, Nat
FRE
MID
$595000
46.7
Hibberd, Michael
MELB
DEF
$428000
45.6
Martin, Stefan
BL
RUC
$538000
43.1
Bowes, Jack
GC
MID/FWD
$232000
42.7
Gawn, Max
MELB
RUC
$642000
41.8
McCarthy, Cam
FRE
FWD
$211000
37.8
Swallow, David
GC
MID
$355000
36.1
O'Meara, Jaeger
HAW
MID
$364000
36
Frampton, Billy
PA
RUC
$150000
33.4
Laird, Rory
ADE
DEF
$584000
33.3
Dahlhaus, Luke
WB
MID/FWD
$557000
32
Powell-Pepper, Sam
PA
MID
$216000
31.6
Grundy, Brodie
COLL
RUC
$609000
31.2
Balic, Harley
FRE
MID/FWD
$150000
30.8
Roughead, Jarryd
HAW
FWD
$373000
28.1
Bennell, Harley
FRE
MID/FWD
$388000
26.3
Berry, Jarrod
BL
DEF/MID
$218000
26.2
Johannisen, Jason
WB
DEF
$563000
25.6
Ryder, Patrick
PA
RUC/FWD
$411000
25.2
Treloar, Adam
COLL
MID
$673000
25.2
Murphy, Marc
CARL
MID
$482000
24.9
Miller, Touk
GC
MID/FWD
$493000
23.5
Black, Aaron
GEE
FWD
$150000
23.2
Dangerfield, Patrick
GEE
MID
$712000
23.1
Caddy, Josh
RICH
MID/FWD
$517000
22.5
Selwood, Scott
GEE
MID
$380000
20.9
Buzza, Wylie
GEE
RUC/FWD
$150000
20.3
Newman, Nic
SYD
DEF
$150000
18.5
Goldstein, Todd
NM
RUC
$582000
17.9
Hodge, Luke
HAW
DEF
$525000
17.6
Lovell, Kieran
HAW
MID/FWD
$195000
17.2
Bontempelli, Marcus
WB
MID
$595000
17.1
Hampton, Curtly
ADE
DEF
$204000
16.5
Elliott, Jamie
COLL
FWD
$330000
16
Weideman, Sam
MELB
FWD
$150000
15.4
McCarthy, Mitchell
COLL
RUC/FWD
$150000
14.1
Nankervis, Toby
RICH
RUC/FWD
$365000
13.6
Otten, Andy
ADE
DEF
$150000
12.9
Lloyd, Jake
SYD
DEF/MID
$521000
12
Hoskin-Elliott, Will
COLL
FWD
$230000
11.8
Shaw, Heath
GWS
DEF
$614000
11.4
Steele, Jack
STK
MID/FWD
$432000
11.4
Montagna, Leigh
STK
DEF
$592000
11.3
Smith, Isaac
HAW
MID/FWD
$538000
11.3
Boyd, Tom
WB
RUC/FWD
$347000
11.3
Pendlebury, Scott
COLL
MID
$641000
11.2
Hannebery, Dan
SYD
MID
$655000
10.3
Ablett, Gary
GC
MID
$611000
9.9
Sandilands, Aaron
FRE
RUC
$450000
9.9
Hartlett, Hamish
PA
DEF/MID
$474000
9.3
Knight, Riley
ADE
FWD
$241000
9.1
Cameron, Darcy
SYD
RUC/FWD
$156000
9
Ellis-Yolmen, Cameron
ADE
MID/FWD
$362000
9
Kolodjashnij, Kade
GC
DEF
$437000
8.6
Vickers-Willis, Ed
NM
DEF
$150000
8.6
Strnadica, Luke
FRE
RUC/FWD
$150000
8.1
Eagles, Matthew
BL
RUC
$150000
8
Ainsworth, Ben
GC
MID/FWD
$244000
8
King, Mitchell
MELB
RUC/FWD
$150000
7.8
Daicos, Josh
COLL
FWD
$150000
7.4
Draper, Sam
ESS
RUC
$150000
7.2
Parker, Luke
SYD
MID
$663000
7
Watson, Jobe
ESS
MID
$477000
7
Steven, Jack
STK
MID
$630000
6.8
P. Kennedy, Josh
SYD
MID
$653000
6.8
Ahern, Paul
NM
MID/FWD
$150000
6.7
Hrovat, Nathan
NM
MID/FWD
$380000
6.7
Brodie, Will
GC
MID
$234000
6.6
Scharenberg, Matthew
COLL
DEF
$234000
6.5
Greene, Toby
GWS
FWD
$560000
6.2
Redden, Jack
WC
MID
$392000
6.2
Marchbank, Caleb
CARL
DEF
$205000
6
Gaff, Andrew
WC
MID
$564000
5.7
Rice, Bailey
STK
DEF
$150000
5.4
Brown, Callum
COLL
MID/FWD
$182000
5.3
Collins, Kieran
WB
DEF
$150000
5.2
Francis, Aaron
ESS
DEF/FWD
$230000
5.2
Soldo, Ivan
RICH
RUC
$150000
5.1
Jacobs, Sam
ADE
RUC
$534000
5
Mohr, Tim
GWS
DEF
$150000
5