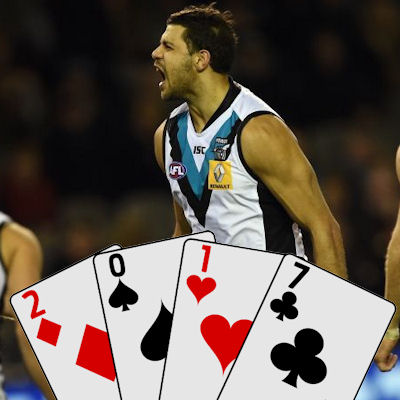 Name: Patrick Ryder
Team: Port Adelaide
Position: Ruck / Forward
AFL Fantasy: $411,000
AFL Dream Team: $408,400
Bye Round: 9
2015 Average: 76.5
2015 Games Played: 18
Predicted Average: 85
Click here for DT Live profile.
Why should I pick him?
As one of the 'banned Bombers', Ryder has spent the last 12 months on the sidelines resting up his big body and getting into shape for season 2017.  He also is the beneficiary of the 10% discount which will see him priced at an average of 68.8.  His average of 76.5 was his first below 80 since season 2008.  This doesn't make him a poor selection, that was his first season outside of Essendon and he had to get to used to a new system and played more time up forward due to Port having Lobbe as their number one ruck early in that season.  In that season he only played 51% of his time in the ruck.  This is not when he scores his best, he is at his best when he is on ball where the action is.  This is what happened at Essendon and if he can replicate this in 2017, he can return to that scoring of 85+.
A lot has happened in the last year.  Lobbe wasn't first choice every time he was fit last year (which wasn't very often) and it seems he could be out of favour at the Power.  This should see Ryder calling the shots at the Power as the number one, I am expecting that Lobbe will spend some time in the SANFL.  They have Trengove who filled in admirably when the team were without Ryder and Lobbe.  If they choose to leave Ryder out and just run Trengove as the backup ruckman to give Paddy a rest, this means Ryder will be able to spend as much time in the ruck as he wants, and this is where he scores his best.  And when he isn't in the ruck he will more than likely rest up forward where he certainly knows how to get it and kick a goal.
Added to the fact that he should be the first choice ruck, he also provides us with valuable flexibility by being eligible at forward as well as the ruck position.  This can often be a very useful tool for our teams, particularly with the bye rounds to consider.  Speaking of which, Ryder is one of the players that has that odd bye round 9 due to the game in China.  Whilst this means he misses that week, he will play all three games of the traditional bye period.
Why shouldn't I pick him?
As with all of the Essendon banned players, he has spent 12 months training away from the club.  He needs to get back his match fitness which is always a challenge.  This is the big unknown for not just Ryder, but all of the players that missed a year.  It may or may not affect him, but that is the big unknown.  No doubt he will be hungry.
However, the biggest risk is obviously the role that he plays, or more importantly the role that Lobbe will play.  If Lobbe is to play a role in this side then this will limit the scoring of Ryder.
If Kenny wants to use Ryder up forward more than in the ruck as a stay at home replacement for Schulz then this will significantly limit his scoring.  In his first season at Port he only spent 51% of his time on ground in the ruck.  But, as I said, things have changed at Alberton and I won't be surprised to see him named as one out ruck with Trengove as the backup with Lobbe then in the SANFL.  So this is not overly likely.
Should he be your number one ruck from round 1 to round 23?  Well he hasn't averaged any higher than 90 in his career….. averaged is the key word here.  So he won't be consistently big for you like a Gawn or a Goldstein might be.  So temper those expectations.  What he does provide you is an extra bunch of cash to use elsewhere in your team.
Deck of DT Rating.
KING – Ryder is a bargain at this discounted price.  There is no doubt that he will score better than his starting price.  All that remains to be seen is exactly how high that scoring can go.  If he can get himself back to the high 80's or above he will prove to be very valuable.  His bye could make negotiating round 9 difficult, but his value in the other three byes will be invaluable.  At the very least, he will rise in value across the first 8 rounds which means you could trade him to another premium ruck at that point and bank some much needed cash.
Will he be the highest scoring ruckman for the year?  No, but being priced significantly lower than the premium ruckman, he presents a huge amount of value.  I will be very seriously looking at having him in my side to start with.  Oh and if you happen to be a Supercoach player, he ranked in the top 10 for hitouts to advantage in the last 5 rounds of 2015.  With a midfield like Gray, Wines, Boak and Wingard to tap to he should be able to keep that up.
Loading ...
FOLLOW ME ON TWITTER: @pkd73 for all thing AFL Fantasy (and more). Got something to say about the deck? Use the hashtag… #DeckofDT