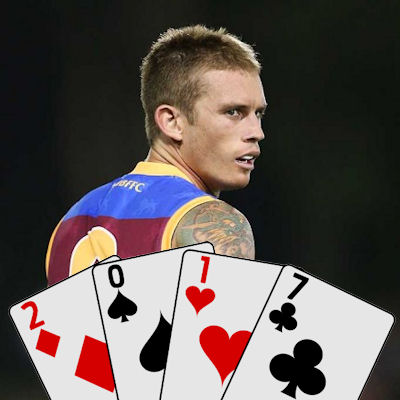 Name: Dayne Beams
Team: Brisbane
Position: Mid
AFL Fantasy: $519,000
Bye Round: Round 11
2016 Average: 86
2016 Games Played: 2
Predicted Average: 100
Click here for DT Live profile.
New Year, New Me!
It's the catch cry we hear about this time every year as people are hoping to reset, shake off any negativity of the year before and blaze a new positive trail into the year ahead.
Beams however will be hoping to put the last 2 years behind him and rediscover the form which saw him selected in practically all of our fantasy teams while dominating the stat sheets at Collingwood.
Why should I pick him?
When Beams is fit and firing he has an epic fantasy game, generally going at a 1:1 kick to handball ratio while averaging about 28 touches and sneaking forward for a cheeky goal each game. This style saw him averaging 101, 116, 101 and 107 at Collingwood, before moving to Brisbane and averaging 103 in his first 16 games. Impressive Side note: He also became the first Brisbane player to win the Merrett-Murray Medal playing less than 18 games!
He also has a very impressive ceiling, including a 152 in that first season with Brisbane.
There certainly no denying Beams work ethic and passion. He is a complete professional who puts in the hard yards on and off the track. You'd have to if you'd won a fairest and best in your first season at a club from minimal games. But this also showed in the 1 and a half games he played last year. Beams was able to step into his first game of the season in round 7 after not playing since round 16 the year before and notch up a 30 possession/106 point game. Then was on track in his next game with 66 points to half time before being struck down with injury again. This is the kind of immediate impact you'll be hoping for when picking a player who will once again be coming in off an extended lay off.
The other reason I've mentioned Beams 'work ethic and passion' is because he is also the Brisbane Lions Vice Captain and currently finds himself as the 5th oldest player on the list (at the ripe old age of 26 mind you).
From all reports it seems that Beams is taking this leadership role very seriously and wants to be able to fast track his Lion cubs development with hopes that they'll be able to achieve success while he is around. This kind of talk is reminding me of GAJ in his first few seasons at Gold Coast, leading by example and possibly/hopefully getting a lot of cheap possessions from younger team mates looking for their on field leader.
Why shouldn't I pick him?
While it was shoulder surgery that ended his first season with the Lions it was knee tendonitis which ended the second season halfway through his second game back. This is the injury that you'll still be concerned about with picking Beams as it isn't an easy fix. While the second shot at this surgery is being hailed as a success he will still have to manage it and has even mentioned this in a few interviews so far. How this management takes place is what will concern fantasy coaches. Will he be given restricted minutes in certain games or will he miss certain games all together (perhaps games that will also limit his time flying?)
It's this uncertainty that makes Beams a risky pick this year.
The other issue to consider when selecting Beams is tied to a reason mentioned above.
Brisbane has jettisoned a lot of their older/experienced players while focusing on their youth rebuild. While this will give Beams more of a chance to step up, he'll also start copping a lot more attention from opposition clubs. Beams inability to handle a tag is one of the only negatives to his game. In his first season with Brisbane, he was unable to crack the 100 in the games he was tagged, including a concerning 53 against the Kangaroos.
If we take a look at that first season with the Lions then we may be able to see a trend that will continue if Beams can't negotiate the close attention. Highs of 152, 133 and 126 with Lows of 53, 78 and 83.
These rollercoaster scores can be scary if you find yourself relying on Beams to get you over the line in a head to head match up.
Deck of DT Rating.
QUEEN – He's starting this season as a Queen for me because of risk. If he gets through uninjured though he'll finish the season as a KING for sure!
It would also be remiss of me to not at least mention his starting price as I'm sure it already has and will continue to be mentioned in comment sections and forums across the web.
If he were discounted any cheaper then he'd be a guaranteed lock, but $519,000 is a fair chunk of your cap to be spending on a bloke who has had more surgeries than games of footy in the last year and a bit.
I'm mentioning this here though because I couldn't decide whether his starting price was a good or bad thing. Sure, if Beams was rookie priced he'd be a certain lock, but then everyone would have him. At this price he is making us weigh up the options and actually decide whether or not he's worth the gamble. Whether he pays off or burns you is the next step but the first is separating those who decide to take the punt from those who don't, making him possibly just a little more unique in this format.
In saying that though if he completely crushes the JLT community series then it'll be bloody hard to justify starting the season without him! It may even be worth considering starting with him, enjoying the price rise and then upgrading him during his round 11 bye if you're still worried he won't get through the season!
Loading ...
FOLLOW ME ON TWITTER: @anthonydsmith86 for all thing AFL Fantasy (and more). Got something to say about the deck? Use the hashtag… #DeckofDT.