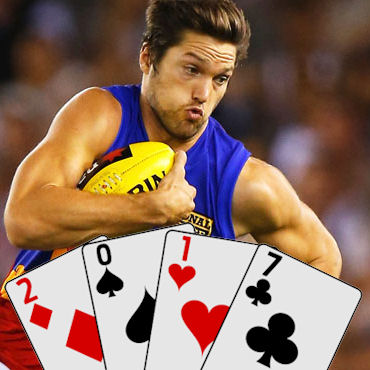 Name: Stefan Martin
Team: Brisbane
Position: RUC
AFL Fantasy: $538,000
Bye Round: 11
2016 Average: 89.05
2016 Games Played: 20
Predicted Average: 105
Click here for DT Live profile.
Why should I pick him?
Where do I begin? It's hard to split who made the biggest transformation in 2014 between Stefan Martin and Caitlyn Jenner, but I'd have to side with Stef. His previous best yearly average was a paltry 82 in 2011, that season he lifted his PB by a full 30 points. His peak in 2015 was unforgettable, averaging 114 and starting last season as the most expensive player in the game. So why is he priced under 90 this season? Luckily there's a reasonable explanation.
As bad as it was at the time, we can now thank Steven May for steamrolling Martin in Round 4. That score of 56 was achieved before half time, certainly robbing him of 50+ points. He returned in Round 5 and did OK, but he certainly wasn't at his best. It has since been revealed that Martin struggled with a knee injury for the majority of last season, hence the introduction of Trent West mid season (Rounds 9-12). The stats during this period are damning.
In this 4 round window Martin averaged just 61, recording 10, 7, 13 and 13 disposals respectively. He was left one out in the forward line for the majority of the game, which had two issues. One, Stef isn't a full forward. He looked completely lost and hardly impacted the game. Two, Brisbane don't get the ball forward that often… Not last year anyway. Take these scores out of Martin's season and he averaged 98.7. Clearly he wasn't at the level he produced in 2015, but that's a nice 10% discount for outliers.
Ok, how can we guarantee that a second ruckman won't be a pest again this season? You can't, but I'm extremely confident that last year's experiment has put to bed that idea of playing two ruckman. If that was in Chris Fagan's plans, we can also send a thank you note to the Stingray that has done Archie Smith over. The poor lad had to be taken to hospital after suffering a nasty sting with the barb lodged in his foot. Safe to say he'll be at least a few weeks behind on the track. I'm not saying it's a good thing that a promising youngster has had his pre-season interrupted, I'm just suggesting it helps select Martin with more ease.
What about that knee injury? I never like to trust what comes out of pre-season camps as far as players in 'new roles' is concerned, but I always love to hear that a player hasn't missed a beat. According to this article Stef is back to full fitness. You could say he is "Tearing up the track".
A nice little sweetener is Brisbane's early fixtures. In Rounds 1-6 they play just one top 8 side from last season, the Bulldogs. Amongst the teams they face there's no formidable ruckman to worry about. Stef's likely opponents include Hickey, Bellchambers, Nicholls, Nankervis, Campbell and Ryder. There's every chance he could get off to a flyer.
Of course, how could I forget the outlawing of third man up at ruck contests! This will result in a few more hitouts for the key rucks, perhaps making up for some of the points they lost last season with less stoppages. Not a deal breaker for me but a handy bonus.
There were enough positive signs at the end of last season to suggest all this isn't just hearsay, 7 tons in his last 8 games had Martin flying over the finish line. At the end of the day he's a proven uber premium with a Fantasy friendly game!
Why shouldn't I pick him?
There's a lot of writing above and not so much down here! As was mentioned previously his record when sharing ruck duties was appalling. It will be pivotal to see how Chris Fagan plans on using Stef during pre-season. If Smith shares the ruck duties then selecting Martin goes from a no brainer to a huge headache. In the article I linked above there is mention of the players adapting to multiple positions, with Martin citing a 'high forward' role as a possibility. Yeah, no thanks.
I can't expand further just yet as there's very little evidence as to which option Fagan has in mind this early! Keep an eye on it.
It's amazing how I wouldn't have given Stef the time of day 3 years ago, yet here I am in 2017 sadly reminiscing on the fact that Martin is the wrong side of 30. He has only just got there and it's hardly a big issue, but maybe the days of him collecting 30 disposals and averaging 114 are a tough ask to recapture.
Knee problems are never a good sign and could flare up again during the season. I can speak from experience that they can improve but rarely get back to 100%!
Lastly Brisbane have a new coach, and with that will come a new gameplan. Will Stef be allowed as much freedom? Will it be as Fantasy friendly for the likes of Martin and his midfield brigade? Only time will tell.
These are just possibilities though, not probabilities. It's mainly me trying to fill space in the why shouldn't I pick him column!
Deck of DT Rating.
Ace – For a second I was torn between King and Ace, but if you consider the value that Stefan Martin presents this season I think he's as good as it gets. I don't think there's much risk in him bettering his 89 average of last season. Perhaps 100-105 is more realistic than his crazy 2014/15 season's but hey, if he thinks he can have a personal best season then who am I to deny him! He's locked for me.
Loading ...
FOLLOW ME ON TWITTER: @mattcraigdt for all thing AFL Fantasy (and more). Got something to say about the deck? Use the hashtag… #DeckofDT.