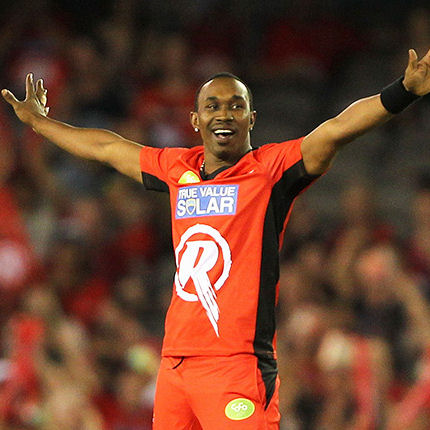 After a round containing only three games where the average score across the 20 most selected players dropped below 30,  we can now all get back to those juicy 1000 plus scores that round one delivered. With no byes and two teams playing twice (Renegades and Scorchers), it should be a pretty profitable round for BBL Fantasy. Let's break it down.
Stay on Twitter… Like 24/7
If you're one of the 28.6% of coaches that had Mitchell Johnson in your team this round, I hope you were on Twitter late on Boxing Day to catch the Scorchers announcing that he wouldn't be playing right before lockout began. Unfortunately, BBL Fantasy doesn't allow you to reverse trades once a partial lockout begins so if you miss any team announcement your whole team could get flipped on its head. If you happened to have Mitch Johnson and Jason Roy, that's just bad luck.
Glenn Maxwell is the BBL Fantasy Pig
Maxwell came into this round in 30.4% of teams. If that number doesn't rise by 69.6%, then you're doing it wrong. This guy legitimately is the BBL Fantasy version of Dane Swan. He scores fast, bowls economically, takes catches and could probably pull off a stumping or two if he was handed the gloves because why not. He doesn't have a double game round this week and he'll probably score zero after this appraisal, but trade him in.
Don't Overload on Double Game Players
As tempting as it is to fill your team with Scorchers and Renegades players, you'll have to be a little more conservative this week. The Renegades have the bye next round and the Scorchers the one after that. If you're not careful, you'll have to fill your bench with these players and put all of your trades towards getting them out. The Renegades do have another double game round in week five after their bye, however.
Round Three Captains
You have a plethora of options this week so we'll go straight to the top five.
Dwayne Bravo
Bravo didn't necessarily have a standout game in round one and still pulled out 103 points. As one of the top scoring all-rounders in the competition, you'd expect him to dominate at least one of the games this week.
Shaun Marsh
Marsh is back and after a game to get his bearings, should be ready to resume his BBL bullying ways. On top of him playing two games, Marsh has scored 291 runs against the Renegades in his four matches against them.
Aaron Finch
There's something about putting Aaron Finch in a red t-shirt that makes him a much better cricketer. Expect him to score reasonably well in at least one of his two matches. If you can afford him, he's definitely worth bringing in.
Glenn Maxwell
Because oink.
Mitchell Marsh
He hasn't set the tournament on fire yet, but he'll have two chances to do so this week. Even if he isn't bowling much in this tournament, he'll do enough with the bat to warrant captaincy selection.
Good luck this round!