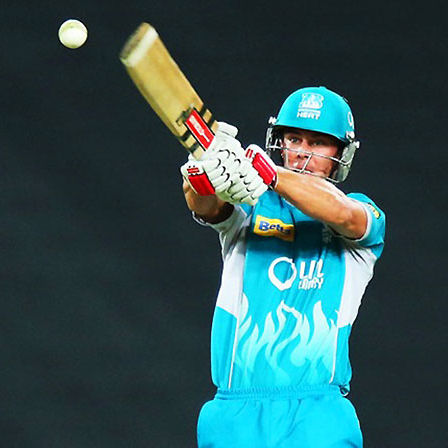 Sorry for the delay everyone, here is this week's round four preview.
CUT
If you have any of these players in your team, get them out.
David Willey – will return to international duties
Brad Haddin – shown he can't perform at this level any more
Dwayne Bravo – done for the season with a hamstring injury
Adam Voges – potential injury that could see him out for 2-3 weeks
D'Arcy Short – he's maxed out his value and it's time to downgrade and cash in.
Eoin Morgan – also returning to international duties.
On the Chopping Block
Andre Russell's fall from the best Fantasy player of BBL05 to where he is now has been staggering, BUT I'd be willing to give him one last week. Hold him and if he doesn't perform, swap him for Aaron Finch in the Renegades' double game round this week. Shane Watson looked like a man who hasn't played cricket in 12 months, but I'd give him another week too. T20 is a game of luck at times and you should give both of these guys another week. Kumar Sangakkara would also be on this list if it weren't for his price.
Double Game Strategy
If you don't have Chris Lynn in your side this week, you're in for a world of hurt. It's as simple as that. Brendon McCullum is probably also someone who will be in the majority of teams. If you're looking for a POD, try Mitchell Swepson who will only cost you $57,600.
Keep DPP on Your Bench
At this stage of the year, your team is bound to become a little disjointed from using three trades every week, mostly on double game players. You should try and make sure you have a DPP link on your bench because it opens up your team for trades and covering byes or injuries. If you can maintain it, you'll have an edge going into the back end of the season.
Round Four Captains
After my number one captain option was carried out on a stretcher last round, I'm a little hesitant to go again, but let's breakdown the best options.
Chris Lynn – no explanation needed…
Brendon McCullum – if for some reason you don't have Chris Lynn or you want to go against the grain, McCullum is the next best option from the Heat.
Glenn Maxwell – yes he only scored one point last round, but this is Glenn Maxwell we're talking about and the fact he's opening the batting makes this even juicier.
Mitchell Marsh – Marsh has a three game average well over 50 and if you want to go with someone from leftfield, he's a safe option.
Mark Steketee – Steketee is the pick of the Heat bowlers in terms of captain's options. He's been almost the breakout fast bowler of the competition and could score big across two games.
Let's be honest, you're putting Chris Lynn captain.
Good luck in round four! Hopefully you're doing better than me.