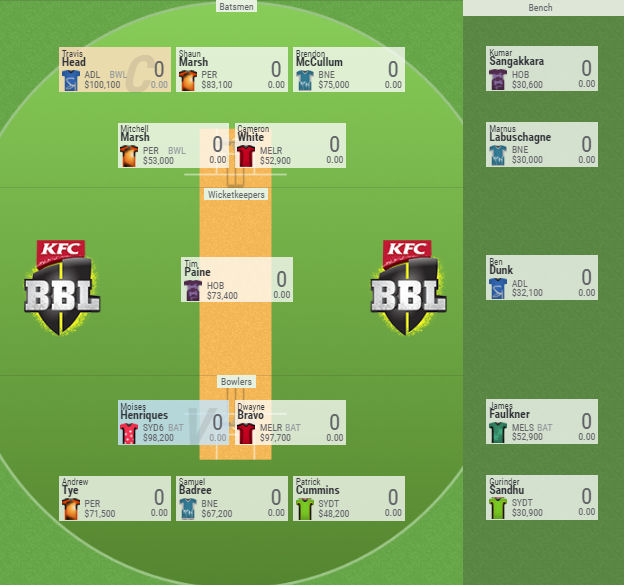 With a week to go until the season starts, here are a few sample teams designed to show you the variety of strategies you can try for this BBL Fantasy season. Let's get straight into them.
Click here for BBL Fantasy for beginners.
Click here for projected XIs.
Click here for underpriced gems.
Click here for players to avoid.
Click here to to join the dreamteamtalk.com group.
Guns n Rooks v1
This team is your standard guns and rookies strategy, which is usually quite effective in BBL Fantasy. Grab six of the most expensive players who you think will score well and then fill the remaining spots with rookie players. I recommend having three of the six as bowlers because there's less rookie depth there. You batting line should look strong, but you might have to compromise a bit with the bowlers.
Guns n Rooks v2
This is a very similar team except we've given up some wicketkeeper strength to upgrade our bowlers. It's not a pure guns and rookies strategy, but it gives you a much more reliable bowling unit. At the same time, your bench is still pretty weak – but that's the price of such a strong on-field team.
Double Round Overload
This team is made up entirely of players who have two games in round one (Thunder, Sixers and Strikers). While it seems impractical – and, you know, it sort of is – with 21 trades and three allowed to be made per week, you could attempt a gamble like this. Maybe be a bit more practical with your bench than I was, but this is certainly a way to go for the overall round winner. The biggest risk here is having too many players from the one team. There'll always be players that fire and those that flop and you're basically guaranteeing a little of each with this strategy. You just have to hope they all fire once.
The 'Obvious' Team
If there were statistics about who the most picked players were right now, this lot would probably be right up there. It's a very strong team, but not a team that you're going to win the competition with. You'll need your own points of difference to win and while having a few of these players is good, try to vary it up. Having said that, a team like this really doesn't have any other weaknesses.
My (current) Team
Okay, here's my team. STOP JUDGING ME. I change my team so often it could be completely different in a week's time, but I've tried to balance picking the obvious players with those in-form or under-priced. It was a struggle to not pick a team with like seven Scorchers players in it. Go on, pick it apart, I'll fight you all.
Who is the one player in BBL Fantasy that you think is a lock across all teams? Leave your thoughts in the comments and post your teams if you want!
Good luck!