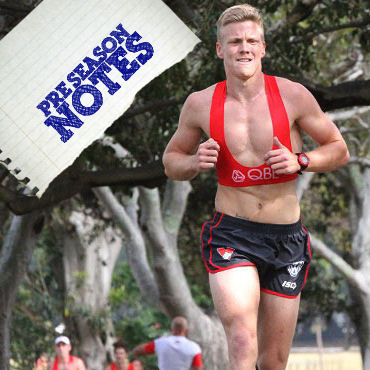 Every week of the pre-season, we will post our take on any news that comes through. We'll get sucked in by who's burning up the track, getting more midfield time and those who are locks even though we are weeks away from locking our teams in. This is anything goes and we'll be updating the rolling blog regularly. Come back, have a read and get involved in the discussion in the comments. This is basically the 'My Team' of the pre-season.

Click here to subscribe on iTunes.
LAST UPDATE: Friday 9 December, 2016.
Freo news
Harley Bennell will head to Germany this week for treatment on his troublesome calf… he was also caught this week driving without a licence (after it was suspended for losing his demerit points).
Shane Yarran is on indefinite personal leave from the club after being charged with unlawful wounding over an incident in 2015.
Aaron Sandilands says he is 100 per cent. 211 is $450K – a 15% discount on his 2015 average (under the new common sense rule as Calvin calls it). That prices him in the mid-70s.
Fremantle: "I'm 100%" Aaron Sandilands#AFL #AFLFantasy #SuperCoach pic.twitter.com/GwdgbQlS9L

— aflratings.com.au (@aflratings) December 9, 2016
Wagner, Hibberd top two Roos in beep test
Corey Wagner (who I would like to forget about after picking him mid-season) progressed the furthest for North Melbourne in the multi-stage fitness test. Mitch Hibberd (DEF/MID, $150,000) is the name that matters here after finishing second. He was the eighth highest averaging player in the U18 Championships last year but judging by the tweet below from the Freako, he was brillinat in his last VFL game of the year scoring 119 thanks to 34 disposals. The pre-season watchlist definitely has him towards the top when it comes to cheap defenders!
Consider Mitchell Hibberd for your benches – finished the VFL season with 34 disposals, 99 #SuperCoach and 119 #AFLFantasy pts. #cashcow

— Fantasy Freako (@FantasyFreako) December 9, 2016
Pie trio back into full training
We haven't see a lot of Jamie Elliott (FWD, $330,000), Matt Scharenberg (DEF, $234,000) and Jackson Ramsay (DEF, $383,000) but the trio are into full training and are definitely worth thinking about for 2017 at their respective prices. Elliott is priced more than 25 points cheaper than his best return after missing all of last season with a back injury andScharenberg is a bargain with his 30% discount.
Mills, Heeney = more midfield time
John Longmire said that Isaac Heeney (FWD, $442,000) and Callum Mills (DEF, price yet to be determined), are in line to fill the void left by the departure of Tom Mitchell.
"We knew we've got Heeney coming through and Mills coming through and kids like Jordan Foote all pushing for midfield spots and playing through that area of the ground," Longmire said.

"We're really confident that we've got the players to be able to come in to that role and keep evolving our list like we did last year.

"We had seven debutants last year and I'm sure there will be a number of new players this year."

"Heeney, in particular, played a bit more midfield, certainly in the back end of the year,"

"Mills was part need, part teaching last year playing at half-back and just took to it unbelievably well.

"We know Isaac can play midfield-forward and we certainly know Millsy can play midfield-back, so those roles and that flexibility in our team we think is going to be really important."
Heeney has been at the top of my Fantasy Classic forward list since the end of the season… and this means I will probably change that pencil to a permanent marker.
Isaac Heeney and Callum Mills are in line for more midfield minutes in 2017: https://t.co/gmtoBGUcce #ProudlySydney pic.twitter.com/eLM41e1eCb

— Sydney Swans (@sydneyswans) December 8, 2016
New Gold Coast co-captains
Gary Ablett is out with Tom Lynch and Sam May the new skippers. Fantasy relevant? Probably not.
Isaac Smith wins Hawthorn's time trial
The ninth most expensive forward available next year, Isaac Smith (MID/FWD, $538,000), beat last year's winner Billy Hartung in the Hawks' 2.2km time trial.
JLT Community Series fixture announced
The new pre-season games, formerly known as the NAB Challenge, will start on Thursday 16 February with four weekends of action for us to help with our Fantasy study.
Roughead cancer free
In a great news story this afternoon, Jarryd Roughead has announced that he has been given the all-clear to resume full training. Sensational news for footy but also for Fantasy as he has a 30% discount for not playing in 2016, making him a very tasty $373,000. Roughead averaged 88.2 in 2015.
Parker, Papley undergoe surgery
Luke Parker will not return to training until the new year following arthroscopic surgery to assist his recorvery from the PCL injury he suffered int he preliminary final against Geelong. He should be crossed off your list as you don't start a premium midfielder at his price ($663K) if he doesn't start training until after Christmas. Tom Papley developed compartment syndrome and because of surgery, he will be off his feet for around eight weeks.
Redden lifting in pre-season after poor 2016
Eagle Jack Redden had an ordinary 2016 where he averaged just 64.8 and spent some time in the WAFL. This is a far cry from his last five seasons where he has returned 109.1, 102.6, 94.8, 105.6 and 97. Coach Adam Simpson has said that he, along with Lewis Jetta, has returned to the club this pre-season in good nick and has posted personal bests in time trials.
Fyfe in full pre-season training
A potentially cheap Nat Fyfe is back with the club and in full training after just playing five games in 2016.
Nat Fyfe says his broken leg is feeling great and is back in full pre-season training https://t.co/YfWnbvXjHJ

— 7AFL (@7AFL) December 5, 2016
No dramas with Hanners' knee
Finishing first in the Swans' time trial, Dan Hannebery showed no signs that his knee injury from the Grand Final would slow him down this pre-season. He couldn't run for a month following the big dance but he required no surgery so Fantasy coaches keen to start with him or draft him early, don't need to worry.