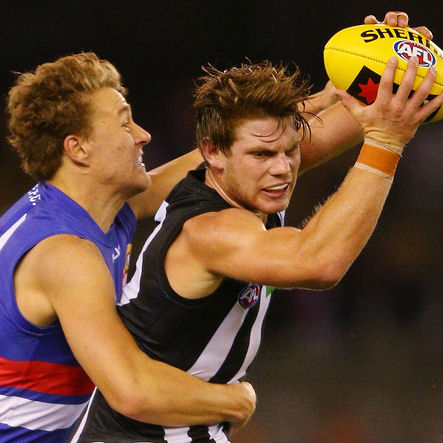 Over the last couple of days the spreadsheets have been flying around Fantasy HQ with the positions from Champion Data for the upcoming AFL Fantasy season. Prices are currently being finalised (more news on that soon), but the chatter has been all about the positions. Remember these are used across all of the formats with UF only ever adding to them (ie. they don't change any, just adding what they believe is a missed DPP).

Click here to subscribe on iTunes.
Here's the news you need to know…
*** MORE NEWS ***
Stay tuned to AFL.com.au for articles all week and the next week, our club-by-club analysis. The most important things…
$11M salary cap
3 trades for the the multi-bye rounds (Rd 11, 12, 13)
Round 9 as normal (still best 22, no extra trades)
Discounts overhauled (listen to podcast for more information)
Basement price: $150K, most expensive draftee is McGrath: $250K
Beams and Fyfe don't get a discount.
Jaeger O'Meara (and others who have been out for two seasons) get 35%
Jaeger O'Meara [MID, $364K] has qualified for a 35% discount on his 2014 average of 92.7. #AFLFantasy

PODCAST: https://t.co/pY6lE1Qlqy pic.twitter.com/PdqY8lri4Q

— AFL Fantasy (@AFLFantasy) December 6, 2016
Forwards have been decimated
Many of the top forwards from 2016 are no longer available as FWDs. Most have been stripped of their DPP and are MID only now. They may get it back if their roles suggest they deserve DPP addition, however, here's the 15 highest averaging forwards from this year with their 2017 status.
Zach Merrett –

MID

Nick Riewoldt – FWD
Dustin Martin –

MID

Dayne Zorko –

MID

Aaron Hall –

MID

Leigh Montagna –

DEF

Robbie Gray –

MID

Michael Barlow –

MID

Lance Franklin – FWD
Toby Greene – FWD
Luke Dahlhaus – FWD/MID
Brett Deledio – FWD
Tom Lynch – FWD
Jarryd Lyons –

MID

Isaac Smith – FWD/MID
Of the eight players available as FWDs in #AFLFantasy who averaged more than 95, only one remains in 2017. pic.twitter.com/tFhSDmM6UF

— AFL Fantasy (@AFLFantasy) December 2, 2016
Big name DPPs
The two biggest names that were leaked on Friday that gained dual position status were Taylor Adams (now DEF/MID) and Jack Macrae (now FWD/MID).
Adams will be the most expensive defender and almost a must have following his last two seasons that has seen him average 101.2 and 102.9. Macrae has averaged more than 104 twice in his four year career and may arguably be under priced considering he went at 98.8 this year.
Others of note that will be DPP include:
Levi Greenwood – FWD/MID
Josh Caddy – FWD/MID
Bradley Hill – FWD/MID
Jack Billings – FWD/MID
Nathan Hrovat – FWD/MID
Angus Brayshaw – FWD/MID
Jack Steele – FWD/MID
Isaac Smith – FWD/MID
Cam Ellis-Yolmen – FWD/MID
Bernie Vince – DEF/MID
Hamish Hartlett – DEF/MID
Koby Stevens – FWD/MID
Elliot Yeo – FWD/MID
Tom Boyd – RUC/FWD
Kieren Lovell – FWD/MID
Although not DPP, it is important to note that Luke Hodge will be DEF only and Christian Petracca will be FWD only.
Jack Macrae will be a very popular FWD/MID. His PB average is 104.4 from 2015. #AFLFantasy pic.twitter.com/xjxLEjeTWA

— AFL Fantasy (@AFLFantasy) December 2, 2016
Plenty of DPP with the draftees
We'll get a bit of love from some draftees thanks to some handy positioning. Also, draftee pricing will have a bit of an overhaul with the number one pick once again being the most expensive of the new crop… however, McGrath's price will be much lower than it would have been the last couple of years.
Andrew McGrath – DEF/MID
Tim Taranto – MID/FWD
Hugh McCluggage – MID/FWD
Ben Ainsworth – MID/FWD
Jack Bowes – MID/FWD
Callum Brown – MID/FWD
Shai Bolton – MID/FWD
Jarrod Berry – DEF/MID
Daniel Venables – MID/FWD
Ben Long – DEF/FWD
Sam McLarty – DEF/FWD
Darcy Cameron – FWD/RUCK
Stay tuned for more information as it comes to hand, including a podcast, video and some articles on AFL.com.au about the upcoming season. Prices aren't too far away. If you have a question on a particular player and their position, ask in the comments and also head over to Twitter and check out the feed where we are answering questions.