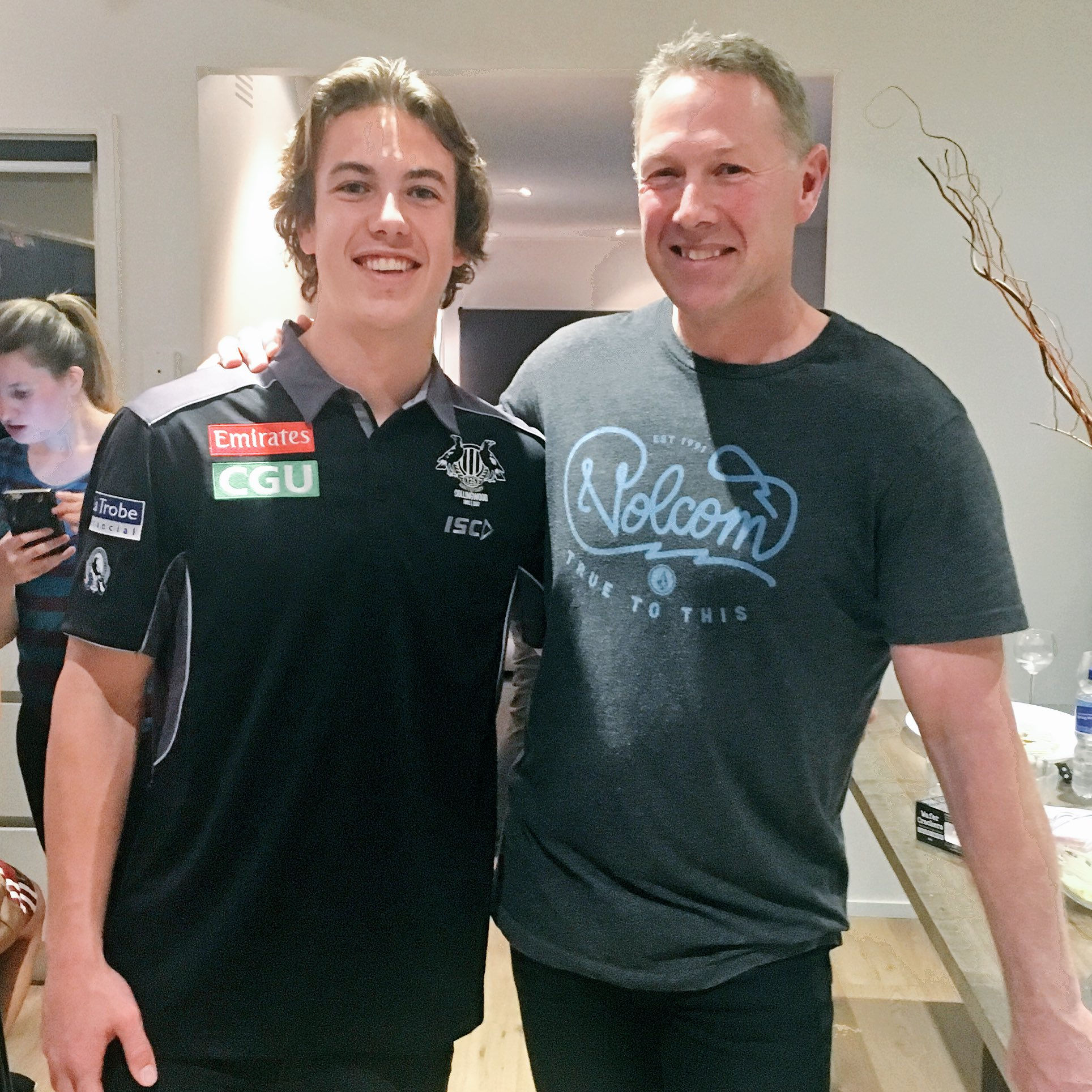 Here's my view of the second round draftees. Players like Joseph Atley and Sam McLarty have the ability to line up in round one next year. A few surprises is this lot, particularly Ben Long and Patrick Lipinski going earlier than anticipated. Another talented bunch.
Click here for the first round.
20. GWS – Isaac Cumming (GWS Academy)
Position: Outside Midfielder
Height: 183
Weight: 72
Club: North Adelaide
State: NSW/ACT
After a late invite to the Draft held at the Hordern Pavilion in Sydney, it was the Swans who placed the bid on the GWS Academy member. However the Giants were fairly quick to match this bid. Cumming is precise with his footwork either off half-back or on the wing and makes good decisions. But his speed is something that enticed the Swans. He ran the 20m sprint in 2.96 seconds at the draft combine. Cumming may struggle to see much action in 2017 given the Giants depth. Averages of 57 in the Championships and 41 in the TAC Cup don't suggest he'll be a huge Fantasy scorer.
21. Sydney – Will Hayward 
Position: Medium Forward
Height: 186
Weight: 76
Club: North Adelaide
State: SA
After bidding on bolter Isaac Cumming, the Swans changed up their tactics and took fellow North Adelaide bolter Will Hayward. Hayward's stocks rose dramatically after he booted 13 goals in the Roosters two finals games. He is not tall enough to play a key position and not small enough to play as a small forward, however he is the perfect marking, medium sized forward. Hayward is good in one-on-one situations where he often ends up taking the mark – which happens to be his other great strength. SA's first player drafted in 2016 has been compared to Hawk James Sicily and will be looking to move into the midfield in time.
22. Essendon – Jordan Ridley 
Position: Medium Defender
Height: 192
Weight: 79
Club: Oakleigh Chargers
State: Vic Metro
The Bombers have added another excellent talent to their list in Jordan Ridley. The Oakleigh Chargers prospect is tall at 192cm but will need to add weight to his light frame. After loosing Michael Hibberd to the Demons, Essendon has replaced him with Andy McGrath and Ridley. Although I think it will be McGrath who takes his place immediately, when the number one pick does transition into the midfield more often, the spot at half-back is Ridley's for the taking. He has good foot skills and composure out of defence and can also take important intercept marks. Averaged 76 for the Chargers and plays a Fantasy-friendly role
23. Brisbane – Alex Witherden 
Position: Medium Defender
Height: 184
Weight: 78
Club: Geelong Falcons
State: Vic Country
Witherden is a much better player than pick 23 suggests. Unfortunately, like new-Roo Jy Simpkin, Witherden broke his leg earlier this season – ruling him out for the entire season. Recruiters have certainly not forgotten him as he was touted as a potential first round selection. Witherden's foot skills are in my opinion, the best in the draft class. He is also good at reading the play and, like Ridley, shows composure with ball in hand. The Lions have a classy unit in Witherden but he won't be expected to play until he fully recovers from the leg injury.
24. Brisbane – Cedric Cox
Position: Medium Defender
Height: 184
Weight: 70
Club: North Ballarat Rebels
State: Vic Country
The Lions added three Vic Country stars in goalkicking midfielder Hugh McCluggage, utility Jarrod Berry and neat-kicking Alex Witherden with their first three picks and now add another in outside midfielder Cedric Cox. The Halls Creek product combines his electric pace with pin-point foot skills and will certainly add to the Lions midfield or half-back line. Similar to Adam Saad in the way he runs and carries, Cox also makes an impact with almost every possession. A real game-breaker who averaged 68 in the TAC Cup. Wouldn't think he'll be a massive scorer early on.
25. St.Kilda – Ben Long
Position: Medium Utility
Height: 183
Weight: 71
Club: Footscray
State: NT
The Saints used their first pick on utility Ben Long in what was the first real surprise of the draft. Although Long was likely to be picked up in the national draft, I certainly didn't think he would go this early. Another quick player, Long impressed with Footscray in the VFL. He can play at either end of the ground and is smart with ball in hand or without. Building up his endurance and weight will be a necessity before he makes an impact at AFL level.
26. Geelong – Brandan Parfitt
Position: Balanced Midfielder
Height: 179
Weight: 78
Club: North Adelaide
State: NT
Geelong must really like Brandan Parfitt because many experts did not rate him this highly – as was the case with Ben Long. The third North Adelaide prospect to be drafted, I view Parfitt as an explosive midfielder who runs all day collecting possessions. He has the ability to play inside and outside but sometimes his kicking and consistency can let him down. Averaged 71 Fantasy points for the Allies and NT in the Championships. I reckon he is ready to go straight away if selected.
27. Carlton – Zac Fisher 
Position: Inside Midfielder
Height: 175
Weight: 61
Club: Perth
State: WA
The Blues get a big tick from me here. I think Zac Fisher is one of the most underrated players in the draft pool. He enjoyed an excellent season for Perth in the WAFL ranks and, although he doesn't have heaps of pace, Fisher racks up heaps of the ball, excels around clearances and has speed too. It is this speed which has seen him likened to Jarman Impey, however I think there's a touch of Lachie Neale about him in the way he finds the ball. An All-Australian and WA MVP at the championships where he averaged 21 touches and 83 points, Fisher will be a solid Fantasy option when he adds some weight.
28. Western Bulldogs – Patrick Lipinski 
Position: Medium Forward
Height: 188
Weight: 79
Club: Northern Knights
State: Vic Metro
I am a big fan of Patrick Lipinski and would've loved him at the Crows. He is an excellent marker and offers athleticism and scoreboard impact to the premiers. Although he doesn't collect much of the ball, as proven by his disposal average of 13 for Metro. Very much a Daniel Menzel like player, Lipinski will take a bit of time but I wouldn't put it past him to get a few games next year.
29. Richmond – Shai Bolton 
Position: Outside Midfielder
Height: 177
Weight: 67
Club: South Fremantle
State: WA
The Tigers have landed a game breaker in Shai Bolton. Acceleration, evasiveness and the ability to break apart a game are his key traits. Was extremely impressive in the All-Stars match where he reminded recruiters of the damage he can cause. His weaknesses include defensive pressure and strength but I can see the Tigers giving him a chance in 2017. Averaged 79 Fantasy points for South Freo in the WAFL ranks where he averaged 2.4 goals per game.
30. Collingwood – Sam McLarty 
Position: Key Position Utility
Height: 197
Weight: 91
Club: Oakleigh Chargers
State: Vic Metro
A good story this. McLarty has born with a hearing problem in one ear. He now has a bionic ear which is accompanied by a helmet. I see him as a more attacking key defender but he can also play up forward. Athletic and a strong overhead mark, McLarty can play from round one I believe. Won't be a big scorer, but look out for some potential early games for McLarty who plays like Lion Dan McStay.
31. Essendon – Josh Begley 
Position: Medium Forward
Height: 186
Weight: 93
Club: Eastern Ranges
State: Vic Metro
Begley is one of the many players in this draft able to play straight away. He is a big unit at 186cm and 93kg but will address the Bombers need for a smaller forward. Begley was a late call up to the Eastern Ranges squad but blossomed once he strung some quality games together. Strong both on the ground and in the air, Begley also has an impressive work rate. Eastern Rangers leading goalkicker won selection into the TAC Cup team of the year. He averaged 17 disposals, 4 marks, 3 tackles, almost two goals and 85 Fantasy points for Eastern and I can see him being one to watch in 2017.
32. Port Adelaide – Joseph Atley 
Position: Inside Midfielder
Height: 186
Weight: 84
Club: Bendigo Pioneers
State: Vic Country
I like what Port Adelaide have done in this draft. They picked up a desperately needed key forward in Todd Marshall and added Sam Powell-Pepper, Joseph Atley and Willem Drew to their on-ball brigade. All of them can make an impact in 2017. Atley doesn't have a real weapon but he is a true footballer. He is tough, productive and strong around the contest. Averaged 80 in the championships and 90 in the TAC Cup. One of the best Fantasy options for next year. Has been compared to teammate Brad Ebert.
33. Port Adelaide – Willem Drew
Position: Inside Midfielder
Height: 188
Weight: 78
Club: North Ballarat Rebels
State: Vic Country
Many experts rated Drew as one of the best midfield prospects of the draft class. He is a contested ball magnet and also excels at the hard stuff. Although his disposal and lack of speed are two areas that let him down. This is why he wasn't picked up earlier. Was disappointing Fantasy wise in the championships averaging 51 points but lifted his output to an impressive 106 for the Rebels.
34. North Melbourne – Declan Watson (Brisbane Academy)
Position: Key Defender
Height: 194
Weight: 80
Club: Aspley
State: Queensland
I'm very surprised that Brisbane elected not to match the Kangaroos bid for Declan Watson. He is a key defender who isn't afraid to set up and get involved in play by using his foot skills. Strong one-on-one marker and intercept marker, Watson will need time to baulk up before his is unleashed at the highest level. Decision making isn't always consistent.
35. Collingwood – Callum Brown (Collingwood Father/Son)
Position: Inside Midfielder
Height: 177
Weight: 69
Club: Eastern Ranges
State: Vic Metro
The Magpies were always going to match any reasonable bid which came in for Callum Brown. He is a small inside midfielder in the mould of Lewis Taylor. His work rate is impressive and sees him reach as many contests as possible, wherever they are on the ground. Also impressive is his tackling and intensity which often causes opposition mistakes and turnovers. At times he lacks a weapon but his production for Eastern was good, averaging 91 Fantasy points.
It.
Is.
Official.
Welcome, Cal.#startsnow pic.twitter.com/bSEyR9uUat

— Collingwood FC (@CollingwoodFC) November 25, 2016
36. North Melbourne – Josh Williams (Gold Coast Academy) 
Position: Outside Midfielder
Height: 189
Weight: 69
Club: Hermitt Park
State: Queensland
The Roos managed to pick up another northern academy player after their bid for Callum Brown was unsuccessful. Williams brings much needed speed to the Kangaroos but will first need to baulk up. He is very light at 69kg and that has seen him exposed against the bigger bodies. Is a neat ball user and quite tall but doubt he'll play AFL games in 2017.
37. West Coast – Josh Rotham 
Position: Medium Defender
Height: 192
Weight: 79
Club: West Perth
State: WA
Rotham is a real slider in this years draft in my opinion. I rated him inside my top 20 before the draft but in the end, the Eagles have picked up a winner. Although he is tall, Rotham is still skinny but is athletic, a good user of the ball and a great intercept marker. I can see him potentially spending time in the midfield once he builds up his endurance. Averaged 87 Fantasy points for West Perth and may play a couple of games here and there next year.
38. Fremantle – Sean Darcy
Position: Ruckman
Height: 201
Weight: 113
Club: Geelong Falcons
State: Vic Country
I only watched one of Sean Darcy's TAC Cup games this year, but he absolutely dominated the opposition ruckman. Has been compared to Shane Mumford because of his strength. Darcy's tap work is a real standout. He is the best pure ruckman in the draft in my opinion. Endurance and ability to cover the ground will improve under the guidance of an AFL program. Will be a capable back-up in 2017.
39. St.Kilda – Josh Battle
Position: Key Forward
Height: 192
Weight: 90
Club: Dandenong Stingrays
State: Vic Country
If you told me Josh Battle was to be drafted by St.Kilda I would've assumed they took him with their pick number 25. However he slips through to 39 and he is too good to pass at this point. Compared to Adam Tomlinson for his contested marking, football smarts and leading patterns, Battle will still finish year 12 next year but if needed, the Saints have a ready made AFL key forward. Vic Countries leading goalkicker will prove to be a good selection for the Saints.
Josh Battle, welcome aboard! #HowIWantToBe @AFLDraft pic.twitter.com/p4DlZTF9NN

— St Kilda FC (@stkildafc) November 25, 2016
40. Geelong – T0m Stewart
Position: Medium Defender
Height: 187
Weight: 91
Club: Geelong
State: VFL
I'm not going to lie, I don't know a heck of a lot about Geelong product Tom Stewart. He is strongly built and was the Cats best defender in the VFL. Judging by his numbers, Stewart is quite productive for his position and provides valuable consistency in the back half. Ready to go straight away, much like Tom Ruggles last year. Look at him for the watchlist.
Cats draftee Tom Stewart averaged the 2nd most disposals of any key defender in the VFL this season. #cashcow #AFLFantasy #SuperCoach

— Fantasy Freako (@FantasyFreako) November 28, 2016
41. Fremantle – Brennan Cox
Position: Key Position Utility
Height: 194
Weight: 90
Club: Woodville West-Torrens
State: SA
I predicted the Cats to take Brennan Cox with their first pick of the night, however he even passed their next pick and fell into the hands of the Dockers. Cox played as a key defender and key forward throughout the year for Woodville West-Torrens. He is similar to Cale Hooker in the way he can play at either end of the ground. Athletic and a strong overhead mark, Cox is physically ready to go but it may be a little while before he gets his chance. Under-18 Championship All-Australian at centre half back, Cox impressed in the running jump at the draft combine earlier in the year.
Click here for the first round.
So that's my wrap of the second round draftees of 2016. I think we'll see a few early debuts from some of the boys here. As always, I am happy to answer any questions about the draftees so feel free to fire away. Stay tuned for more draft analysis during the coming days.