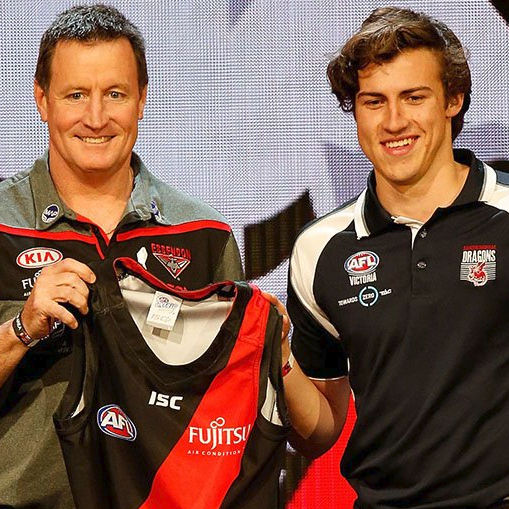 The AFL draft provides an opportunity for clubs to replenish their list with youth whilst adding depth and talent in the process. In 2016, clubs like the Gold Coast, Brisbane and Port Adelaide featured heavily in the draft and will both be looking for improvement next season. Now you we know who your club managed to pick up, but what do they bring to the table. More importantly, what will they offer Fantasy coaches next year. I have been following the draftees for the best part of the year, keeping track of statistics, strengths and weaknesses in a spreadsheet. Below is how the first round panned out and how I view the players.
1. Essendon – Andrew McGrath
Position: Small Defender
Height: 179
Weight: 75
Club: Sandringham Dragons
State: Vic Metro
It has been an awesome year for Andrew McGrath and his draft stocks rapidly rose as a result of good Under-18 Championships and TAC Cup form. McGrath won the Best On Ground medal for Sandringham in the TAC Cup Grand Final after a massive 28 disposal second half. By this time it was clear, McGrath was going to be one of the first names read out on draft night. Capable of playing as a small running defender or inside midfielder, McGrath won Vic Metro's MVP award at the Under-18 Carnival and, like McCluggage, was selected in both the TAC Cup and Under-18 Championships Teams Of The Year. Andrew is a highly productive player in whatever role he plays with his line-breaking and speed a highlight. When in the midfield, McGrath wins the contested ball and either distributes it well or uses his run and carry to drive the ball forward. He also proved his athleticism by finishing in the top-10 at the Draft Combine in the Running Vertical Jump (both left and right feet) and agility tests. McGrath averaged 124 Fantasy points in the TAC Cup and will be amongst the highest scoring Fantasy 'rookies' in 2017. He will likely be blooded early in the season and will be given plenty of time to adjust to the AFL environment. Whether he plays as a run and carry half back or inside midfielder, McGrath has proven his height doesn't affect his football. He will be a productive Fantasy scorer for the Bombers in years to come.
2. GWS – Tim Taranto
Position: Inside Midfielder
Height: 186
Weight: 82
Club: Sandringham Dragons
State: Vic Metro
Another standout prospect, courtesy of the Sandy Dragons football factory. Taranto is tough, goal-kicking inside midfielder who has the ability to win the contested ball on the inside and provide a spark up forward. Like Sydney's Luke Parker, Taranto has excellent skills above his head, thanks to a rather successful basketball career. Taranto is one of the standout Fantasy prospects this year as well. He averaged 18.8 disposals, 5.8 marks, 4.8 tackles, a goal and 91 Fantasy points in all four games for Vic Metro, earning him All-Australian honours. But in the TAC Cup, he exploded, averaging 27 disposals, 7 marks, 6.3 tackles, a goal and 122 points. This did not go unrewarded with Taranto earning a place in the TAC Cup All-Australian team to go with a premiership medal. At times his speed can be questioned, but that can improve under the guidance of an AFL program. Taranto was also best on ground in the all-stars match, further enhancing his draft stocks. Not sure whether he will line up for the Giants in round one, but he should get games in 2017 as he is physically mature.
3. Brisbane – Hugh McCluggage
Position: Balanced Midfielder
Height: 185
Weight: 75
Club: North Ballarat Rebels
State: Vic Country
North Ballarat's Hugh McCluggage is viewed by most as the best genuine midfielder in the draft and capped off an outstanding 2016 season by winning the Morrish Medal (TAC Cup MVP) whilst also being named in the TAC Cup Team Of The Year. He was a star for Vic Country in the Under-18 Championships which led to him being named in their Team Of The Year and was awarded Vic Country's MVP for the tournament. McCluggage has drawn comparisons with Collingwood's Adam Treloar and Scott Pendlebury for his foot skills and cleanness in traffic, but without a doubt his best weapon is scoreboard impact. He regularly hits the scoreboard which further enhanced his bid for the number one selection. Due to his light frame and predominately outside game, I expect Hugh to spend the majority of the upcoming season on the half-forward flank where he is equally influential. Although his disposal numbers may not be as high as a result of this role, McCluggage will still be Fantasy relevant at stages throughout 2017. It seems unlikely, but perhaps he could come with added Forward DPP?
4. Gold Coast – Ben Ainsworth
Position: Small Forward
Height: 179
Weight: 74
Club: Gippsland Power
State: Vic Country
Ben Ainsworth is no-doubt the best small forward in this years draft. He suffered a suspension setback earlier in the year, but that hasn't stopped him. He is strong overhead for a player of his size which is complemented by an excellent leap and solid one-on-one ability. This year he captained Gippsland Power and was clearly the their standout player whilst also showing good leadership ability. Ainsworth doesn't appear to have any standout weaknesses which hinder his game, however also he doesn't always read the play as well as some of the AFL's established small forwards along the lines of Eddie Betts or Cyril Rioli. But this is a weakness which can be worked on and, potentially, eliminated from his game. Ainsworth averaged 101 Fantasy points in the TAC Cup this year, impressive for a player of his small stature. This averaged was helped by his consistent flow of goals but he also accumulated an average of 22 disposals and almost 5 tackles. I believe Ainsworth can come into any team and play a role in 2017. Not one of the better Fantasy selections for 2017, given his size and position, but he should be able to string a few solid games together.
5. GWS – Will Setterfield (GWS Academy)
Position: Inside Midfielder
Height: 190
Weight: 80
Club: Sandringham Dragons
State: NSW/ACT
Will Setterfield is yet another graduate from the somewhat infamous GWS Academy. In many ways he's the modern day midfielder, tall and not without presence around the contest, drawing comparisons to Fremantle veteran David Mundy. Unfortunately he missed out on a TAC Cup premiership medal with the Sandringham Dragons through injury but there's no doubting Setterfield's ability. His foot skills are at times an asset when exiting congested spaces – another area where he exceeds in. Setterfield is a dangerous clearance threat around stoppages and demonstrated this in both the Under-18 Championships and TAC Cup competitions. However, Will is not quick and apart from his sometimes pin-point foot skills, doesn't have a consistent attacking weapon. He was not quite at his best for the NSW/ACT Rams, averaging 16.5 disposals and 64 Fantasy points – under par statistics compared to some of the other highly rated midfielders in the draft pool. Setterfield was a member of the AFL Academy but, like Ainsworth, didn't receive any major accolades in 2016. Like Jacob Hopper last year, the Giants are likely to use Setterfield at some stage throughout the year, but given their midfielder depth, don't expect regular games.
6. Carlton – Sam Petrevski-Seton
Position: Balanced Midfielder
Height: 181
Weight: 76
Club: Claremont
State: WA
Following an array of scintillating performances as an under-age prospect, WA's Sam Petrevski-Seton was touted as the number one pick ahead of the 2016 season. Although injuries did have a part to play in his slight decline since the start of the year, 'SPS' is a dynamic midfielder who will be a star in the future, if he can remain settled mentally, unlike multiple other WA prospects. At 181cm, SPS is not tall or imposing, but what he brings is class, silky skills, acceleration, breath taking evasiveness and quality ball use. There's no wonder he has been compared to Hawthorn and Port Adelaide legend Shaun Burgoyne. Despite these traits, Sam doesn't hit the scoreboard often and can be inconsistent with his production. It was pleasing to see him average 5.5 tackles in the championships, an area of his game which will help his Fantasy scores. Petrevski-Seton averaged 23 disposals for premiers Claremont in the WAFL Colts. Petrevski-Seton is a supremely talented midfielder and has the ability to see senior AFL game time in 2016, however he may only averaged 50-55 points as he isn't a productive midfielder.
7. Gold Coast – Jack Scrimshaw
Position: Medium Defender
Height: 193
Weight: 80
Club: Sandringham Dragons
State: Vic Metro
Rangy defender Jack Scrimshaw's game has been viewed by many draft experts as a combination of Grant Birchall and Marcus Bontempelli. If he's anything like either of those two, the Sandrigham premiership player will be a star. Across half back, Scrimshaw's intercept marking and precise foot skills help generate attacks. At 193cm, his size is something that will deliver x-factor to the Suns. However it is a somewhat awkward size. He is tall enough but at this stage not strong enough to hold down a key defensive post, thus being deployed as a rebounding/loose defender. However if he pushes up into the midfield, Scrimshaw can provide forwards with excellent delivery. Although he has the height, at times he can be exposed when it comes to tough, inside ball winning. Jack missed patches of the year with varying injures but did manage to play a role for Vic Metro throughout the championships where he averaged 16 disposals, 1.7 marks, 4 tackles and 60 Fantasy points. He was more productive in his three TAC Cup games though, averaging 24 touches, 5 marks, 3 tackles and 91 Fantasy points. I can see Scrimshaw's early career being not dissimilar to Brisbane's Tom Cutler. Scrimshaw without doubt has the ability to be a productive Fantasy scorer but may not reach the level of other attacking defenders early on. With that being said, in time, Scrimshaw will be an excellent player.
8. Fremantle – Griffin Logue
Position: Key Defender
Height: 193
Weight: 92
Club: Swan Districts
State: WA
Swan Districts Griffin Logue is the best out-and-out key defender in the 2016 draft. Like fellow West Aussie Marcus Adams last year, Logue is physically developed and ready to make an impact straight away. Similar to Giants leader Phil Davis in the way he out-muscles opposition forwards, Logue was super impressive during the national combine. Although Logue has muscle on his side, he is by no means a one dimensional key defender. He rebounds well, has a desire to push up into the midfield, is quick for his height and athletically brilliant, proven by his top 10 placing in the standing vertical jump, running jump of the right foot, 3km time trial and beep tests at the national draft combine in October. His comparison to Phil Davis is also enhanced given the pairs lack of Fantasy ability. Logue averaged just 36 points in the four under-18 championship games and 53 for Swan Districts in the WAFL seniors, reserves and colts. I expect Logue to line up round in round one for Fremantle barring injury but don't expect high-end Fantasy scores.
9. Gold Coast – Will Brodie
Position: Inside Midfielder
Height: 189
Weight: 82
Club: Murray Bushrangers
State: Vic Country
Earlier on in the year, months before the rise of Andy McGrath, Will Brodie's name was being mentioned for the number one pick, alongside Hugh McCluggage, Jack Bowes, Will Setterfield and Ben Ainsworth. Although he wasn't taken at that height, Brodie's season was the definition of consistency. Brodie, a 188cm tall inside midfielder, has been compared to Sydney's Josh Kennedy for his contested ball winning and ability to dominate proceedings around stoppages and congested spaces. But Brodie is not your in-and-under hard at it midfielder as some would believe. The Murray Bushranger works extremely hard up and down the ground and is often involved in link up handballs through the centre. Unlike the midfielders taken before him, Brodie does not hit the scoreboard often and has only average foot skills but these are not strengths required for the predominantly inside role his plays. Will was named in the TAC Cup and Under-18 Championships All-Australian teams and was also named the AFL Academies MVP in their match against VFL outfit Coburg. He averaged 75 Fantasy points in the national championships (21 disposals, 2.5 marks, 3.3 tackles) and 81 in five TAC Cup outings for the 'Bushies' (21 disposals, 2.8 marks, 4.2 tackles). Although he is not the most productive midfielders, Brodie is ready to play AFL straight away for the Suns.
10. Gold Coast – Jack Bowes (Gold Coast Academy)
Position: Balanced Midfielder
Height: 187
Weight: 78
Club: Cairns
State: QLD
The Gold Coast Suns Academy has produced a ripper in silky smooth midfielder Jack Bowes. At different stages throughout the year, Bowes has dazzled with his cleanness and vision, especially in congested situations. Bowes played senior football with his local club the Cairns Saints and during the latter part of the year, held his own for the Suns NEAFL team. Like McCluggage, Jack Bowes has the ability to push forward and impact the scoreboard. In fact, he was Queensland's leading goal kicker at the National Championships where he was also named MVP for his state and took out the overall Division 2 MVP to go with his inclusion in the All-Australian and Allies teams. When at stoppages, Bowes cuts through opposition lines with his precise kicking rather than exploding from the contest as his speed is not a standout trait. Occasionally he can drift out of the play but Bowes will be a great AFL player in the heart of the Suns midfield. Bowes output was slightly down for the Allies but he showed his class for the sunshine state in their only TAC Cup outing. Bowes could spent some time at half forward in 2017 but with O'Meara and Prestia out the door, expect Bowes to feature prominently next season.
11. Sydney – Oliver Florent
Position: Outside Midfielder
Height: 183
Weight: 74
Club: Sandringham Dragons
State: Vic Metro
It's been a long, tough year for Oliver Florent. On the field, he was an outstanding member of the Dragons success and capped off a fine year by being named the MVP for Team O'Loughlin in the All-Stars match at Punt Road. He was brilliant on the day, amassing 27 disposals, 7 clearances and 7 inside-50's, sending his draft stocks north in the process. There's a touch of David Zaharakis in the way Florent plays. He is an exciting outside midfielder, capable of playing as a medium forward and will bring his good foot skills, strong overhead marking and poise to Sydney. Despite his many positives, Florent occasionally sprays a few kicks and isn't the biggest ball winner for the role he plays, as shown by his average of just 11.8 disposals in four games for Vic Metro across the carnival. Oliver demonstrated his athletic ability at the national combine with top-10 worthy scores in the left foot running jump, beep test, agility test and clean hands test. Amazingly, Florent has managed all this despite having to deal with the tragic loss of his father to bowel cancer in August.
12. North Melbourne – Jy Simpkin
Position: Medium Forward
Height: 181
Weight: 71
Club: Murray Bushrangers
State: Vic Country
Jy Simpkin seriously impressed the recruiters last year to be taken so highly on draft night, considering he barely stepped onto a footy field in 2016 due to a badly broken leg, sustained in a school football match. Simpkin missed the entire Under-18 carnival and managed just one game for the Murray Bushrangers in the TAC Cup where he collected 18 disposals, kicked 4 goals and scored 86 Fantasy points in his only major game of his entire draft year. It is hard for clubs recruiting staff to rate a prospect who missed so much football but impressed with his foot skills, vision and composure for Vic Country last year, as a bottom-aged prospect. Because of this injury, it is still unknown whether Jy will be able to use his skills as a midfielder at AFL level. I wouldn't expect Simpkin to feature in many rounds next year as the Kangaroos will give him plenty of time to fully recover from the broken leg and regain vital match fitness. However I expect he will be deployed as a zippy small/medium forward if he does make his debut.
Can't wait to begin my journey at @NMFCOfficial.. couldn't be happier ?⚪️?⚪️ pic.twitter.com/8XFq78OhgE

— Jy Simpkin (@JySimpkin) November 26, 2016
13. West Coast – Daniel Venables
Position: Medium Forward
Height: 186
Weight: 81
Club: Western Jets
State: Vic Metro
In many ways, Vic Metro gun Daniel Venables is unique. He has the ability to win the tough contested ball but can also run and carry, putting his speed to good use. At times throughout 2016 Venables played as a half forward both for Metro and his TAC Cup side, the Western Jets. Venables has the ability to hit the scoreboard as a midfielder too, a trait that Venables shares with McCluggage, Bowes and Taranto. After being named in the Under-18 Championships All-Australian team, Venables later went on to win the same type of award, this time in the TAC Cup. The downside to Daniel's game, I believe is his production, which for a midfielder is quite low. Similarly to Powell-Pepper, Venables does make a big impact with these possessions but isn't a prolific accumulator, as shown by his average of 12 disposals in the championships and just 9 for the Jets. Has the ability to play in 2016, probably as a medium forward, but won't be a big Fantasy scorer.
14. GWS – Harry Perryman (GWS Academy)
Position: Balanced Midfielder
Height: 184
Weight: 75
Club: Collingullie Glenfield-Park
State: NSW/ACT
Like former GWS Academy member Matthew Kennedy, Harry Perryman this year had the chance to play against men by lining up for Collingullie in New South Wales' Riverina area. Perryman was included in the All-Australian team and won MVP honours for NSW/ACT and the Allies in what was a very impressive Under-18 Championships for the Balanced Midfielder. Throughout the carnival he also looked capable at half-back where his foot skills, cleanness and football smarts were a utilised to damaging effect. Unlike many AFL listed half-backs, Perryman is not blessed with extreme pace or athleticism (Perryman did not rank in the top 10 in any events at the national combine), however his skills will ball in hand and toughness around the contest often make up for that. Across his seven championship games, Perryman averaged 18 disposals, 3 marks, 3.8 tackles, 0.6 goals and 75 Fantasy points. The Giants Academy prospect was also brilliant in the Rams two TAC Cup matches, averaging 30 touches, 8.5 marks, 3 tackles and 119 Fantasy points. GWS have produced another supremely talented youngster. I have my doubts whether Perryman will make it into the Giants 'best 22' but if he does, he could be a good option if he can pick up defender status.
15. Adelaide – Jordan Gallucci
Position: Balanced Midfielder
Height: 183
Weight: 75
Club: Eastern Ranges
State: Vic Metro
After missing out on Bryce Gibbs during the trade period, the Crows have selected Jordan Gallucci – a balanced midfielder who has exactly what they need – speed. The Vic Metro co-captain starred at the draft combine, setting a new record in the standing jump whilst also impressing at the running jump, 20-metre sprint, beep test and agility test. Gallucci has a good balance of inside and outside ball winning and uses his speed to break away from stoppages. Although his foot skills can be inconsistent at times. I suspect we will be seeing a little bit of Jordan in 2017 along with his Crows teammate Myles Poholke. An All-Australian at the championships, Gallucci averaged 102 Fantasy points for the Eastern Ranges in the TAC Cup and has the ability to score lots of points. May struggle to get regular games in a strong tri-coloured line-up but can score well if he does see game time.
Looks perfect Jordan Gallucci ?? #crowsdraft #afldraft pic.twitter.com/FYRGO7UlSP

— Adelaide Crows (@Adelaide_FC) November 25, 2016
16. Port Adelaide – Todd Marshall
Position: Key Forward
Height: 198
Weight: 87
Club: Murray Bushrangers
It's been a strange year for Murray Bushrangers key forward Todd Marshall. Early in the year, some draft experts had him pencilled in as a certain top ten pick, some even suggesting a pick in the top five could be more realistic. However as the year drew on, more midfielders started to elevate their credentials, pushing Marshall down in the process despite playing well for the 'Bushies' in their TAC Cup semi-final. Marshall still has the potential to be the best player to come out of this draft. He is still very raw, having played cricket for the majority of his early teenage life. At this stage, Marshall is still under-developed and lacks real strength, however a few pre-season's work and this will no longer be a hindrance. Marshall is freakishly clean below his knees, has a solid set-shot technique and great athleticism. Leading goalkicker for the Allies, Marshall shouldn't and won't be expected to play many games, if any, in 2017 while he builds his frame. Won't be a big Fantasy scorer when he plays either, however when he gets going, the Power have a Justin Westhoff-like key forward on their hands who may even evolve into a centre-half back in time.
17. Brisbane – Jarrod Berry
Position: Medium Utility
Height: 191
Weight: 80
Club: North Ballarat Rebels
State: Vic Country
Jarrod Berry is one of the best sized players in the draft and captained Vic Country and North Ballarat. At 191cm he is tall but also very athletic and with this, comes the ability to play almost anywhere on the field. Berry's run and carry off the half back flank for both North Ballarat and Vic Country was invaluable along with his professionalism and character. When up forward or in the midfield, Berry hits the scoreboard. He runs every game out well, thanks to an extremely good endurance, as he proved by placing in the top ten in the beep test and 3km time trial as well as the clean hand and kicking tests.. Berry won the The knock on his game is his lack of high end production, a weakness that can be worked on, but may effect him if he is to become a full-time AFL midfielder. Unfortunately Jarrod lost his mother a few years ago but he has since used her as inspiration and is the player every club wants to have on their list, purely because of his character. In a true testament to his character, Berry was voted the AFL Academy's Ben Mitchell Medallist, awarded to the player who best displays the Academies values. Averaged 12 disposals, 3.3 marks, 5.3 tackles and 60 Fantasy points throughout the championships and 79 points for North Ballarat. Like numerous midfielders drafted, he will play games for the Lions next season but if this years numbers are anything to go by, Berry won't be a huge scorer.
18. Port Adelaide – Sam Powell-Pepper
Position: Inside Midfielder
Height: 186
Weight: 83
Club: East Perth
State: WA
East Perth crash and bash inside midfielder Sam Powell-Pepper is a ripper. His strength and physicality around the contest really helped him standout this year in the WAFL ranks and throughout the carnival. As a result of his size, Powell-Pepper doesn't require many disposals to make a big impact on the game. His scoreboard impact and contested ball winning are also highlights, although his foot skills and decision making can be questioned at times. A member of the AFL Academy, Powell-Pepper averaged 55 Fantasy points at the Under-18 Championships but was more productive for East Perth, averaging 86 points per outing. Despite his physical nature, Sam tested in the top ten at the combine in the beep test, agility test, clean hands test and goal kicking test. Powell-Pepper is not the most productive midfielder in the draft so probably won't be a great scorer in 2017 but will be able to play regular AFL football for Port Adelaide straight away and will make an impact too.
19. Western Bulldogs – Tim English
Position: Ruckman
Height: 203
Weight: 86
Club: South Fremantle
State: WA
It's not often a 203cm ruckman pops up, and it's even rarer when they happen to come equipped with midfielder-like foot skills. South Fremantle's Tim English is the first ruckman to be taken in the first round since Collingwood snapped up Brodie Grundy in 2012. That pick has certainly worked out well for the 'Pies and English looks destined to as well. He scored 25 in the goalkicking test at the national combine and although he is a big boy, English does accumulate good numbers for a ruckman, thanks to his mobility and want to get the ball. At this stage, English is still skinny and will need to add some weight to his frame. His contested marking could also be worked on and if he can add this to his bow, he will again draw comparisons Rory Lobb at GWS. In terms of Fantasy perspective, I don't think English will be all that relevant this year as he will be behind Jordan Roughead for the number one ruck role. He may come in if injury strikes but the main goal for English in 2017 should be to add some weight and play consistent senior football in the WAFL. Perhaps he may adapt into a role as a key position player at either end of the ground as his pure tap work is only average. Whether he becomes the number one ruckman or a key position player, English will provide a point of difference in positions where cleanness below the knees and kicking are valuable.
So there's a wrap of the first round draftees of 2016. What an exciting, talented bunch it is. No real surprises in my opinion. I am happy to answer any questions about the draftees so feel free to fire away. Stay tuned for more draft analysis during the coming days.