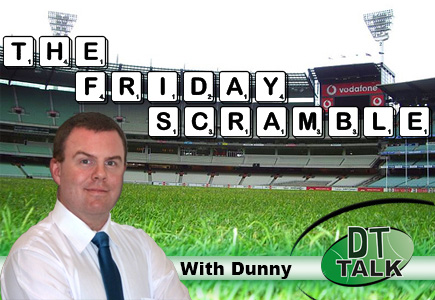 One week now until the big one and hopefully you are all set and ready to go for your Prelim Final.  And if you didn't make it then keep going to get the best overall rank that you can!  This is probably one of the most difficult weeks of the season tactically in the limited forms of the game.  We also have the issues of injuries, restings and matchups to consider, all of these things are sent to test us and prove to us that no matter what we all think at the start of the season and no matter how prepared we are, that anything can happen and this game will always throw up a twist that you weren't expecting!
Finals Trading Tactics
Obviously this won't all relate to AFL Fantasy, but I will address trading in that game shortly.  However, the main concern here is the limited forms of the game and what I think you should be doing this week with your trades depending on how many you have left.
4 Trades: Bloody go for it!  No point leaving them on the table.  Do whatever it is that you need to do to improve your lineup.
3 Trades: Do what you need to here.  But if you can get away with only using one trade then that is the way to go.  If you need to use two to cover donuts, then that is a no brainer, do it.  But if you can sideways an under-performer using cash and one trade then do it.  Guys I would consider for this treatment would be Daniel Rich or Sam Kerridge.
2 Trades:  If you need to them for donuts then go ahead.  Similarly if you don't think you can get the win without upgrading someone then it is a no brainer to make that trade.  But, if you have the lineup to get the win, then it may be prudent to hold the trades in case there are outs next week and your opponent doesn't have any trades left.
1 Trade: Hold if you can, but make the trade if you must.
In AFL Fantasy, use your trades obviously, if you have absolutely nothing that you need to do, you may want to trade down a couple of your bench players so that you have a ton of cash next week to make any changes necessary.
At the end of the day, you need to trade the best way you can to get the win in your Prelim Final.  If you can conserve a trade in RDT and SC then it is the best plan of attack, but, don't save it if it will cost you the win.
Selection Table
A fairly uneventful night at the selection table, just what we want on Prelim Final week to be honest.
For those that still have Connor Menadue he is actually back.  But seriously as if you are going to play him!
Taylor Adams is out for the rest of the season with an ankle injury.  We already knew that Wingard would be out and is out for the rest of the season.  But in that same game we see the predicted return of Sam Jacobs.  Well done if you held him, but if you did he could actually be a fairly unique player.  Speaking of comebacks, Kurt Tippett is back.  This is really only relevant in draft leagues if you kept him as I doubt anyone playing salary cap games and has made it to the Prelim week still has him in their side.
Whilst we are on Draft games, Mackie is back in for the cats, it is on an extended bench, so we may still see some outs, I am concerned as to who will be left out.  My gut feel is that it might be Bartel, but who knows.  Just keep an eye on this throughout the day.
#AskDunny
Well I didn't ask for questions, but a couple of you sent some through anyway that I thought were good.
@pkd73 – RDT – Play Zaha on field & save a Trade or trade to Sidebottom/SMitchell? Adams to Bont/Cogs? 2 Trades left. Thanks!

— Grish9 (@GrishmB) August 18, 2016
In this case with only the two trades left I would only do one.  I would trade Adams to Bontempelli.  This is a bit of a no brainer given Adams is out for the rest of the year.  As for Zaka, he is a risk but I would like to keep one trade up my sleeve for next week.  But, if your opponent doesn't have someone that you can equate to the sort of score you think Zaka will get then that is what makes it difficult.  He faces the Dogs this week who I am not sure would need to tag him, then they have Carlton who he scored a 98 on earlier in the year.
@pkd73 Looking to bring in Grundy for Stef Martin but will then need to trade Taylor Adams to either Houli, Franklin or Isaac Smith?

— Craig (@Subdubb) August 18, 2016
I assume you are going to do some fancy shuffling to be able to bring in either Houli or Franklin for Adams.  I wouldn't be looking at Smith.  Of the other two, they both have pretty good runs with St Kilda and Sydney for Houli and North and Richmond for Buddy.  For me it comes down to which line you have the weakest link on.  Given a choice I think I would go with Houli at this point as I am always more nervous about key forwards.
Now, in relation to the Grundy for Stef, I can understand doing that if you are in AFL Fantasy and have nothing else to do.  However, if you are in a limited trade version of the game I would certainly hold Stef if you have less than three trades left.
Things To Remember
Captain Choice can win or lose you a final (it certainly cost me one last week).
Make sure you check your team before lockout to ensure you have set everything the way you want (see my error in the above point).
No tomorrows so put it all out there this week (kinda obvious hey?)
Don't forget to just enjoy the footy, whilst it is stressful for us in Prelims, there is still some great games to be watched.
Best of luck to you all, it is a massive week for our Fantasy teams and we need to make sure we get the job done.  Double and Triple check your teams as you prepare for this week.  You can't afford to stuff it up this week!!  Hopefully I will see you all back here next week as we prepare for our Grand Finals!
Cheers
Dunny (@pkd73)