The Friday Scramble: Round 21
One week of finals down and we are now in the part of the season where one loss will end your season, so make sure your team is stacked with premiums and you cruise through to the Prelim final! I'm here to help you with that as we all Scramble towards our first game of the week tonight.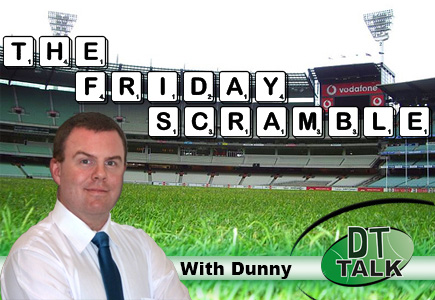 One week of finals down.  Are you still alive?  Hopefully you are and if you are out of your leagues then you should still keep going for the pride of national rankings.  Obviously from here we are all in knockout mode.  No more second chances.  And in RDT and SC do you have any trades left?  That will be a big factor in who wins and who doesn't across the rest of the season.
On top of that we have the ever present issues of injuries and restings occurring which is where the Fantasy gods choose to screw with our teams at the most important time of the season!
Finals Strategy Week 2
So you didn't make it to the Prelim or you won your way through the elimination finals.  So this week (and all subsequent weeks) there is nothing to do but win.  How do you do that?  Well some of the strategies we talked about last week are still in play here.  If you have a forced trade to make this week you have two options really.  Get the best possible player you can for your available cash, or, you check out your opponent this week and see what they have that you don't that you think could be making the difference and then bring that player in to knock out their unique advantage.
One bloke that MUST be traded out is Lids.  We now know that he is out for the rest of the season.  No point holding him now.  You can pick up Brad Crouch and actually make money on the deal.  Crouch and the Crows have a great run home and have been in fantastic form.  So he could be one to seriously consider, he would be a unique for sure. Toby Greene?  I don't think so.  He just worries me far too much in terms of his consistency.
Overall, if you are in the Prelim and you don't mind about your rank, then in AF you should do whatever you can to improve your team going forward.  One of the key strategies here would be to downgrade two guys on your bench so that you have some cash for next week when you are in a do or die game to make the GF.
The one great thing this week is that Collingwood play on Friday night.  So, we will know before lockout if Pendlebury is a late out.  So, one thing that I would be doing is having more than one plan for this week.  One if Pendles is in, and one if Pendles is out.  But be very clear on what you are doing.  Because I can guarantee you that if he is out then you will need to be very quick with your decision and trades as there will be hundreds of others that are also trying to make changes at exactly the same time.  I am not saying that the servers will suffer, but if they are renting those from the ABS that were used from the Census then we could be in a bit of trouble.  But seriously we have seen servers suffer when something like this does happen.
Selection Issues
As previously mentioned, we might be without Pendles this week and the key guys around his price in RDT are Treloar, Zorko and Jordan Lewis.  If you want to save a bit of cash you can go down to Selwood and Matty Boyd if you can do some DPP to get that to work.  In AF you could look at Priddis, Joel Selwood or Treloar and Lewis who will cost you a little more.
Jordan De Goey returns this week but really he should only be bench cover for you, just like his team mate Tom Phillips.
The first of the big names that will return is Dylan Shiel for the Giants.  He will be a welcome returning player for your sides.  Another guy that is big, but won't be in your side is Matthew Lobbe.  However, this is an issue for Jackson Trengove as he will now spend less time in the midfield.  Having said that he would have been monstered by Gawn this week.  I don't think that Lobbe back will cause too much drama really for big Max.
Thank @#$% that Aaron Hall is finally back in the side.  He is on the extended bench, but I think that they wouldn't have named him if he wasn't going to play.  They are also playing Essendon against whom he scored 125 in the first round of the season.
Still no sign of Sam Jacobs back this week.  This means he is a must trade if you are in a knock out final.  If you are in the Prelim and your score isn't an issue this week then you can leave him if you want.
Whilst it won't affect your salary cap game, it would affect draft sides that we have Andrew Mackie being rested.  The concern that I have here is that the Cats have started a schedule of resting since they have listed him as Managed.  This makes me very nervous as a Jimmy Bartel owner for the coming weeks.
Things To Remember
No Second Chances!  It is all out win at all costs now.  So don't hold anything back.
No point saving trades now, if you are in an elimination final you must use them if you think you might not win.  Go for it!
Captain Choice is critical this week.  Make sure you check out what Calvin had to say about this.
In Supercoach if you are using the VC/C loophole, just make sure that you have a non playing player that is playing after your VC that you can put the C on.
Hopefully this isn't the end of the road for you, hopefully you will all either have the feet up this week awaiting your Prelim final or you are in there battling hard to make it through.  At this time of year there is a heap of information around about all the players, my advice is to take it all in then trust your instincts and go for it.  Best of luck in your finals and hopefully we are all here next week battling for a Grand Final berth!  Cheers @pkd73